News
Stay informed about the latest enterprise technology news and product updates.
Tablets to overtake notebooks by 2016
Here's a question: Are you reading this article sitting in your office at a tethered computer with a browser or are you scanning it with your tablet computer or smartphone?
Given the nature of the IT services business, more of you are reading this on a mobile platform than one year ago. And more of you are reading this on some mobile gadget that probably doesn't have a traditional keyboard.
That's why it's very easy to buy into the prediction this week from NPD DisplaySearch that calls for annual shipments of tablet computers to outstrip those of notebooks computers by 2016. It's another harbinger of the impact that the "bring your own device" movement will have on IT solutions, and another reminder that solution providers that rely on hardware margins will need to make some adjustments in their business model during the coming format shift.
NPD DisplaySearch projects that tablet computer sales will reach 416 million units that year, roughly more than triple the number expected for 2012 (121 million units). During that same four-year timeframe, annual shipments of notebook computers should grow from 208 million units in 2012 to 393 million units by the end of 2016, according to the NPD DisplaySearch forecast, "Quarterly Mobile PC Shipment and Forecast Report.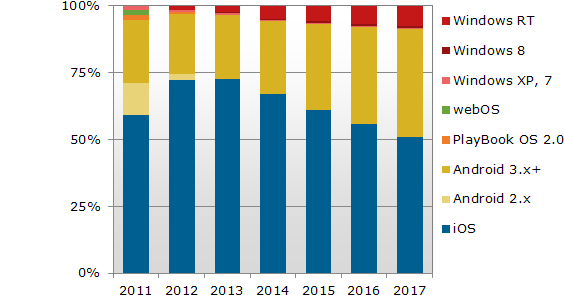 (Source: NPD DisplaySearch, Quarterly Mobile PC Shipment and Forecast Report)
The majority of growth for tablets is coming from mature markets, including the United States.
"While the lines between tablet and notebook PCs are blurring, we expect mature markets to be the primary regions for tablet PC adoption," said Richard Shim, senior analyst for NPD DisplaySearch. "New entrants are tending to launch their initial products in mature markets. Services and infrastructure needed to compelling new usage models are often better established in mature markets."
The challenge for IT solution providers is that many tablet computers, like smartphones before them, are being brought into companies by individuals rather than the IT department. That's the bad news. The good news is that businesses are struggling with how to manage these devices. That has created all sorts of assessment, policy development and managed service opportunities related to security, patch management and collaboration/workflow policies.
While much of that work today surrounds tablets that use the Apple iOS or Google Android operating system, it is likely that Microsoft's new Windows Surface tablet will have an impact within companies seeking to more closely integrate tablet solutions with legacy applications and infrastructure.
The first model, which will be made entirely made by Microsoft (yes, even the hardware) will be 9 millimeters thick, weigh about 1.5 pounds and run on low-power ARM chips. It is expected to hit the market around October.
Look for more channel news coverage on SearchITChannel.com and follow us on Twitter! Follow Heather Clancy directly.