News
Stay informed about the latest enterprise technology news and product updates.
OnForce creates iPhone app for field service automation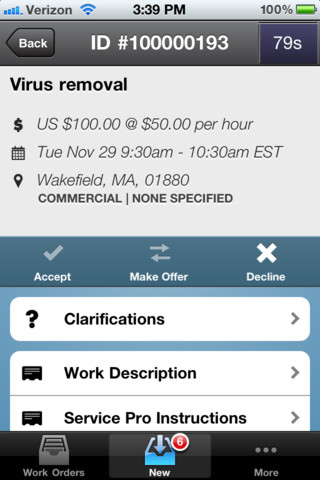 The OnForce IT services collective has created a mobile app for the Apple iPhone that coordinates with its field service automation software.
The app, which can be downloaded from the App Store, helps automate the paperwork that needs to be filed when an OnForce service request is handled. It also provides features such as geotagged check-in and checkout, so that technicians can report when they arrive and leave; the ability to receive new requests in real time; directions that are linked to the Google maps service; and access to business documents associated with the account being visited. The graphic to the right shows you what one of the screens looks like.
"Our customers can continue to deliver best-in-class IT service, while technicians can focus more on customers and less on filing paperwork or searching for service event-related information," said OnForce CEO Peter Cannone.
An Android version of the OnForce mobile field app is due in early 2012, and the company is running a beta test of the software for interested technicians.
Check out more IT channel news on SearchITChannel.com and follow us on Twitter! Here's how to follow Heather Clancy directly.