News
Stay informed about the latest enterprise technology news and product updates.
My trip to Microsoft Convergence 2008
This week I went to Orlando for Convergence 2008, Microsoft's big annual conference for its enterprise applications customers and partners. We learned that Microsoft is planning a hosted ERP service after all, and Dynamics CRM 4.0 has several features that partners think will help them make more sales.
I spent most of my time reporting for those stories in the Expo, a huge room inside the Orange County Convention Center where ISVs, hosting providers and other Microsoft partners showed off how they take advantage of Microsoft Dynamics products.
Every partner had a booth where they gave product demos, sales pitches and the like. But some booths stood out for their creativity — creativity best described through pictures. The first booth I stopped at belonged to LaGarde, an e-commerce solution provider. They had one of those contraptions where you step inside and have 30 seconds to grab as much money out of the air as you can.
I only managed to grab three bucks, and I couldn't even keep it. Stupid journalism ethics.
Across the aisle was Idera, a SQL Server security company with a wheel to spin for prizes.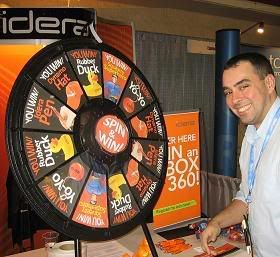 I won a hat. And I kept it.
Later on, I got to play golf (with Tenrox, a workforce management ISV) and blackjack (with Cincom, a business process ISV).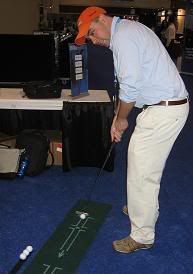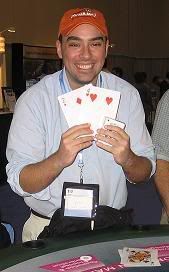 The partners in the Expo also showed their creativity through the promotional trinkets they gave away. When I got back to my hotel room and sorted through it all, I found some nice sporting gear …
… some toys …

"Come here often?"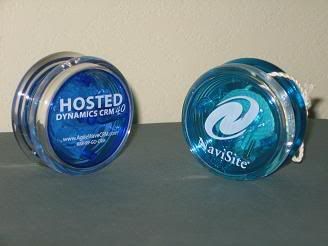 "Yo." "Yo."
… and somehow I ended up with a shot glass, a pill bottle and soap on a rope.

Hey, what kind of conference is this anyway?!?
On a more serious note, SearchITChannel.com next week will feature a podcast on the differences among on-premise Dynamics CRM 4.0, partner-hosted Dynamics CRM 4.0 and the Microsoft-hosted Dynamics CRM Live. Check the home page or news page for updates!