News
Stay informed about the latest enterprise technology news and product updates.
Microsoft cloud research underscores channel's role in adoption
There's a new Microsoft survey out this week that suggests adoption of paid cloud services among businesses with two to 250 employees will double during the next five years.
Right now, approximately 30 percent of all SMBs use some sort of paid cloud service, according to the research.
That, in itself, is a notable trend. What is also interesting, from a channel partner standpoint, is the fact that many of the SMBs surveyed by Microsoft felt that it was important to buy their cloud services from a local technology solution provider.
In addition, approximately 56 percent of the companies that were surveyed indicated that they would prefer to buy their IT services and cloud services from a single source — suggesting that there is a serious opportunity for VARs, resellers, integrators, MSPs and other technology solution providers to layer cloud recommendations into their solution portfolio.
Many of the SMBs surveyed (53 percent) said they would turn to an ISV or software company to acquire cloud services, while approximately 12 percent said they expected to source these services from a local reseller or systems integrator.
"Trust development is critical to our work with SMBs. Increasingly, clients tell us they work with Hostway because our global datacenter network often provides local support," said Aaron Hollobaugh, vice president of marketing for the Microsoft business partner, in a statement. "Client trust is earned because we view every business — regardless of size — as an enterprise."
The study covered 3,000 SMBs in 13 countries; it was conducted in December 2011 by Edge Strategies on behalf of Microsoft. Some additional statistical highlights can be found in the infographic below.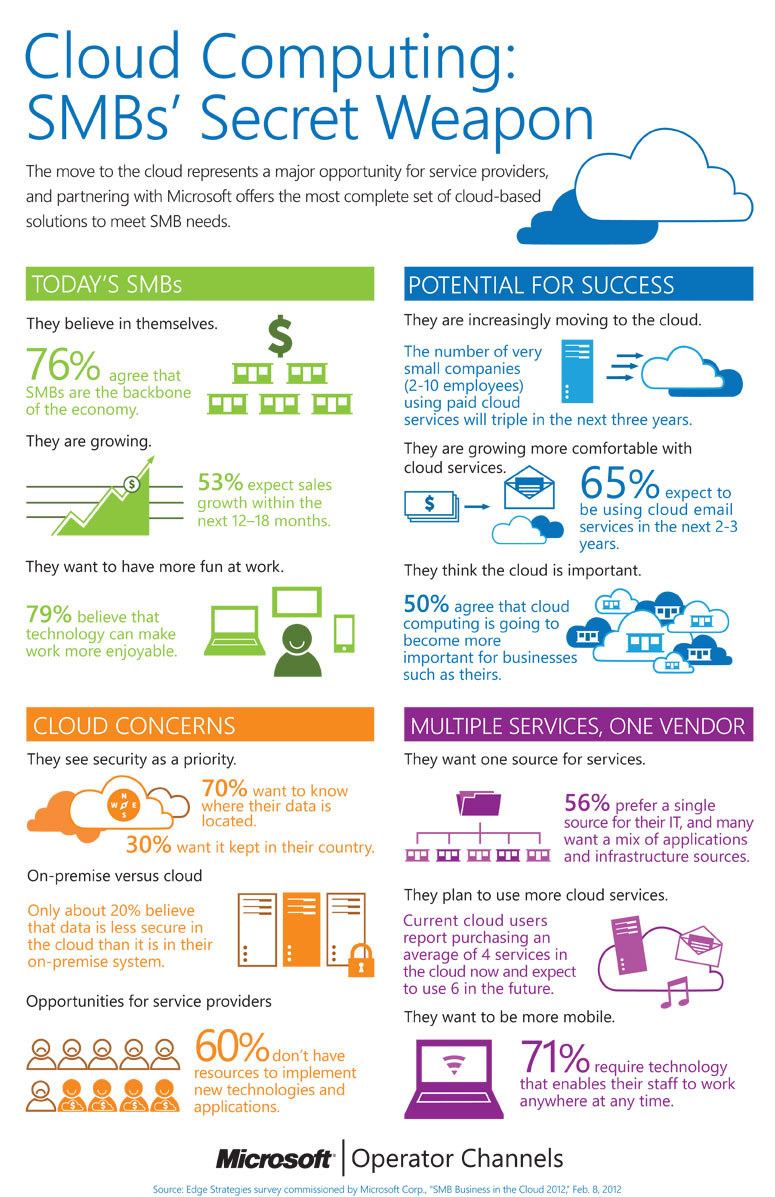 Check out more IT channel news on SearchITChannel.com and follow us onTwitter! Here's how to follow Heather Clancy directly.