News
Stay informed about the latest enterprise technology news and product updates.
Channel news: Sun/IBM high-end servers; phishers advance; Acer recalls batteries
Sun and IBM to offer new class of high-end servers The companies plan to introduce specialized high-end server systems that provide fresh evidence of a new era in computing. [NYT]

Download this free guide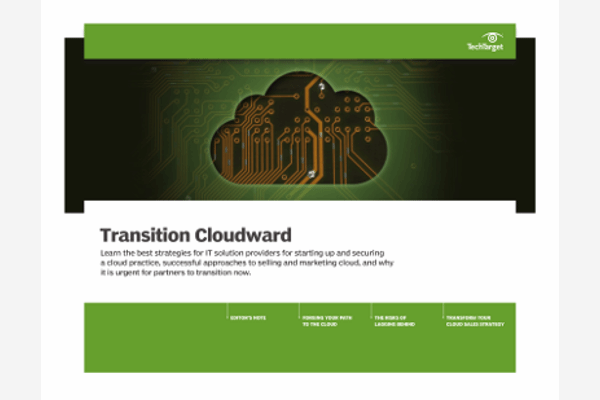 Could Securing Your Channel Business Be Easier? We Can Help.
Download our latest guide to the top strategies solution providers can leverage for starting up and securing a cloud practice, successful approaches to selling and marketing cloud, and why it is urgent for partners to transition now.
Phishers add call forwarding to their arsenal The evolution continues. [TheReg]
Acer recalls 27,000 notebook batteries Blog: Got an Acer TravelMate? Check the battery. It might have been recalled. [CNET]
Laptop theft affects 160,000 Neiman Marcus employees A laptop, stolen from a consultant, contained sensitive data of about 160,000 current and former Neiman Marcus employees. [SearchSecurity.com]
Web 2.0 lacks the business impact of SOA, Burton warns The hype around Web 2.0 is justified for devotees of MySpace and fans of wikipedia, but there is no good business model for its adoption by corporations, say analysts at the Burton Group.[SearchWebServices.com]
Trend Micro overhauls EMEA channel programme Announces strong Q1 performance too. [TheReg]
WAN traffic, applications fastballed for baseball maker WAN traffic was sluggish for Rawlings, to the point where it was on the verge of losing a major customer. The sporting goods maker hunted down solutions to ensure that traffic gets the treatment it deserves.[SearchNetworking.com]
TJX finds self at bottom of 300-bank pig pile 'Negligent misrepresentation' in data handling has its costs. [TheReg]
Healthcare firm picks cheaper CAS over EMC Centera ZirMed plans to replace part of its tape backup with upstart CAS player Caringo, founded by the developers of EMC Centera.[SearchStorage.com]
Free Wi-Fi software nixes need for routers Researchers are making available software they say can be used to link nearby computers via Wi-Fi without a router and that someday could be used by cell phone users to make free calls. [NetworkWorld]
Microsoft starts testing Windows "Longhorn" server Microsoft Corp. released its next-generation Windows Server "Longhorn" software for public testing on Wednesday and said the product is on track for a debut in the second half of 2007. [Reuters]
Siemens chief says he will step down Klaus Kleinfeld is the latest casualty in the German engineering company's widening corruption scandal. [NYT]
Hitachi gets its one terabyte Deskstar 7K1000 drives out the door We already crunched the numbers: 1TB is a lot. And if you've got $399 to blow, it can be all yours, with Hitachi saying Deskstar 7K1000 shipments have reached "critical mass" this month, after starting out scarce in March. We're guessing if you need one terabyte of data, in a 3.5-inch enclosure, spinning at 7,200 RPM and hooked up to your computer / RAID / iPod, you know who you are. [Engadget]
Indian software firms see profits surge100,000. That's the number of new jobs that India's top five software companies plan to add this fiscal year, riding a boom in outsourcing that's fattened profits. That's on top of a record 76,500 new employees who joined these companies last year. [AP]
Defective automatic trousers hurl pilot from plane Rogue expando-pants amok in Wallace & Gromit style devastation. [TheReg]