News
Stay informed about the latest enterprise technology news and product updates.
Channel news: Microsoft monopoly news; EMC buys VAR
Microsoft Still a Monopoly, 7 State Attorneys Say Seven states are pushing back against the Department of Justice's assessment that the landmark antitrust settlement between the United States and Microsoft has removed the anticompetitive obstacles created by the software maker and resulted in more competition in the middleware market. [eWeek]

Download this free guide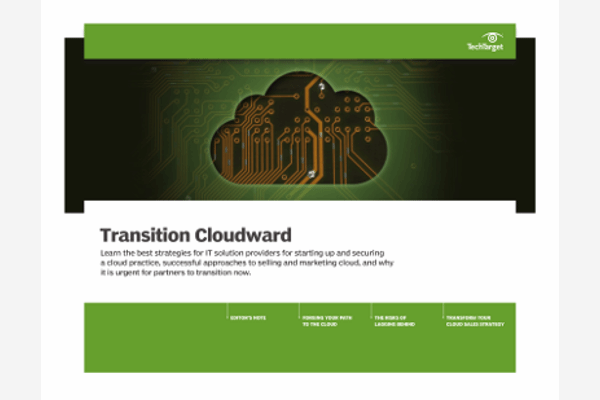 Could Securing Your Channel Business Be Easier? We Can Help.
Download our latest guide to the top strategies solution providers can leverage for starting up and securing a cloud practice, successful approaches to selling and marketing cloud, and why it is urgent for partners to transition now.
EMC Buys VAR, Beefs Up Services EMC has acquired its fourth solution provider in under two years with an aim to beefing up its services business, but it says other solution providers should not be concerned the company is lessening its channel focus. [ChannelWeb]
Monster data theft also hit U.S. job site About 146,000 people using a U.S. government jobs Web site had their personal information stolen by hackers who broke into computers at Monster Worldwide, a government spokesman said on Thursday. [CNET]
Microsoft third-party licensing and activation server set to RTM In July, Microsoft announced its intentions to deliver a number of licensing technologies to third-party vendors interesting in deploying Microsoft-like activation and licensing in their products. One of those components, the Software Licensing and Protection Server (SLP), is likely to be released to manufacturing (RTM) on August 31, according to a Microsoft blog entry by a member of the SLP team. [All About Microsoft]
Cisco Turns to Trend Micro for Router Security Cisco Systems Thursday unveiled plans to add content security services to its routers via an extended partnership with Trend Micro. [ChannelWeb]
Sun seeks developer help to make Solaris ubiquitous Sun Microsystems Inc. has ambitious plans for the commercial and open-source versions of its Solaris operating system, hoping to achieve for Solaris the kind of ubiquity already enjoyed by Java. [Computerworld]
Sony pleads innocent in latest rootkit fiasco Sony claims the rootkit-like behavior of a device driver used to run its biometric Micro Vault USM-F thumb drive was unintentional. [CNET]
I.B.M. Researchers Advancing Computer Processing Ability Researchers at I.B.M. laboratories say they have made progress toward storing information and computing at the level of individual atoms. [New York Times]