News
Stay informed about the latest enterprise technology news and product updates.
Channel news: Hack exploits common coding error; HP buys 2 data pushers
New hacking technique exploits common programming error Researchers at Watchfire Inc. say they discovered a new technique that exploits a common dangling pointer error.
[SearchSecurity.com]

Download this free guide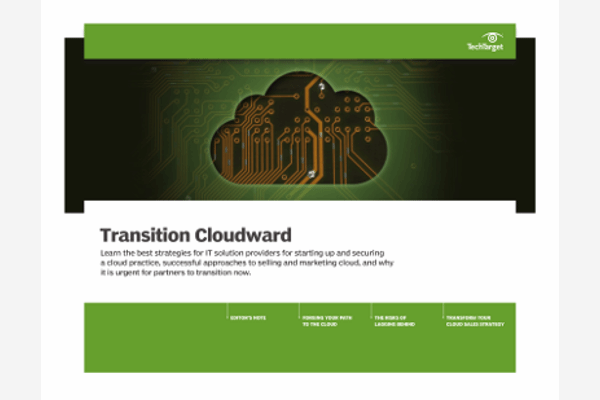 Could Securing Your Channel Business Be Easier? We Can Help.
Download our latest guide to the top strategies solution providers can leverage for starting up and securing a cloud practice, successful approaches to selling and marketing cloud, and why it is urgent for partners to transition now.
H.P. making 2 purchases to push data Hewlett-Packard said it had agreed to pay $1.6 billion for software maker Opsware, giving a hefty payoff to Opsware founder, Marc Andreessen. [NYT]
Intel cuts desktop prices by up to 50% Aggressive 1333MHz FSB pricing strategy. [TheReg]
VMware VMmark fills virtual benchmark void Two years in the making, VMware's VMmark is designed to measure the performance of server hardware running multiple virtualized workloads.
[SearchServerVirtualization.com]
The challenge of performance testing SOA applications Software testing and QA groups already pushed to the limit face even more challenges with SOA applications. Automation through modeling can help monitor and test such applications.
[SearchSoftwareQuality.com]
Ooma Hopes to Shake up Telecom Industry Ooma will allow consumers to have one more VoIP option. [DailyTech]
iPhone, Apple PCs vulnerable to hackers: consultant The iPhone and Apple Inc.'s desktop computers may be vulnerable to hackers due to a flaw in their Web browser, according to a security firm, which said it found a way to hack into the iPhone. [Reuters]
SAP, Informatica strike data deal The agreement gives customers better insights into data in third-party silos. [eWEEK]
Canonical launches Web-based systems management for Ubuntu Landscape provides a key tool for the growing number of businesses that want to take advantage of the ease of use of Ubuntu. [eWEEK]
IEEE group settles on faster Ethernet plans A group has agreed to pursue an IEEE standard for both 40-gigabit and 100-gigabit Ethernet. [Computerworld]
LeftHand brews up IP SAN software Self-healing storage is thinner than thin.[TheReg]
Add a dash of Wi-Fi and sprinkle with data services How do you concoct the right mobile services mix? [TheReg]
RFID a 'technical blunder', report says The next bubble ready to burst? [TheReg]