News
Stay informed about the latest enterprise technology news and product updates.
Channel news: HDD failures 13X predictions; HP hires channel chief
Disk drive failures 13 times what vendors say, study saysThe study showed annual replacement rates of disk drives are as high as 13% annually compared to vendor estimates of under 1%. The study also showed there is no correlation between heat and drive failure. In another revelation, researchers found that Serial ATA drives are just as reliable as Fibre Channel drives that cost up to four times as much per gigabyte. [Computerworld]

Download this free guide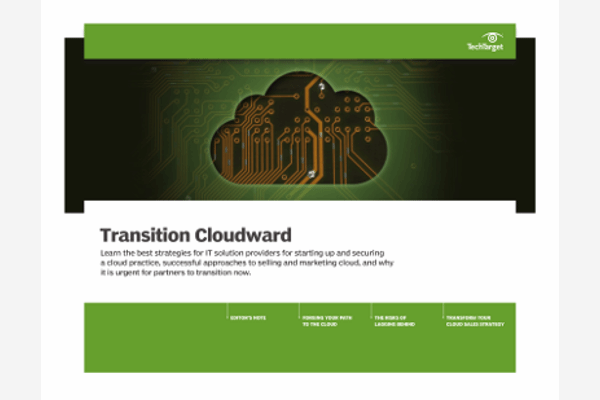 Could Securing Your Channel Business Be Easier? We Can Help.
Download our latest guide to the top strategies solution providers can leverage for starting up and securing a cloud practice, successful approaches to selling and marketing cloud, and why it is urgent for partners to transition now.
Worm uses Symantec tools to infiltrate SQL ServerConsidered a moderate threat, the worm gains access to Microsoft's SQL Server and SQL databases by exploiting vulnerabilities in Symantec's antivirus software. [SearchWinIT.com]

Users sound off: HP or Dell serversHewlett-Packard Co.'s is holding its ground as a top vendor in the worldwide server market, but Dell Inc. is a close second. Users say whihc they prefer.[SearchDataCenter.com]
HP taps outsider as Americas channel chiefAfter a four month search, Hewlett-Packard taps a McData Corp. executive to fill the
Americas channel chief post previously held by John Thompson. [ChannelWeb]
Oracle to acquire Hyperion, claims BI supremacyOracle will pay $3.3 billion to acquire Hyperion, a business intelligence and corporate performance management vendor.[SearchDataManagement.com]
Dell ends 2006 horror with $1bn drop in PC sales 'We will be known again' [TheReg]
SCO loses another $1m in Q1 Unix biz rushes to vanishing point [TheReg]
Microsoft Windows ousted at California school districtBy all appearances, the migration from Microsoft Windows to Novell SUSE Linux on the server and the desktop at the Windsor Unified School District in Northern California has been almost as pain-free as any IT professional could hope for. By this summer, all 5,000 students and 250 teachers will be working off of a Linux-based thin clients. [SearchOpenSource.com]
Gateway launches five new NAS serversCustomizable rack-mounted devices with bundled Microsoft serverware offer a choice of Xeon or Operton chips and boast hot-swappable hard drives. [eWEEK]
Lenovo recalls ThinkPad batteries made by SanyoChinese computer maker Lenovo Group Ltd. said on Thursday it is recalling 205,000 ThinkPad computer battery packs made by Japan's Sanyo Electric Co. Ltd. because they pose a fire hazard. [Reuters]
Webmaster pays $3,300 to settle malware charges Promises he'll never do it again. [TheReg]
Black Hat RFID controversy has bloggers up in armsThis week in Security Blog Log: Infosec pros slam HID Corp., the firm that tried to quash a Black Hat presentation on flaws in its RFID technology, calling HID the latest champion of security through obscurity.[SearchSecurity.com]
Multicore move cuts Oracle database costFacing Microsoft pressure and new multicore chips, Oracle has quietly cut prices database prices for some lower-end servers, News.com has learned. [CNET]
Europeans threaten more fines for MicrosoftThe European Commission said Microsoft was demanding unreasonable royalties from rivals seeking to link their software to the Windows operating system. [NYT]
F.C.C. rules that rural carriers must connect internet callsThe decision marks the breaking down of one of the last barriers to allowing VoIP to fully compete with traditional phone carriers. [NYT]
Microsoft launches new Web site for beginner developers The Beginner Developer Learning Center (BDLC) is a free, one-stop shop for learning Windows and Web programing fundamentals. It includes a learning path which starts with the absolute basics like how a Web browser works and builds on that with videos, tutorials, and downloadable sample projects using CSS, JavaScript, HTML, ASP.NET, VB, and C#. [MSDN]