News
Stay informed about the latest enterprise technology news and product updates.
Channel news: EMC users switch; Msft readies VoIP, responds to DOT ban
Users quit EMC over replicationTwo former EMC storage users said they switched vendors last year because of confusion and complexity within EMC's replication portfolio. [SearchStorage.com]

Download this free guide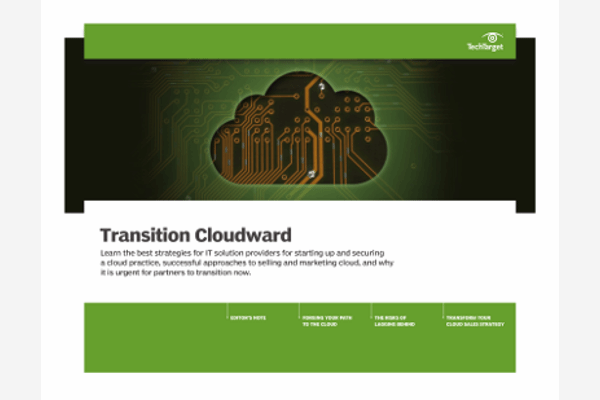 Could Securing Your Channel Business Be Easier? We Can Help.
Download our latest guide to the top strategies solution providers can leverage for starting up and securing a cloud practice, successful approaches to selling and marketing cloud, and why it is urgent for partners to transition now.
Microsoft responds to DOT ban on Vista, Office 2007The Department of Transportation has put an indefinite ban on upgrades to Windows Vista, Internet Explorer 7 and Office 2007. Microsoft has issued a response to some of the charges outlined in the DOT moratorium memo.[All About Microsoft]
Microsoft set to deliver enhanced VoIP solutions Microsoft is predicting that in just three years, the average VoIP solution for business will cost half what it does today. It also announced plans to distribute the public beta-test version of Office Communications Server 2007, Microsoft's VoIP and unified communications server, and Office Communicator 2007, Microsoft's unified communications client, to millions of testers later this month. [Playfuls.com]
Stormy weather for malware defenses Virus writers go after anti-virus vulnerabilities [TheReg]
Microsoft Releases Visual Studio 2005 Update for VistaMicrosoft has delivered a new version of its developer toolset targeting the Windows Vista operating system. [eWEEK]
SMBs reject tape for online backupSMBs looking for fewer server backup headaches are turning to remote services instead of tape.[SearchSMB.com]
Windows-like flaw hits Citrix Welcome to our world [TheReg]
RIM CEO out as chairman amid restatementBlackBerry maker Research In Motion Ltd.'s co-chief executive will give up the chairman's post after an internal probe identified a quarter-billion dollars in improper accounting for employee stock options at the mobile device company. [AP]
Oracle announces GRC suiteOracle has SAP to contend with as a governance, risk and compliance competitor. [eWEEK]
Dell confirms it is thinking about offering Linux Further extending its extended waffling on alternatives to Windows, Dell Inc. is considering offering the Linux operating system as an alternative to Microsoft Corp.'s Windows on its personal computers, a Dell spokesman said on Tuesday. [Reuters]
IDC reports more global data than storage to hold it A new study that estimates how much digital information is zipping around finds that for the first time, there's not enough storage space to hold it all. Good thing we delete some stuff. IDC estimated that the world generated 161 billion gigabytes – 161 exabytes – of digital information last year. [AP]
Social Networking channel? More companies are helping large corporate clients create services resembling MySpace or YouTube to bring their customers together online. [NYT]
Opsware fills in missing automation puzzle pieceOpsware plunged into the nascent IT process automation market when it announced its deal to acquire startup iConclude for roughly $54 million. [eWEEK]
Mobile WiMax vs. 3G: Will faster and cheaper win?Mobile WiMax supposedly will be faster and cheaper than 3G cellular data service. So, why are there so many skeptics? [Computerworld]
The facts on VMware vs. MicrosoftLast week saw the opening rounds of a new war between incumbent virtualization player VMware versus Microsoft. VMware fired the first shot in a New York Times story and immediately followed up with a whitepaper attacking Microsoft with a list of complaints. Microsoft responded in a blog. [GeorgeOu]