News
Stay informed about the latest enterprise technology news and product updates.
Channel news: Channel revenues rise; Intel announces chips, servers
IDC Channel Panel reports modest gains for first quarter of 2007 Most sectors of the channel business showed modest gains during the first quarter, according to IDC's Channel Panel. Servers enjoyed the most notable gains, followed by storage software. Voice showed constant increases quarter over quarter; security and PC sales slightly improved, hardcopy, networking, and storage hardware experienced little change. [Tekrati]

Download this free guide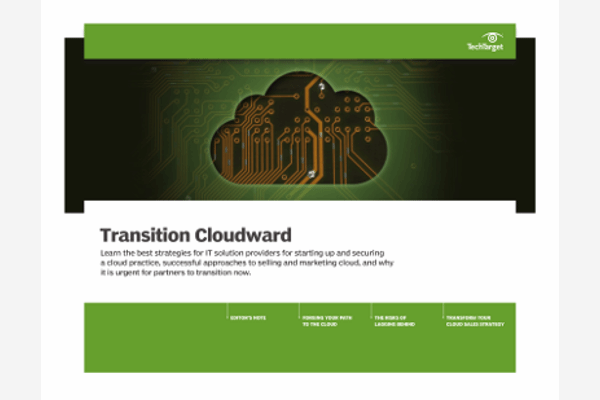 Could Securing Your Channel Business Be Easier? We Can Help.
Download our latest guide to the top strategies solution providers can leverage for starting up and securing a cloud practice, successful approaches to selling and marketing cloud, and why it is urgent for partners to transition now.
Intel says new chips about 40% faster Intel Corp. said a new line of computer processors due out later this year will be about 40 percent faster than current chips when running computer games, videos and other heavy workloads. [Reuters]
Intel launches first quad-core storage server The chip maker says it plans to work exclusively through OEMs and channel partners to try to increase its presence in the SMB storage server market.[eWEEK]
Intel gives up on super-charged 'Gesher' Call me 'Sandy Bridge' [The Reg]
Sun thrusts four-socket Xeon blade at Intel fanboys While MS reveals 'Viridian' [The Reg]
Intel confirms programmable, multi-core chip Larrabee vs GPGPUs: It's war [The Reg]
Is Microsoft's Cloud OS actually a Cloud DB? What, exactly, is Microsoft's Cloud OS? Is it an operating system (OS) at all? Or is more of a database (or two) in the Blue/CloudDB sky?
[All About Microsoft]
IBM rolls out reconfigured midtier systems, new services Using its own off-the-shelf hardware, Big Blue is pre-packaging midtier storage system software and letting customers pick and choose what configurations they want up front. [eWEEK]
Move over, Yahoo Pipes. Microsoft readies its own Web 2.0 mash-up tool Microsoft is developing a tool that will allow non-programmers to customize and mash-up various Web 2.0 applications and services, say sources close to the company.[All About Microsoft]
Researchers: Botnets getting beefier Botnets are moving to more resilient architectures and more sophisticated encryption that will make them even harder to track and fight, researchers say at HotBots, a Usenix event. [eWEEK]
Why the Leopard delay is a (somewhat) big deal This is a bigger deal than what many people make it out to be, because Apple has painted itself, and thereby customers looking to buy their products, into a corner. It could be that iLife '07 and iWork '07 are delayed for completely unrelated reasons, but rumor has it, that the two suites will be Leopard-only. If true, this means that Apple may as well skip the '07 iteration and go directly to '08. [Ars Technica]
Nokia to start selling WiMAX phones in early '08 Nokia expects to start selling mobile devices using WiMAX Internet technology in early 2008, the world's top handset maker said on Monday. [Reuters]
Sun's Sparc Enterprise servers Sun Microsystems and Fujitsu have launched their jointly designed Sparc Enterprise Server family, which is the new name for what was previously known as the Advanced Product Line. [CNET]
Dell Hires Former Oracle Executive A former Oracle Corp. executive has been named Dell Inc.'s chief marketing officer. [AP]