News
Stay informed about the latest enterprise technology news and product updates.
Channel headlines Feb. 19 — questions about EMC and SMB; Cisco flaws; Vista flaws
All signs point to the end of life for EMC's Retrospect backup software for small businesses. Sources say the company cannot support an SMB software channel.
[SearchStorage.com]

Download this free guide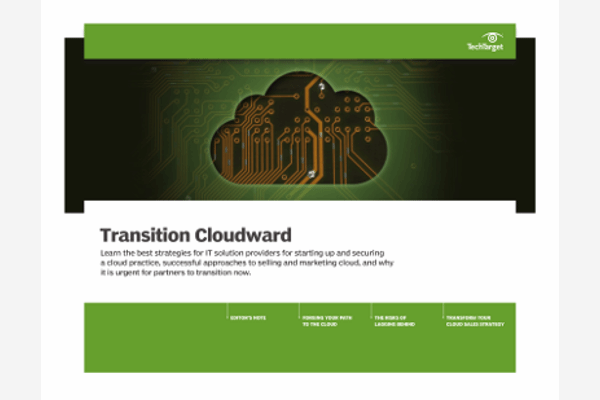 Could Securing Your Channel Business Be Easier? We Can Help.
Download our latest guide to the top strategies solution providers can leverage for starting up and securing a cloud practice, successful approaches to selling and marketing cloud, and why it is urgent for partners to transition now.
People actually redeeming vouchers [TheReg]
Google survey shows what makes for a reliable server hard drive
Google studied the reliability and performance history of a hundred thousand of its SATA and PATA drives with between 80 and 400GB storage and 5400 to 7200rpm, and while unfortunately they didn't call out specific brands or models that had high failure rates, they did find a few interesting patterns in failing hard drives. [Engadget]
Wireless LAN market grows by double digits in 2006
The wireless LAN market surpassed $3.6 billion in 2006, growing 15 percent over sales in the previous year, according to research released Friday. [ChannelWeb]
Borland testing, quality management products enhanced
Borland Software announced new capabilities across its Silk line of integrated testing and quality management products, core components of its Lifecycle Quality Management (LQM) solution. [SearchSoftwareQuality.com]
SanDisk cuts jobs to counter falling prices
SanDisk says it will cut 10% of its work force and trim executive salaries to compensate for a recent collapse in prices for memory chips, sending its shares down 5%. [eWEEK]
Firefox flaw could let attackers change cookies
Attackers could change the way Web sites are displayed and how they work. [eWEEK]
After its founder's return, many are leaving at Dell
Two weeks after he returned to run the computer company that bears his name, Michael S. Dell is making sweeping senior management changes. [NYT]
Google to rule Earth with homegrown AI
In a speech Friday night to the Annual American Association for the Advancement of Science conference, Google co-founder Larry Page stated that Google was developing Artificial Intelligence and that the company wasn't far off from completing real AI. [901am.com]
Google edges into wireless e-mail
First, Google Inc. introduced free software that could replace some Microsoft Corp. products. Now it has rolled out a free mobile e-mail service for the same consumer market that Research In Motion Ltd. recently set its sights on.[GlobeandMail]