News
Stay informed about the latest enterprise technology news and product updates.
Channel Headlines: Ballmer off the hook again; VB runs on Linux; Dell/EMC hookup
Hewlett-Packard net jumps 26% in the quarter
Notebook computers flew off shelves over the holidays, helping to bolster Hewlett-Packard's lead atop the PC heap. [NYT]
Ballmer repeats threats against Linux
Steve Ballmer has reissued Microsoft's patent threat against Linux, warning open-source vendors that they must respect his company's intellectual property. [CNET]

Download this free guide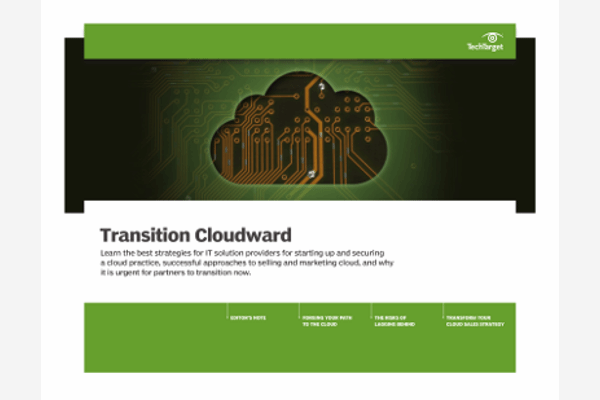 Could Securing Your Channel Business Be Easier? We Can Help.
Download our latest guide to the top strategies solution providers can leverage for starting up and securing a cloud practice, successful approaches to selling and marketing cloud, and why it is urgent for partners to transition now.
Ballmer: Piracy to blame for slow Vista sales Microsoft plans to step up antipiracy measures to bolster
Vista sales. [DailyTech]
Mono Brings Visual Basic programs to Linux
The Mono Project says its Visual Basic compiler will enable developers who use Microsoft Visual Basic to run their applications on any platform that supports Mono, such as Linux, without code modifications. [Linux-Watch]
SNIA promises new push for IP SANs
The Storage Network Industry Association (SNIA) will put more effort into promoting IP-based storage area networks, or SANs. That means iSCSI, although you might not realise it from reading the trade group's statements on the topic.[TheReg]
Windows Live update: Microsoft rebrands again
In the past seven days, Microsoft has renamed at least two services that were formerly under the "Windows Live" banner. They are back to being MSN properties. What's the deal? [All About Microsoft]
SAP plans to 'tuck' pilot software into NetWeaver
SAP seeks to bolster the appeal of its NetWeaver platform to C-level executives with its acquisition of strategic and performance management analytics application producer Pilot Software. [eWEEK]
Sun starts shipping multi-threaded 10gbit Ethernet adapters
Sun says its the first in the industry with multi-core and multi-CPU aware NICs [DailyTech]
Dell, EMC hook up again on entry-level storage system
Storage package for midtier businesses offers choice between iSCSI and Fibre Channel ports and can run Exchange, SQL and Oracle applications with data protection. [eWEEK]
Dell hits Rollins with $5m slap to the face
Dell's executive compensation committee has proved the cruelest of masters, handing ex-CEO Kevin Rollins a piddling $5m on his way out of Round Rock. You'd have to go back to the Carter years to find a top executive taking such a slim exit deal. [TheReg]