News
Stay informed about the latest enterprise technology news and product updates.
Capt. Ballmer: Obsessed with hunting Yahoo?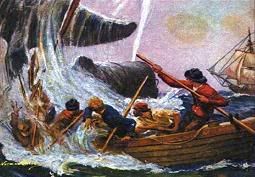 Microsoft's relentless pursuit of Yahoo is drawing comparisons to another epic tale of obsession: Herman Melville's "Moby-Dick."
The New York Times broke the news today that Microsoft CEO Steve Ballmer plans a proxy fight to replace Yahoo's board with Redmond-friendly directors who will approve the company's $44.6 billion takeover bid. That led "Stupindus," a reader of tech gossip blog Valleywag, to compare Ballmer to Captain Ahab — the literary whaler fixated on hunting down the mighty Moby-Dick at any cost.
Microsoft made its unsolicited offer three weeks ago, and the more the situation drags on, the more likely it will turn ugly. Todd Bishop, the Seattle Post-Intelligencer's Microsoft blogger, warns that a proxy fight or other hostile takeover could alienate the Yahoo employees that Microsoft hopes will lead the way to online search supremacy.
Rob Hof of BusinessWeek's The Tech Beat blog agrees. Even though a proxy fight would be hundreds of millions of dollars cheaper for Microsoft than raising its bid would be, Hof says the costs of driving away valuable workers and losing time to Google's market advances could hurt even more.
If Ballmer really is as intent on acquiring Yahoo as Capt. Ahab was with hunting Moby-Dick, it won't mean good things for Microsoft partners. Some are already questioning the company's focus and direction, and new products like Windows Server 2008 could suffer without Microsoft's full backing.