News
Stay informed about the latest enterprise technology news and product updates.
CDW end-user survey revisits the state of client virtualization
I recently reported that desktop virtualization progressed less rapidly in 2010 than technology solution providers expected just one year ago. Now, CDW has released the results of an end-user survey exploring what will get midsize and larger businesses to move forward with at least one form of client virtualization. As you might expect, cost reduction will be significant for at least 91 percent of those businesses that are planning a client virtualization project. But, apparently, many people are having trouble figuring out how to adequately calculate the real return on investment associated with these projects.
The CDW Client Virtualization Straw Poll, which covered 200 IT professionals at midsize businesses and enterprise accounts (companies with more than 100 employees), found that 90 percent of them are considering at least one form of client virtualization. The survey focuses on three types of client virtualization: presentation, application or desktop. The graphic below gives you a sense of current and future adoption plans.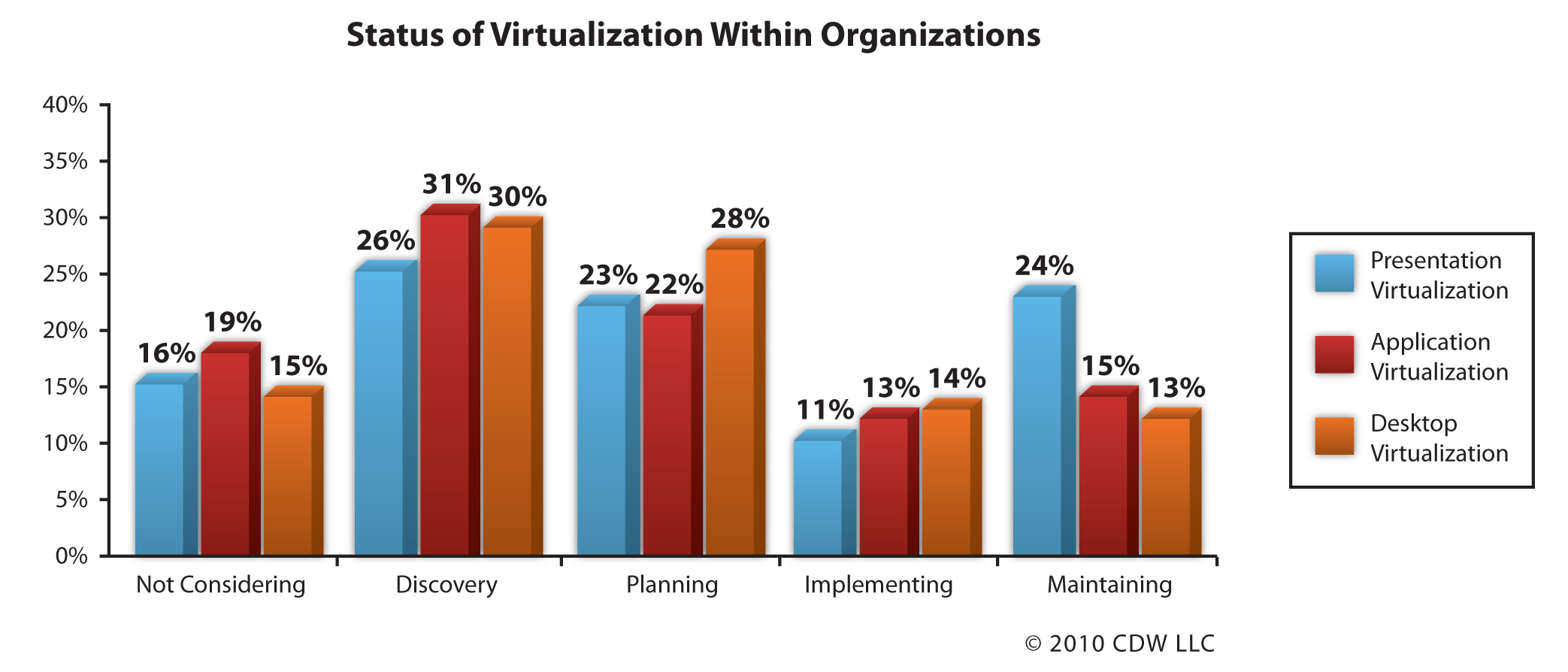 Aside from cost factors, businesses are studying client virtualization for the following reasons:
Ease software distribution
Increase IT productivity
Improve IT support
The difficulty is that client virtualization apparently is harder to deploy than businesses previously thought. Only 58 percent of the respondents said they thought their IT management knew how to implement it properly, while just 35 percent said their business had the staff to handle a deployment.
I realize that many of the VARs, integrators and managed service providers reading this post probably consider CDW the competition. But this is good information to know as many of you explore the idea of building on the server virtualization work you have done. The data will give you a good sense of the pitfalls you may encounter.
Check out more IT channel news on SearchITChannel.com and follow us on Twitter! Here's how to follow Heather Clancy directly.