Manage
Learn to apply best practices and optimize your operations.
FAQ: Virtualization management market forecast
Learn about the future of the virtualization management market and find out how you can help customers that are struggling with virtualization setbacks at their sites.
As clients make the switch to virtualization products, they are experiencing problems that they don't know how to address. If you want to be able to help with these problems, you have to be aware of the tools available in the virtualization management market. In this Project FAQ podcast, virtualization expert Dan Olds offers his market predictions and tips for providing valuable virtualization management services to your customers.

Download this free guide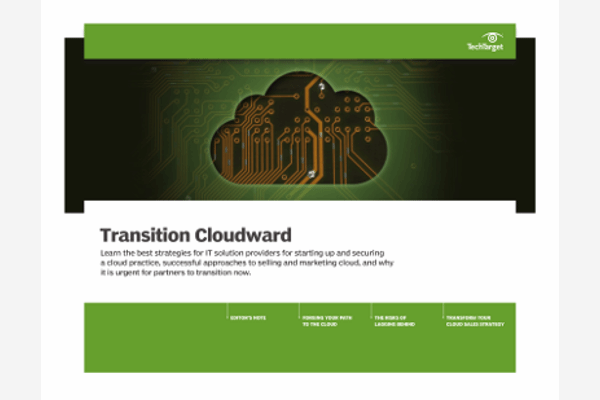 Could Securing Your Channel Business Be Easier? We Can Help.
Download our latest guide to the top strategies solution providers can leverage for starting up and securing a cloud practice, successful approaches to selling and marketing cloud, and why it is urgent for partners to transition now.
Read Dan Olds' answers for other frequently asked questions on virtualization management, including common problems and how to address them.
FAQ: Virtualization management market forecast with Dan Olds
Right-click on the podcast link to download the file as an MP3!

Read a transcribed version of the podcast or get more resources.

• What's the current forecast for the virtualization management market?
• So building a management tool to handle all of this isn't a trivial task?
• How does the future of virtualization management look?
• How can solutions providers best serve their customers that are struggling with virtualization management? • More on virtualization management and technology • About the expert


What's the current forecast for the virtualization management market?
Virtualization management is an emerging problem in most data centers. As virtualization becomes the standard operating procedure, many organizations are seeing problems from "server sprawl." Vendors large and small have seen this is an opportunity and have responded with a plethora of products geared to solve the virtualization management mess.
The market is looking for a product that can manage virtualization on heterogeneous platforms, be they x86 rack-mount boxes, blades or even enterprise Unix systems. These tools also have to be able to deal with Microsoft, Linux, and Unix operating system differences. They also should be capable of monitoring and managing different virtualization schemes. While VMware has the lion's share of the x86 virtualization market, there is also Hyper-V from Microsoft, Xen from Citrix, Virtuozzo from Parallels and even virtualization products from Oracle and Sun. On the Unix side, IBM, Hewlett-Packard and Sun all have their own virtualization suites, each uniquely matched to their own operating system and hardware.

So building a management tool to handle all of this isn't a trivial task?
No, not at all. But that isn't stopping vendors from trying. The biggest system vendors -- IBM and Hewlett-Packard -- have management suites that monitor and manage multiple virtualization mechanisms on disparate systems. They have also added in capabilities to manage electrical draw in the server room -- for example, by moving workloads around to minimize power draw. The other systems management heavyweights, CA and Symantec, are also active in the market. VMware recently announced its new vSphere enterprise virtualization suite, which has a host of management functions and features. Joining these companies are a large number of smaller, new firms offering point products that manage provisioning or policy compliance as well as other aspects of virtualization.
The good news in all of this is that most of the products are relatively open, with published APIs that allow them to manage or be managed by other products without expensive custom programming. This will make it somewhat easier for solution providers to knit together virtualization management infrastructures that work for their customers.

How does the future of virtualization management look?
The real trend is for virtualization management suites to handle more and more management tasks, ranging from capacity management to provisioning to enforcing IT policies.
Something we haven't mentioned so far is the trend toward cloud computing. There are two aspects to this: the public cloud (like Amazon, Google and a host of other providers) and customers developing private clouds in their own data centers. We tend to see customers moving first to "cloudify" their own operations and, essentially, [these] private clouds are enabled by closely managed virtualization.
Public clouds also have a role to play in the modern data center. We believe they will be mainly used as extra capacity to handle either workload spikes (like when your company has a Super Bowl commercial) or routine heavy processing loads. Many of the new virtualization management solutions have features that allow for clouds. Some even automate the process of deploying new virtual machines to public clouds to handle peak workloads. We expect to see more products along these lines in the future, allowing for a further blurring between the traditional data center and what is essentially renting IT capacity from someone else.
The best of these products will have mechanisms to ensure that only the right workloads are deployed to external clouds. While these services are fairly secure and reliable, most corporations are not comfortable with their most crucial 'crown jewel' data and processes running on platforms that they do not directly own and control.

How can solutions providers best serve their customers that are struggling with virtualization management?
I think that most customers are best served by a combination of products. The largest enterprises can take advantage of their size and implement large-scale virtualization management on their more centralized IT infrastructures. Smaller companies will probably be best served by a mix of different point solutions.
As I've mentioned, there are a large number of products to choose from. Many customers will find it a daunting prospect to choose the best solution for their unique situation. Solutions providers can present a valuable service by cutting down the choices and helping their customers find the right set of products that will satisfy customers' needs. This includes not only matching the solutions to the gear that the customer owns and the applications they run, but also the culture and skill set of the data center.

More on virtualization management and technology

Dan Olds has been in the high-tech arena for 15 years, holding significant positions at Cray Inc., Sun Microsystems Inc. and IBM prior to founding Gabriel Consulting Group Inc. in 2001. He was one of the first technologists to closely study IT total cost of ownership, virtualization and server consolidation. Dan is a frequent speaker at industry events and has been quoted in The Wall Street Journal, The New York Times, Bloomberg News, Computerworld, eWeek, InformationWeek, CNET and other tech news sources.
Dig Deeper on Server virtualization technology and services