One of the few areas where users were not opening their wallets was in the area of data storage management software spending. Though over 50% believed they either had all of the data storage management software they needed to manage their infrastructure, or used software bundled with their purchased hardware to manage it, a still sizable 30% either lacked the budget or thought the price of storage management software was too high. The following chart details storage managers' reasons for not increasing storage mangement spending.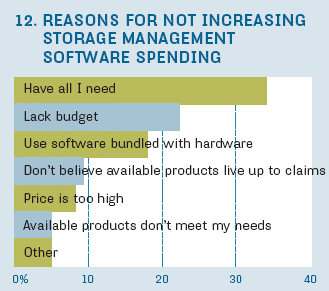 (For additional chart details, visit
Requires Free Membership to View

SearchStorage.com
.)

Storage Buying Guide

Part 1: What are your customers buying?
Part 2: Increased SATA hard drive adoption
Part 3: Hard drive replacement
Part 4: Production iSCSI SAN interest rises
Part 5: Less data storage management spending
Part 6: Respond to customers' storage buying habits

About the author: Jerome Wendt is an independent writer and analyst specializing in the field of open systems storage and storage area networks. He has managed storage for small and large organizations in this capacity.
This was first published in December 2006