Selling government IT solutions: Challenges and opportunities
Partners are finding business opportunities in selling government IT solutions despite tight budgets and learning curves in the government sector.
Looking for something else?
With flat or declining government IT spending over the past few years, and more of the same projected for the next several years, it's no walk in the park for partners selling government IT solutions. Nevertheless, the government sector still needs help navigating its most critical IT needs, such as virtual desktop infrastructure (VDI), mobility, big data, cloud and bring your own device (BYOD), while staying within tight budgets. Partners can find opportunity in educating the government sector on these technologies and then guiding them through implementation.

Download this free guide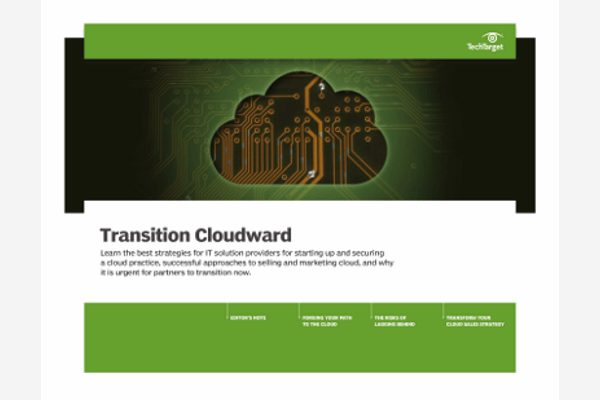 Could Securing Your Channel Business Be Easier? We Can Help.
Download our latest guide to the top strategies solution providers can leverage for starting up and securing a cloud practice, successful approaches to selling and marketing cloud, and why it is urgent for partners to transition now.
By submitting your personal information, you agree that TechTarget and its partners may contact you regarding relevant content, products and special offers.
You also agree that your personal information may be transferred and processed in the United States, and that you have read and agree to the Terms of Use and the Privacy Policy.

Customers seek growth with government IT solutions; partners find opportunities
The government sector is seeking sustainability or evolutionary IT growth rather than forklift upgrades, and aiming to operate more cost efficiently, said Mike Humke, executive director of sales at Ingram Micro. That means a prime opening for partners to step in and provide guidance.
"For many of our government IT channel partners, business is still growing," Humke said. Government IT solution provider Force 3, for example, sees 95% of its business is in the federal sector, and the company's business is up by 16% so far this year, following on a growth rate of 27% last year.
"The government sector is challenging but a huge opportunity," said Mike Greaney, vice president of sales at Force 3.
A big driver for partners is the federal government's ongoing data center consolidation project that began about 18 months ago. As part of the project, which targets closing about one-third of the government's data centers, the government is moving to virtualize and adopt cloud services, sparking a plethora of opportunities for network products and solutions, said Shawn P. McCarthy, research director at IDC Insights.
Government IT customers partners must facilitate network refresh
As government agencies deploy new and complex technologies, they'll find the need for new network architectures and more capacity. Virtualization, for example, drives up traffic and puts a strain on a legacy network backbone and infrastructure. Partners and solution providers can step in to help the government sector deploy a network refresh to get networks up to speed.
Jim Smid, CTO at Iron Bow, a federal IT solution provider with 90% of its business in the federal government, is seeing network refresh demand that includes the need for new switches, routers and the move to 10 GbE infrastructure. "We're looking at a lot of converged fabric -- FCoE on a 10 GB backbone," he said. Iron Bow's focus that is driving network upgrades and opportunity for Iron Bow includes virtualization, mobility, unified communications and video.
Emerging technology trends drive government IT evolution
Change in data center infrastructure creates an opportune time for the government to rethink mobility services and begin greenfield projects, IDC's McCarthy said.
For Force 3, the demand for network solutions is moving from VDI and unified communications to private cloud and BYOD.
"The next iteration of virtualization is to add unified communications or video," said Greaney, adding that these will tie into mobility or BYOD initiatives.
The Force 3 BYOD solution is currently focused on more than wireless access, email delivery to an iPad or mobile device management. It is focused on providing a rich, collaborative and secure workspace experience, regardless of the device.
As Cisco's Public Sector Collaboration Partner of the Year, Force 3 also sees an emerging trend in Virtualization Experience Infrastructure (VXI) that combines the deployment of virtual desktops and collaboration.
Providing this kind of support requires channel partners to understand a complex ecosystem of technologies that includes unified wired and wireless infrastructure for an optimized user experience, management of corporate data and devices, network access control and policy implementation, as well as data loss and protection.
Providing education on government IT solutions
Being a government channel partner is about helping customers understand how to address their business challenges with IT solutions.
To take the challenge out of new technology choices, Force 3, for example, offers a number of starter kits that let customers test the waters and get familiar with new technologies.
The vendor offers a VDI, wireless pilot and BYOD bundle, and is working on a VXI starter kit. All of the kits can be bought off a Solutions for Enterprise-Wide Procurement (or SEWP, a contract vehicle for multi-agency use), according Greaney. The kits typically cost less than $25,000 and support up to 10 users.
Force 3 also offers a Collaboration bundle, or borderless collaboration suite, which provides both the product and the Force 3 Mobility Jumpstart services to get customers securely up and running. Products include the Cisco Collaboration solution, which is licensed for 50 users and is made up of the Cisco Unified Workspace, Cisco Jabber and Cisco Unity Connection. Infrastructure components include Cisco ASA5520 with Cisco Mobile Any connect Licenses, Cisco 2921 for remote office connectivity support and voice gateway and three Cisco 881 routers for teleworkers and 2 UCS Servers.
End user devices include a Cisco EX60 Personal Telepresence system, Cisco 9971 Video IP phones, Cisco VXC Thin Clients, and two Cisco Cius tablets with Media Station and two Apple iPad 2 tablets. Other solution products include VMware View VDI desktop solution for 10 users.
Beyond these toolkits, Force 3 also offers security, assessment services for the network, endpoint discovery, VDI and collaboration, gap analysis and a high level roadmap.
Particularly in the government sector, Smid often sees agencies that have cobbled together network, wireless or virtualization solutions. These customers need help from channel partners to have it all make sense. "They need help assessing the pieces to make sure all the manufacturers' components work well together," he said.
The opportunity for the solution provider is to architect the moving parts and deployments, and institute best practices to ensure federal customers are making the most out of their government IT solutions.
Dig Deeper on Virtualization Networking Services
PRO+
Content
Find more PRO+ content and other member only offers, here.