Partners sell next-generation WLAN as the primary access network
As BYOD booms and wireless connectivity demand increases, partners will find opportunities in selling WLAN as a primary access network.
Looking for something else?
TECHNOLOGIES
As BYOD pushes demand for wireless connectivity on the campus, partners have the opportunity to sell wireless LAN as a primary access network. But solution providers looking to seize the next-generation WLAN opportunity must evolve from being equipment dealers to full-service consultants.

Download this free guide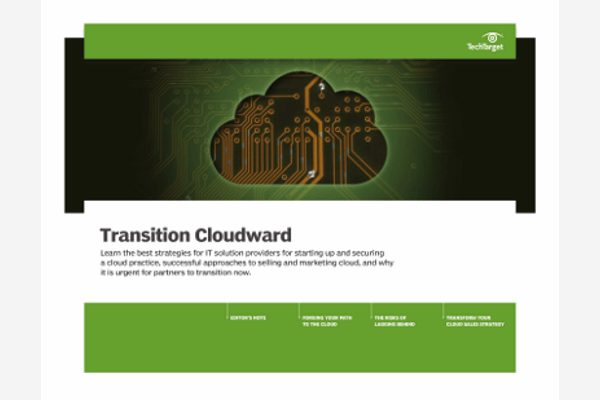 Could Securing Your Channel Business Be Easier? We Can Help.
Download our latest guide to the top strategies solution providers can leverage for starting up and securing a cloud practice, successful approaches to selling and marketing cloud, and why it is urgent for partners to transition now.
By submitting your personal information, you agree that TechTarget and its partners may contact you regarding relevant content, products and special offers.
You also agree that your personal information may be transferred and processed in the United States, and that you have read and agree to the Terms of Use and the Privacy Policy.

Next-generation WLAN changes enterprise landscapes
According to IDC, the enterprise WLAN market grew 24.8% in Q2 2012, and is expected to continue on this path of rapid expansion. In fact, the Q2 numbers represented the seventh quarter in a row, and nine out of the last ten, with annual growth in excess of 20%. Rohit Metra, director of enterprise communications infrastructure at IDC, attributes much of this growth to bring-your-own-device technology.
Now that consumers and employees are selecting their own mobile devices and demanding access to enterprise applications, the corporate WLAN has been elevated from a luxury to a must-have setup.
This is true across market verticals. In the health care industry, WLANs support both BYOD and wireless medical equipment. The retail industry sees WLAN access as a vital component to customer engagement, and as a business differentiator while on the premises. For the hospitality industry, good wireless is key to the customer's experience.
Currently, 802.11n is the minimum for today's WLAN loads, devices, apps and BYOD, said Sylvia Clark Hooks, director, product marketing at Aruba Networks Inc. However, we'll eventually see a transition to 802.11ac, currently a draft standard, promising WLAN speeds at gigabit speeds using the same 5 GHz spectrum as 802.11n. Benefits also boast wide channels between 80 MH and 160 MH in width compared to 40 MHz for 802.11n technology, as well as eight spatial streams versus four for the current WLAN standard.
Value-added services opps by selling next-gen WLAN
In transitioning to a primary access WLAN, solution providers will be able to guide their customers with value-added services, such as network planning, configuring, provisioning, implementation, and then ongoing support.
Offering next-generation WLAN isn't about selling antennas and power draw. This opportunity is about a secure mobile access strategy and WLAN is the transport method.
"It's about applications that drive the business, an access method for apps and the expectation for quality service," said Bill Annino Jr., vice president, data technology group at Carousel Industries of North America Inc.
The main objective for today's channel partner in the WLAN space is to connect people to information for business. "WLAN is there to support a variety of business needs," said Steven Reese, senior vice president technology for Presidio, West Area.
The task for the business partner is to become an expert that understands a customer's business needs. Ultimately, the channel partner should focus on providing an optimal user experience based on access, throughput and reliability.
Partner challenges with next-generation WLANs
The surge in the demand for WLAN access poses a host of new challenges for channel partners. Partners have to not only understand customer business needs, but must rethink WLAN in terms of scalability, wireless access policies and control, policy enforcement, RF design, capacity, throughput and security.
For example, Reese notes that of the multiple user mobile devices, "one or two are accessing internal resources while another is accessing outside resources such as Facebook and YouTube." This means a lot of bidirectional movement of data.
Today, customers may not necessarily be thinking about WLAN as a primary access network. However, depending on whether the customer is investing in a mobile strategy, that mentality could change because of channel partners working with customers to understand the big picture of their business. "If we build a WLAN today, it will be primary," said Annino.
A partner's objective isn't to rip and replace existing technology. The approach is focused on engaging customers early in conversations about meeting their business objectives and addressing challenges or concerns they may have. Additionally, partners are responsible for architecting the WLAN accordingly and augmenting existing infrastructure where possible.
What to consider with WLAN access
For partners implementing next-generation WLAN, there are various factors to consider for ensuring user productivity.
Tablet-ready WLANs are particularly important to address, as users have no desire to plug in their devices. Nowadays, unlike laptops, mobile devices such as smartphones and tablets have less powerful radios. This requires the partner, or WLAN architect, to take into account connecting a lot of low-powered devices.
Despite the disinterest in turning a mobile device into a dumb terminal, the virtual desktop is another consideration for WLAN architecture. Partners still see customers using virtual desktop infrastructure (VDI) as a bridge point for the delivery of native apps to tablets, notebooks and laptops. While the VDI model is more about screen refresh, partners report that the impact on the WLAN is less about bandwidth and more about reliability and big bursts of data.
Dig Deeper on Wireless Networks
PRO+
Content
Find more PRO+ content and other member only offers, here.