News
Stay informed about the latest enterprise technology news and product updates.
Drone detection: WWT adds airspace security via Dedrone
Integrator WWT is partnering with anti-drone technology vendor Dedrone to expand its physical and cybersecurity services into airspace security; other news from the week.
Looking for something else?
World Wide Technology is adding airspace security to its portfolio through a new alliance with Dedrone, a company that develops drone detection technology.

Download this free guide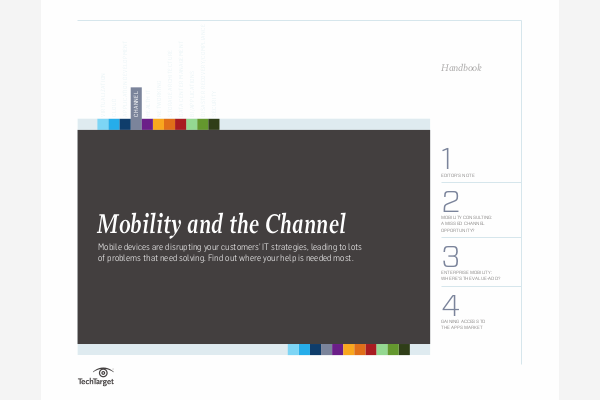 Mobility Consulting: A Missed Channel Opportunity?
Mobile devices are disrupting your customers' IT strategies, leading to lots of problems that need solving. Find out where the best opportunities lie and get advice from experts on how to approach the market, including what not to do.
By submitting your personal information, you agree that TechTarget and its partners may contact you regarding relevant content, products and special offers.
You also agree that your personal information may be transferred and processed in the United States, and that you have read and agree to the Terms of Use and the Privacy Policy.
WWT, a technology solution provider and integrator based in St. Louis, said it will provide Dedrone's product to bolster customers' physical and cybersecurity initiatives. In addition, WWT will include Dedrone's drone detection platform in its Advanced Technology Center, a technology design and demonstration facility.
Dedrone's DroneTracker platform detects an approaching drone through an RF sensor and other means, classifies the type of drone via pattern recognition technology and issues an alert. Pablo Estrada, vice president of marketing at Dedrone, said market segments in which WWT could deploy Dedrone's product include data center protection, physical security, event security and intellectual property protection.
"WWT has a natural fit in all of those," he said.
Estrada said one of Dedrone's customers, a data center service provider, found a disabled drone on the roof of one of its facilities during a routine physical inspection. He said the drone was found to be carrying a Raspberry Pi computer and a radio transceiver.
Drones can be used to fly around buildings and facilities to find unencrypted Wi-Fi connections, unpatched Bluetooth devices, smartphone hotspots and other weak points, Estrada said.
Dedrone partners with other resellers and systems integrators in the drone detection space, but Estrada said his company expects to works particularly closely with WWT. The companies have a number of mutual customers, he noted. The companies also share a connection in John Chambers, executive chairman and former CEO at Cisco. Chambers is one of Dedrone's investors. WWT has been partnering with Cisco since 1994 and ranks among the networking vendor's largest channel partners.
Chambers encouraged Dedrone to develop a relationship with WWT, Estrada said.
Atmosera grows Microsoft cloud revenue
Atmosera, a Microsoft Cloud Solution Provider (CSP), said it has seen 3x revenue growth for its Microsoft Cloud business over the past 12 months and an 11x gain for the managed Azure services portion of that business.
John Trembley, chief marketing officer at the Portland, Ore., company said the results cap a three-year investment in Microsoft's CSP program. He said the revenue growth stems from factors including Microsoft elevating the profile of its cloud offerings and market's shift to the public cloud.
"More and more companies want to be in the public cloud and want to be, specifically, in Azure," Trembley said.
He said Atmosera is closing Azure deals within 60 days, citing 30,000-per-month contracts that span two to three years.
Other news
Pax8, a value-added cloud distributor, will offer data protection vendor Datto Inc.'s business continuity offerings worldwide under a partnership. The alliance will include backup and disaster recovery as a service, managed networking, and cloud-to-cloud backup services.
AppDynamics, an application performance management vendor, has launched the Titan Partner Program. The program features two partner tiers and access to sales and pre-sales enablement, services implementation training, support, and a rebate program.
Kaspersky Lab North America has appointed Jason Stein as vice president of channel. Stein was previously vice president of channel at Tier 4 Advisors.
Evolve IP, a cloud computing strategy company, has acquired Mtel, a cloud communications company in the Netherlands. Mtel offers contact center offerings, IP phone systems and business collaborations tools, according to Evolve IP.
IO, a data center provider, is teaming with Console Connect, which provides direct connect offerings. According to Console Connect, IO customer can use Console's platform to "extend private network connections to cloud providers, SaaS services and other enterprises."
Market Share is a news roundup published every Friday.
Additional reporting by Spencer Smith.
Dig Deeper on New emerging technologies in the IT channel
PRO+
Content
Find more PRO+ content and other member only offers, here.