News
Stay informed about the latest enterprise technology news and product updates.
Three vendor 'gotchas' and how VARs get around them
Vendors sometimes churn out bone-headed channel program policies. Read about three big ones and how IT VARs can get around them.
This Article Covers
RELATED TOPICS
Looking for something else?
Most high-tech companies are larger than the IT solution providers that represent their products and services, and the larger they get, the harder it can be for solution providers to prove their worth among the masses. But that doesn't mean high-tech vendors always have to have the upper hand when it comes to shaping sales, marketing, certification and other channel program strategies.

Channel partner executives say there are many contemporary program policies that raise their hackles. These include deal registration structures that offer no clear financial benefit in terms of additional discounts for the registering partner; marketing fund pools that completely ignore the selling influence of services partners; the elimination of support for any events or advertising that doesn't have a quantifiable lead generation or disclosure component; and channel field coverage strategies that change with little or no warning.

Download this free guide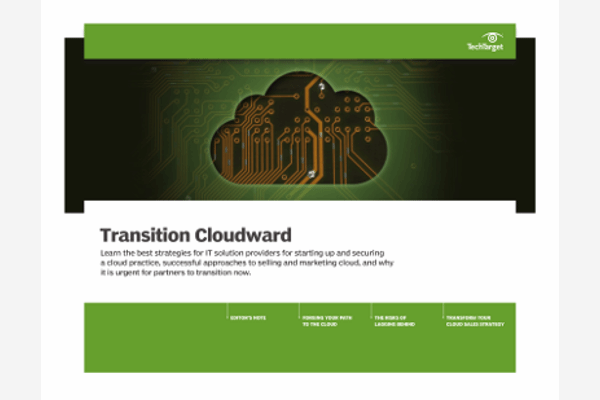 Could Securing Your Channel Business Be Easier? We Can Help.
Download our latest guide to the top strategies solution providers can leverage for starting up and securing a cloud practice, successful approaches to selling and marketing cloud, and why it is urgent for partners to transition now.

By submitting your personal information, you agree that TechTarget and its partners may contact you regarding relevant content, products and special offers.

You also agree that your personal information may be transferred and processed in the United States, and that you have read and agree to the Terms of Use and the Privacy Policy.

One of the most controversial practices, especially in this age of solution-selling, is that of vendors playing spiffs, or bonuses, to individual members of a solution provider sales team.

"This infringes on the sovereignty of my organization. I am responsible for my payroll. When vendors start paying spiffs that have not been authorized by my management, that is a huge problem," said Oli Thordarson, CEO of Alvaka Networks Inc., a provider of network management and security services in Irvine, Calif.

Let's be fair: Most vendors aren't out to take advantage of their channel partners, at least not intentionally. But they clearly have their own interests to represent. So how can you protect your own interests? Here are suggestions from solution providers that have taken matters into their own hands. Each example involves a specific large vendor, but since the message and lesson associated with each is universal, I'm opting not to name names.

#1: Prove your sales influence with real data.

Evolve Technologies LLC, a technology services company in Fairfax, Va., influences plenty of product sales. But, since it doesn't actually sell products other than some software licensing agreements, it sometimes has trouble convincing the vendors it is affiliated with that it deserves cooperative marketing funds. It has found a way around this.

"It should be simple, but it isn't," said Evolve CEO David Sobel. "Heaven forbid you do business in a unique way."

To help build its influence within current channel program rules, Evolve teamed up with a reseller that focuses on hardware procurement, Axis Business Solutions Inc., in Portsmouth, N.H. Even though Axis isn't exactly a neighbor, Sobel said one reason that Evolve opted to work with Axis can help prove how much product is tied to deals closed by Evolve. "They produce reports for me, that's how I get around some of these requirements," Sobel said.

Evolve also discovered that not only did it need to build a relationship with the vendor's channel account manager in its home region, it also needed to look north. "I have to work with the rep associated with my procurement partner, because the server salesman in my region can't be comped on my sales," said Sobel. "You look at it logically and think it could be fixable, but it isn't."

While neither strategy guarantees that Evolve's funding requests will be approved, at least it helps vendors analyze their true influence.

#2: Challenge your contract terms.

Westron Communications Inc. in Carrollton, Texas, recently was approached by a leading hardware vendor that wanted the network integrator and unified communications solution provider to sell a new integrated solution that built on one of its existing vendor relationships.

Eager to build a relationship with this well-known company and create some add-on business, Westron began the certification process. But when Westron president Dave Casey read the proposed business partner contract, he hit the brakes. That's because, in order to protect its traditional channel, this vendor wanted Westron to sell the new product but it didn't want the integrator to use the vendor's brand name in any marketing materials, Casey said.

Westron's response was, "No way," and the vendor blinked. The integrator will be able to use the vendor's name, but only in the context of materials focused on the integrated solution.

"You have to read your contract. So many times, if you represent more than one vendor, you don't look closely enough," Casey said.

#3: Forget the vendor's field sales team. Look to your distributor.

Many solution providers suffer in silence when they don't like a vendor policy or they play telephone tag with an overtaxed channel support desk. Not Richard Vaughn, vice president of the customer satisfaction group of i-Tech Support Inc., a technology services company in Orlando, Fla.

"Some policies are simply exasperating," Vaughn said. "But there is no reason to let it paralyze you."

Irked at what he perceived as the overly complicated requirements of the licensing policies of one of his key product vendors, Vaughn turned to one of his distributors for help in escalating the issue, simplifying materials and, in turn, building more cachet internally with the company in question.

I-Tech and its Ingram Micro representatives (i-Tech is a VentureTech network member) worked out a way of making the sales process more repeatable and process-oriented, so that the vendor's policies didn't postpone closures -- or prevent them from closing at all, Vaughn said. Quite simply, Ingram Micro often can get answers more quickly than might be possible for the solution provider.

Now, i-Tech Support holds regular cadence calls with the Ingram Micro Advanced Technology group, so that the two can keep close tabs on open prospects. It's the sort of relationship that one might expect between a technology solution provider and an especially diligent channel account manager, Vaughn says.

So far this year, i-Tech Support has doubled its business with the vendor in question, according to Vaughn. So much so, that it has been asked by the distributor and vendor to help share some of its business strategy with other smaller IT solution providers so they can find similar success.

Let us know what you think about the story; email Barbara Darrow, Senior News Director at bdarrow@techtarget.com, or follow us on twitter.
Dig Deeper on IT Distributors-Wholesale Providers
PRO+
Content
Find more PRO+ content and other member only offers, here.