News
Stay informed about the latest enterprise technology news and product updates.
Websense 'downloadable' DLP may expand data loss prevention market
Some partners see Websense's recent launch of DLP for Download as a way of simplifying a complex technology that midmarket organizations frequently hold back on.
Looking for something else?
It's no surprise that many security solution providers long for a more simplistic data loss prevention (DLP) implementation, one that could potentially open up the data loss prevention market and entice midsized organizations to try out the often-complex technology.

Download this free guide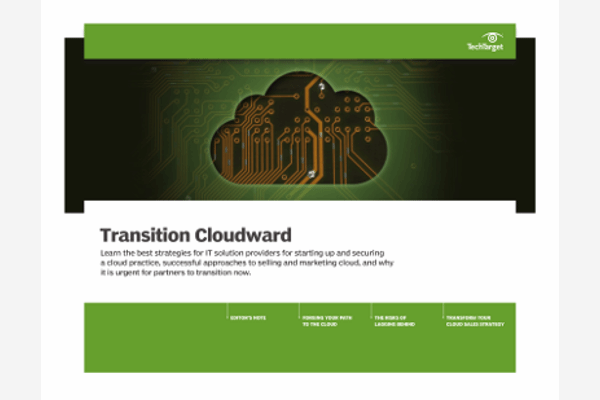 Could Securing Your Channel Business Be Easier? We Can Help.
Download our latest guide to the top strategies solution providers can leverage for starting up and securing a cloud practice, successful approaches to selling and marketing cloud, and why it is urgent for partners to transition now.

By submitting your personal information, you agree that TechTarget and its partners may contact you regarding relevant content, products and special offers.

You also agree that your personal information may be transferred and processed in the United States, and that you have read and agree to the Terms of Use and the Privacy Policy.

With the release of its new DLP for Download product, Websense Inc. hopes that channel partners will embrace its latest effort to shorten the data loss prevention deployment process.

DLP for Download, according to Websense, can be downloaded and installed from Websense.com in just 30 minutes. The product is intended for customers who do not have the time and resources to implement and manage dedicated DLP appliances, or who may want to give DLP technology a test run before making a commitment to new hardware.

Customers can try out the downaloadable DLP for 30 days and then purchase additional licenses that provide other modules within Websense's DLP suite: Websense Data Monitor, Websense Data Protect, Websense Data Endpoint, Websense Data Discover.

Once the software is installed on on-premise servers within the clients' network, a customer can use a policy wizard to define data leakage prevention policies based on built-in templates, which can be filtered according to the security and compliance needs of specific industries and geographical regions.

In traditional DLP implementations, various appliances need to be installed, perhaps one to enforce policies on laptops, one for discovery of sensitive information on a network and another that handles email policies. Each box, too, requires installation considerations: Which appliance should be installed first, for example, or who will manage each one?

Websense hopes to simplify the process with its DLP on Demand feature. After two downloads, management software and monitoring software, customers will be able to create policies and observe their network's Web and email traffic.

By making the technology easier to deploy and avoiding many of the necessary steps when deploying traditional data loss prevention products, John Yun, senior product marketing manager with Websense, suggested that the product could help the channel shorten its sales cycle: a valuable proposition for resellers looking to increase their margins. He also noted that the new option won't shake up a channel partner's structure.

"From a channel partner perspective, [partners] don't need to bulk up [their] staff. Without a huge amount of technical training, they can still provide customers with DLP installation and ongoing maintenance and policy configuration," Yun said.

Some partners of the San Diego, Calif.-based data security vendor are already encouraged.

"The fact that you can download the DLP, and not have to schedule a delivery of boxes, or let people in to the closets to install those boxes, it appears to be an easier approach to get into the door," said Randy Johnson, partner at Attevo Inc., a Cleveland, Ohio-based technology consulting firm that uses Websense to assess risk to its clients' sensitive data.

Dan Wilson, VP of partner alliances at Accuvant Inc., a Denver-based solution provider that sells Websense products, said he thinks that a shortened sales cycle will help make DLP more appealing to the midmarket, a sector that may not have an enterprise's resources, budget or executive backing to implement the technology.

"[Websense is] spot on … in their belief that the complexity inherent in DLP solutions has lengthened sales cycles and made many organizations hesitant to roll up their sleeves and dive into a data security analysis. Although most large enterprises have started or completed such projects," Wilson said, "I think there's still a lot of green field in the mid- and small-enterprise market.

"It's not as if a CISO of a smaller or midsized enterprise doesn't have a list of 50 things to get done. … DLP is something that has been pushed down the list."

Wilson even noted the complexity of a solution provider's typical data security assessment process. Accuvant, for example, performs a data security evaluation for clients, one where a DLP product may need to be installed and deployed over a small period of time so that customers can receive a proper risk audit and develop an ongoing security strategy. Unlike the Fortune 500 companies that Wilson works with, many midmarket organizations don't have the budget for this type of billable project that requires Accuvant's onsite engineers.

"If what [Websense is] saying is true, and we can squeeze down that 2-3 day project, I think that all ships will rise," suggesting that a growing interest in and convenience with DLP will help many solution providers that sell data risk management services.

Websense will provide channel partners with customer-friendly guides for DLP for Download, as well as marketing collateral and how-to videos that address how the new product works. According to Yun, Websense is also in the process of offering channel partners an "evaluation button," which will encourage clients and prospects to download a free 30-day trial and drive sales leads back to partners.

Send comments on this technical tip editor@searchsecuritychannel.com.

Join us on LinkedIn.
Dig Deeper on Application security and data protection
PRO+
Content
Find more PRO+ content and other member only offers, here.