News
Stay informed about the latest enterprise technology news and product updates.
Q&A: Microsoft virtualization honcho talks up VAR opportunities
David Greschler, Microsoft director of integrated virtualization, says VARs can profit by deploying "free" Hyper-V.
This Article Covers
RELATED TOPICS
Looking for something else?
David Greschler is Microsoft's go-to guy for virtualization -- server, desktop, application. As the company prepares the next version of its Hyper-V server virtualization, Greschler, director of integrated virtualization, talked to SearchITChannel.com about what VARs need to know about Microsoft's virtualization plans and products.

Download this free guide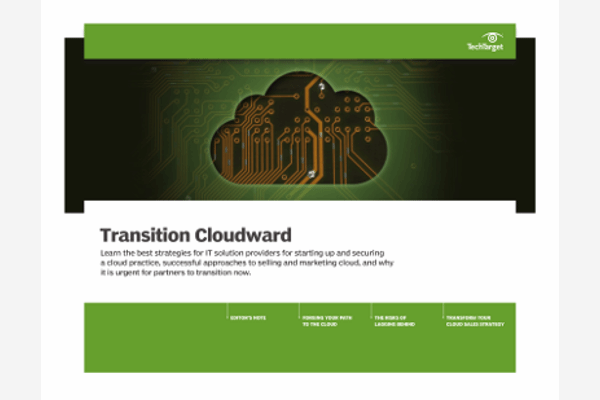 Could Securing Your Channel Business Be Easier? We Can Help.
Download our latest guide to the top strategies solution providers can leverage for starting up and securing a cloud practice, successful approaches to selling and marketing cloud, and why it is urgent for partners to transition now.

By submitting your personal information, you agree that TechTarget and its partners may contact you regarding relevant content, products and special offers.

You also agree that your personal information may be transferred and processed in the United States, and that you have read and agree to the Terms of Use and the Privacy Policy.

Before joining Microsoft, Greschler co-founded Softricity Inc., the developer of SoftGrid application virtualization products.

Q: How would you describe Hyper-V's sweet spot vs. VMware's? VMware still seems to be the go-to option for many enterprises.

David Greschler: With the latest version [of Hyper-V] and with the new one [coming up] with dynamic memory, we are absolutely on par with VMware. Five to seven years ago, there was differentiation. At some point, one company is ahead, but it levels out and virtualization is at that point. The good news is that most companies are virtualizing and most I talk to say that anything that gets added to their data center is virtualized unless there is a very good reason not to. Virtualization is becoming commoditized.

Hyper-V fits everywhere. We have examples of very small companies and midsized companies and very large companies using Hyper-V. It's easy to turn on. We made it part of the operating system [because] we see it as a key technology that will open a world of opportunities in how you think about your data center and how you move to the cloud. We've made it freely available and what people are starting to realize is you don't have to pay extra to take that next step. As you turn on virtualization, you have core tech you can use to begin a move towards cloud computing and not think of the data center as a series of server boxes, but as compute power you can turn on.

Q: So what is the timing on the next Hyper-V? Will this be a TechEd thing?

Greschler: Stay tuned. It's a really important feature -- the number one feature that's been missing is dynamic memory. Q: How does Hyper-V fit into heterogeneous accounts? You support some Linux guests, but what about Unix and other OSes? Greschler: One of the great misconceptions about Hyper-V is that support is limited in a number of OSes. The truth is opposite. We came out with a hypervisor and obviously we'll enable it to run more than Windows, but we want to make sure the customer is supported, not just that something runs, but [that a] customer can make a phone call. You back it up with support. [With] Red Hat Linux, SuSE Linux, we established not that it just runs but that it's also supported. VMware has a huge list of OSes that run on their hypervisor, but a significant portion of them are not supported by the companies that made them. Q: So what about Unix shops? Greschler: What we've done is make sure from a management perspective that you've got support -- another area where Microsoft is ahead of VMware. Virtualization is great, you have that layer, that's table stakes.

But as we go from early adopter to being the default approach for a data center, center of gravity moves away from virtualization to management of those VMs, and if you look at our approach to management, [it's] more open and comprehensive.

We manage Hyper-V but also VMware from Operations Manager, [so] from a single screen you can look at both VMware and Hyper-V deployments -- something you can't do with VMware. Secondly, we put in a lot of investment so that you can manage not just the Windows OSes in those VMs but also Linux, Unix, all those OSes that are out there and drill down to [an] app level to the same degree you can with Windows.

[In addition] Hyper-V is a feature in Windows Server 2008 R2, but you can also download Hyper-V server. This is free … and it has the exact same functionality. What that means is if you have earlier OSes, you can still have Hyper-V virtualization.

Q: With Microsoft it's often hard to determine what functionality comes from which part of the stack. Can you talk about where Hyper-V management ends and System Center begins? It's also hard to compare costs because you need to factor in the cost of the full Microsoft stack.

Greschler: To get full management … we sell System Center a number of ways. The most popular way is per physical box, [where you] get all features [and] physical as well as virtualization management, and the way we license it is if you pay for that box, you can use all of System Center to manage all of those virtual machines.

Compared to VMware, we generally see ourselves at about 1/5 cost of VMware … of course ours include the ability to manage physical and virtual machines.

What we've done is take our systems management experience and infused it into the virtual world. The problems don't go away if you go virtual: You still want to know what your apps are doing, and as we move to a private cloud or dynamic data centers, that becomes more important.

Q: Are you more interested in recruiting VMware VARs or getting existing Microsoft VARs into Hyper-V work?

Greschler: We have a more open approach. Our management lets you manage VMware and Microsoft alongside each other. So whether they're selling VMware or not, 80% of all VMs are actually Windows on top. [So] we come to them and [say], perhaps you only wanted VMware, but here's a way to go back to your customers and tell them they don't have to throw away what they've invested in but [can] extend the investment they've already made.

Q: Are customers really ready for the cloud or are they still spooked by the hype?

Greschler: I recently spoke at a conference to a lot of CFOs. … I asked, 'how many of you are doing cloud computing?' A few hands went up. [Then] 'How many are doing virtualization?' and 50% of hands went up. There's a disconnect. They're already on their way. We want that message to get to partners. By starting to invest not just in one provider but by offering a choice of Microsoft and potentially VMware, you're opening up a broader selection.

Let us know what you think about the story; email Barbara Darrow, Senior News Director at bdarrow@techtarget.com, or follow us on twitter.
Dig Deeper on Technology Vendors-OEMs
PRO+
Content
Find more PRO+ content and other member only offers, here.