News
Stay informed about the latest enterprise technology news and product updates.
Intel Nehalem-EX servers pack power for shops needing consolidation
New servers could find homes in accounts needing consolidation.
Looking for something else?
New servers based on Intel's new eight-core processor are coming online. And for VARs that think a server can't be too fast or too powerful, their arrival -- servers built around the Intel Nehalem-EX and those based on AMD's 8- and 12-core Opteron 6100 Series "Magny-Cours" processors -- this is a good thing, especially after a long period of stagnant server sales.

Download this free guide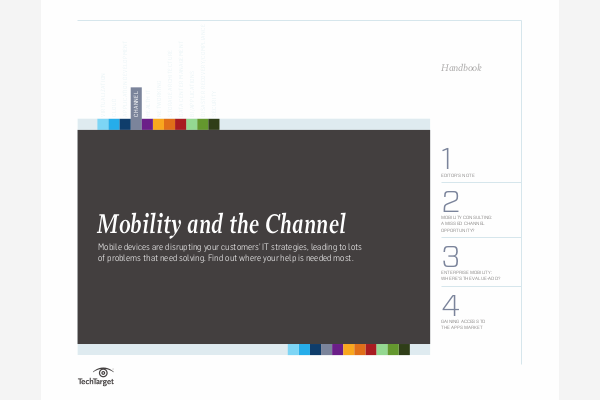 Mobility Consulting: A Missed Channel Opportunity?
Mobile devices are disrupting your customers' IT strategies, leading to lots of problems that need solving. Find out where the best opportunities lie and get advice from experts on how to approach the market, including what not to do.

By submitting your personal information, you agree that TechTarget and its partners may contact you regarding relevant content, products and special offers.

You also agree that your personal information may be transferred and processed in the United States, and that you have read and agree to the Terms of Use and the Privacy Policy.

In theory, the next-generation Intel Xeon (aka Nehalem-EX) chip doubles the workload of each processing core. The server architecture can support up to eight processors, each capable of handling up to eight cores, or up to 16 threads. IBM is among the first vendors on the bandwagon with a server that uses 64 cores, or eight processors.

The new boxes could win over customers that still need to consolidate servers, VARs said.

Dave Hiechel, CEO and owner of Eagle Software Inc., a Salina, Kan., solution provider that sells storage and virtualization solutions, said the current Intel Xeon server platform has inspired a significant amount of server refreshes among his clients. This is especially true of those considering a virtualization infrastructure.

VARs can justify Nehalem-EX upgrades

"My team has been able to really position the speed, memory management and threading as integral for a mission-critical virtualization infrastructure," Hiechel said. From a cost-benefit standpoint, it's relatively easy to make the case that a business should consolidate its activities onto three servers instead of five. "There are definitely consolidation advantages to Nehalem," he said.

Lee Hansen, CEO of Dialectic Networks LLC, an infrastructure solution provider that works closely with IBM, said solution providers can also use energy efficiency as a selling angle for both the Xeon platform and for other multicore server options, such as Power7 from IBM.

"This is a huge consideration for our customers," he said.

To the extent that the next generation of the Intel Xeon server can improve on this, all the better.

A solution provider's success with selling any high-end server in the current climate will come down to being able to discuss the total cost of ownership over an extended period of up to five years, Hansen said.

Recent IDC data shows that prospects for the worldwide server market are beginning to brighten. The research firm reported that unit shipments for 3Q 2009 slipped 17.9% year-over-year, but they grew by 12.4% when compared with the previous quarter. This was the largest sequential quarterly increase in five years, according to IDC.

Although IDC hasn't yet reported fourth-quarter data for servers, Intel reported a 21% increase in revenue for its data center architecture group for the period.

Eight-core Xeon: Too high-end for most businesses?

Still, other solution providers aren't exactly holding their breath for the imminent release of the eight-core Intel Xeon server processor. Although those with a serious virtualization practice are ready to put the new platform through its paces, few believe the release will inspire upgrades outside of typical refresh cycles.

"None of my clients are clamoring for Nehalem," said Jay Tipton, CEO of Technology Specialists, a solutions provider in Fort Wayne, Ind. "For them it's a matter of what the instant business benefit is. Yes, there is improved efficiency, but unless I have a client that has a huge data center that is spending $15,000 to $20,000 in electricity, it's not something that will affect our normal sales focus."

Let us know what you think about the story; email Barbara Darrow, Senior News Director at bdarrow@techtarget.com, or follow us on twitter.
Dig Deeper on New emerging technologies in the IT channel
PRO+
Content
Find more PRO+ content and other member only offers, here.