News
Stay informed about the latest enterprise technology news and product updates.
VARs hope for Windows 7 services demand
Selling Windows 7 services and bundles could prove challenging, VARs say.
This Article Covers
RELATED TOPICS
Looking for something else?
After the Windows Vista debacle, VARs and systems builders are looking at Windows 7 services and features to win them new business in a tough economy.

Download this free guide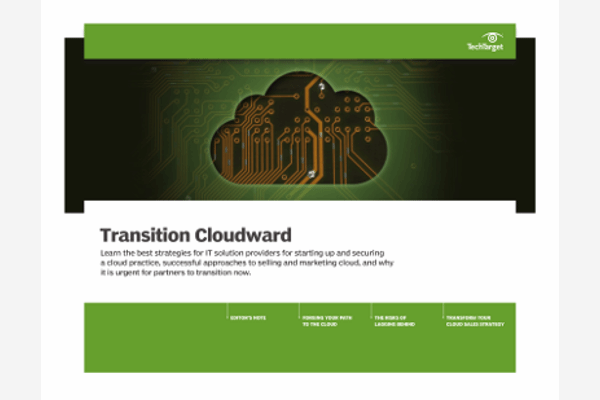 Could Securing Your Channel Business Be Easier? We Can Help.
Download our latest guide to the top strategies solution providers can leverage for starting up and securing a cloud practice, successful approaches to selling and marketing cloud, and why it is urgent for partners to transition now.

By submitting your personal information, you agree that TechTarget and its partners may contact you regarding relevant content, products and special offers.

You also agree that your personal information may be transferred and processed in the United States, and that you have read and agree to the Terms of Use and the Privacy Policy.

It's a given that initial Windows 7 numbers will be huge, since the new operating system (OS) will ship with most new PCs on and after its official Oct. 22 launch. What's less evident is how big a boost it will give value-added resellers (VARs) supporting small and medium-sized businesses (SMBs) that will probably get the new OS preinstalled with new PCs.

Sunny forecast for Windows 7 upgrades and features

Microsoft clearly hopes that the desktop OS, which garnered good reviews for reliability and faster performance with fewer reboots, will minimize memories of Vista. Vista was supposed to be the preferred upgrade path for millions of XP users, but a glitch-prone first release, slow performance and poor reviews rendered that impossible.

Key new features in Windows 7 are AppLocker and BitLocker security enhancements, an updated user interface, revamped taskbar and search capabilities, improved remote access with BrancheCache and DirectAccess, faster boot up and enhanced User Account Control settings. Solutions providers may be most interested in its support for virtual hard disks and on the use of faster multicore processors as well as kernel improvements, and improved management capabilities.

VARs cite Windows 7 XP mode

"I think a lot of customers will switch to Windows 7 because it brings in a lot of the best features from Vista but is higher performing and can run legacy applications in XP mode," said Todd Swank, the vice president of marketing at Nor-Tech, a systems builder based in Burnsville, Minn.

George Brown, president of Database Solutions Inc., agreed. "XP virtualization running in Windows 7 is reason enough for many users to upgrade. [Windows 7] does what Vista promised but did not do -- it runs existing apps and hardware. … It's not just the software … [but also] scanners and any type of USB devices that did not work in Vista are all good in Windows 7 XP virtualization."

Others expect demand for Windows 7 services and upgrades will ramp up going into the new year. Many customers will wait for the first service pack and try to stretch out hardware purchases for as long as they can. With the state of the economy, most VARs are concentrating on services that they can provide right away, like virtualization and data center technologies.

"My guess is we'll start seeing SMBs moving toward Windows 7 in Q2 2010 and medium- to large-sized customers asking for [Windows 7] in Q3 and Q4 of 2010. Almost all of our business customers are running Windows XP Pro," said Todd Barrett, director of sales for CPU Sales & Service Inc., based in Woburn, Mass. Some customers are happy to stay with XP for now to avoid paying for upgrades or implementation services.

Pre-installed Windows 7 still brings service opportunities

VARs and systems builders say their profit opportunity lies in consulting services, not OS upgrades. Whether they provide security systems or push virtualization technologies, some solutions providers see great opportunities to bundle unique Windows 7 services and at the very least, the arrival of a new client OS gives them entry to discuss other services and opportunities.

"[At] the end of the day, what do VARs really want? They want another reason to go in and talk to customers. [Windows 7 presents an opportunity] to go in, do an assessment, go over the value of the new OS and determine what else [customers] might need in their infrastructure," said Tom LaRocca, vice president of marketing and strategy for HP's Americas Solution Partners Organization.

Competing against big IT players

But VARs and systems builders have to think outside the box to come up with Windows 7 services that others don't already offer. Selling standard PCs does not bring enough margin to keep smaller systems builders and VARs competitive against the big players.

"With multinational tier 1 manufacturers brutally pricing their systems, it makes it challenging for everyone who sells hardware for a living to make a dollar. The economy and sales are soft, and people are scrapping for sales. You need to differentiate your offering and also add services," Swank said.

The arrival of Windows 7 gives VARs an opportunity to pitch added services like patch management, or managing their customers' work stations and servers remotely.

"VARs will make money off of Windows 7 by going out and meeting with customers to make sure they're taking advantage of any extra services -- [VARs will use] AppLocker, BitLocker and remote access to make sure customers are using the right tools for their business," Barrett said.

Windows 7 impact on netbooks

It might be too early to say whether Windows 7 will have a great impact on netbook-related services. Although Vista failed on netbooks and XP is getting old, reviews are mixed on the near-term popularity of these mini machines in the business sector.

Swank reports that netbook sales are through the roof, but VARs will have their work cut out for them trying to win an advantage. "Win 7 will be a great choice for netbooks because it's a sleeker OS," said Swank. "Vista was never good, that's why users turned to XP Home. [VARs] will have to work to be competitive and add accessories and services to netbooks."

As the Windows 7 launch nears, most netbooks appear to be shipping with Windows 7, despite a flutter of early activity around Linux preloads. The new Acer Aspire One D250 netbook running the new OS will be available on the Win 7 launch date and has a 1.66 GHz version of Intel's Atom N280 processor, 2 GB of RAM, a new 1280x720 pixel display, a 160 GB hard disk drive and comes with the Windows 7 Starter Edition. Four of Acer's Timeline models will also feature Windows 7.

The Nokia Booklet 3G will also come preloaded with Windows 7 and Nokia has partnered with AT&T to offer the netbook for $299 with a two-year service agreement. Toshiba will release new touch-screen netbooks with Windows 7 in time for the launch.

Windows 7 has been showcased running on other netbooks, including the Dell Inspiron Mini 9, the Asus EEE 901 PC, the MSI Wind and the VIA-powered HP 2133 Mini-Note.

Barbara Darrow contributed to this article.
Dig Deeper on Technology Vendors-OEMs
PRO+
Content
Find more PRO+ content and other member only offers, here.