News
Stay informed about the latest enterprise technology news and product updates.
Microsoft incentives, finance options seek to ease ERP, CRM sales
In ERP and CRM sales, flexibility is key as Microsoft adds a three-year payment option, competitive incentives and rebates to the menu.
Looking for something else?
TECHNOLOGIES
VAR opinions are mixed on Microsoft's decision to let buyers of ERP and CRM applications spread their payments over three years in a new flexible payment program unveiled this week by the company.

Download this free guide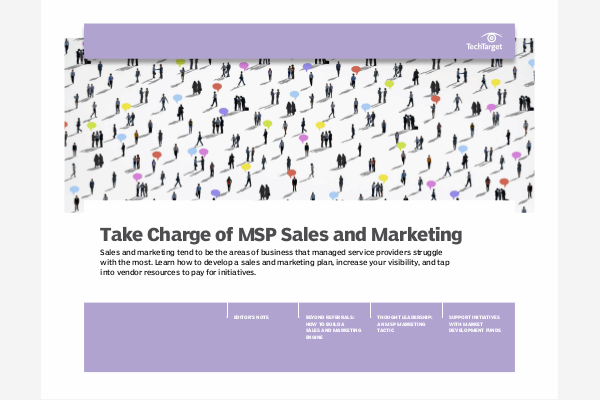 Expert Guide: Creating an MSP Sales and Marketing Plan
Sales and marketing tend to be the areas of business that managed service providers struggle with the most. Learn how to develop a sales and marketing plan, increase your visibility, and tap into vendor resources to pay for initiatives.

By submitting your personal information, you agree that TechTarget and its partners may contact you regarding relevant content, products and special offers.

You also agree that your personal information may be transferred and processed in the United States, and that you have read and agree to the Terms of Use and the Privacy Policy.

On the plus side, flexibility is key and vendors should make buying software in these tough times as easy as possible. But spreading out the license payments means that VARs get their margin payment spread out over time as well and that pinches their cash flow.

One Microsoft Business Solutions (MBS) VAR said this is not a good time to defer payments: "We need that money now."

Other MBS partners said the choice is between slow money or no money at all.

"With the market contracting, you have to make it as easy to buy software as possible," said Yacov Wrocherinsky, founder and CEO of Infinity Info Systems, a New York City-based VAR. His hope is that once the licenses are sold, his company can sell more, and more margin-rich, implementation and customization services.

Courting competitive ERP upgrades

Microsoft also launched new incentives to help VARs woo shops running Sage Software's MAS 90 or MAS 200 ERP or Oracle's JD Edwards Enterprise ONE. There are no similar incentives versus SAP Business One or NetSuite applications, according to Microsoft. Microsoft and SAP have been allies, although many see their ERP lines coming into contention over time.

Sage or Oracle customers who make the move will get a 50% discount on Microsoft ERP licenses. Even the MBS partner who complained about deferred payments was fully aboard for this program. "Competitive are always good," he said. "They can mean new accounts for us."

The competitive incentive deal also carries a 25% rebate off the nondiscounted license price that the customers must use for related services. The rebate tops out at $25,000.

Finally, while Microsoft CRM, unlike ERP, is sold through broad distribution and on Microsoft's Enterprise Agreement (EA) volume licensing deals, the company will now let customers buy CRM via Business Ready Licensing as well. That means a VAR selling ERP into an account can now add CRM more easily to that deal.

"This gives us a little more flexibility," Wrocherinsky said. "If customers have EAs they will probably still buy CRM through the EA, but if they don't have EAs, they often have to jump through hoops to get CRM with ERP."

Gayle Hoshino, general manager of MBS pricing, said the company is working hard to ease sales. "We're getting aggressive. This is the time to go on the offensive and look at gaining some share."

MBS has launched a bunch of free and cheap credit options in the past. A zero-percent credit offer expired March 20, and the company's newer SmartPay option lets customers defer payment for six months. This new three-year option helps customers have a predictable pay off period. Wrocherinsky said that customers who want to upgrade but are hesitant because of the recession might now take the plunge.

Microsoft is not alone trying to move in on rival vendor turf. "All of these software publishers are watching for when customers contracts end and swoop in with offers," he said. "It's the only way to grow share," Wrocherinsky said.

Open-source CRM pioneer SugarCRM also cut price on its on-demand CRM this week in hopes of winning new customers.

Microsoft was quick to note that rival vendors have upped their maintenance fees in the past year while Microsoft has not. ERP powerhouse SAP tried to up its software maintenance fees from 17% to 22% of net licensing fees but deferred those changes after customers protested. Oracle boosted overall license prices by 20% last summer but retained its overall 23% maintenance charge.

MBS VARs said that ERP sales remain very sluggish, although sales of Microsoft CRM are brisk.
Dig Deeper on How to Sell Technology in the IT Channel
PRO+
Content
Find more PRO+ content and other member only offers, here.