News
Stay informed about the latest enterprise technology news and product updates.
Solution providers fight to keep business flowing in volatile economy
The volatile economy drives solution providers to get creative with financing and tech priorities.
Looking for something else?
Last week's elections have done little to settle the volatile economy, and solution providers expect they will have to struggle with instability for the foreseeable future.

Download this free guide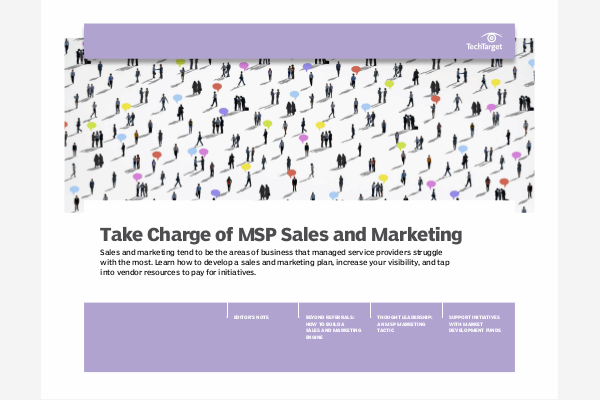 Expert Guide: Creating an MSP Sales and Marketing Plan
Sales and marketing tend to be the areas of business that managed service providers struggle with the most. Learn how to develop a sales and marketing plan, increase your visibility, and tap into vendor resources to pay for initiatives.

By submitting your personal information, you agree that TechTarget and its partners may contact you regarding relevant content, products and special offers.

You also agree that your personal information may be transferred and processed in the United States, and that you have read and agree to the Terms of Use and the Privacy Policy.

Battered by fluctuating, but still high, gas prices -- average price per gallon hit $4.11 in July and fell to $2.42 early this month -- many solution providers have circumscribed nonessential travel.

The unstable stock market hasn't helped either. After Lehman Brothers failed in September, the Dow Jones Industrial average plummeted 504.48 points to 10,917.51 -- the biggest single-day drop since Sept. 11 -- falling below 11,000-point floor. It's been on a roller coaster ride ever since.

That large financial services companies -- as well as insurance carriers and auto makers -- have failed or come close has cast a pall on the IT sector and spending on new technology. Businesses have been forced to make difficult budgetary decisions when sorting through their technology priorities -- and that squeezes both internal IT departments and tech-oriented value-added resellers (VARs). And the sad fact remains: Companies on the brink are not thinking of upgrading their IT infrastructure.

"I'd say 30% of the VARs out there have their tails between their legs. Another 40% are taking a 'wait and see' approach. And the remaining 30% see this as an opportunity to grow organically and through acquisitions," said Mick Gallagher, CEO of LS Technologies LLC based in Fallbrook, Calif. "We survived similar economic crises in 1991 and 2001, and we came out stronger."

Gallagher believes companies like his can benefit from the current volatile economic climate. He pointed out that last quarter his firm grew 91% year over year, and that LS Technologies has been stockpiling assets for the past 24 months.

Despite the recent volatility in the market, Gallagher contends that the worst part of the financial crisis is over. "While I'm no analyst, I expect things to even out by August of next year," he said.

Volatile economy forces rethinking of tech priorities

It was hard to find other solution providers who share that optimism. Customer dollars are pinched and technology priorities suffer.

"We've began preparing for an overall depressed economic level going forward," said Robert Shear, president of Greystone Solutions, a Boston-based e-commerce and custom development specialist.

Shear said IT budgets lag the general economy by a couple of months, so the real effects won't be seen until Christmas or beyond. "I feel some VARs have a false sense of security because projects are still going forward," he said. "Fact is, once the new fiscal budgets are set, CIOs are not going to take chances on new technologies. So a lot of VARs are going to have to adapt."

When credit started drying up, Shear said, Greystone altered its business practices in order to help out customers. For instance, his firm restructured payment terms for some companies and offered a variety of repayment options for cash-strapped clients. Greystone has also emphasized "must-have" products as opposed to "nice-to-have" technologies, he said.

While Shear claims that no customers have been in danger of missing payments, Alex Solomon, co-founder and co-president of New York City-based Net@Work, said that some of his clients have had difficulties financing projects. "It hasn't really affected us because we don't work with many Fortune 500 companies, but there have been a small number of our customers who have had a difficult time securing enough capital for projects."

Like Shear, Solomon believes that VARs must be creative to stay afloat. "The days of the lifestyle VARs are over," he said. "In the end, I think there will be fewer VARs that have a larger portfolio of products."

Going forward, Gallagher, Shear and Solomon agreed, building strong client relationships is key to sustaining, and maybe even growing, business in financially difficult times.

"When the 2001 dot-com bubble burst, we were facing similar circumstances," Shear said. "We saw it as an opportunity to pick up the pieces where others VARs went wrong. Also, we saw it as a way to deepen our existing client relationships."

Ultimately, all three solution providers said that any solution provider or VAR that adopts a client-first approach coupled with smart business decisions can grow despite a sagging and volatile economy. "The VAR industry is not going away anytime soon," Solomon said. "They may have to work a bit harder, but there are opportunities out there no matter how the economy is doing."
Dig Deeper on How to Sell Technology in the IT Channel
PRO+
Content
Find more PRO+ content and other member only offers, here.