Mobile RFID from Microsoft, IBM brings new partner opportunities
Microsoft and IBM are making inroads in mobile RFID, creating new integration and services business for partners.
Looking for something else?
Mobile radio frequency identification (RFID) technology is presenting new opportunities for original equipment manufacturer (OEM) and systems integrator (SI) partners, as demonstrated by recent news from both IBM and Microsoft.

Download this free guide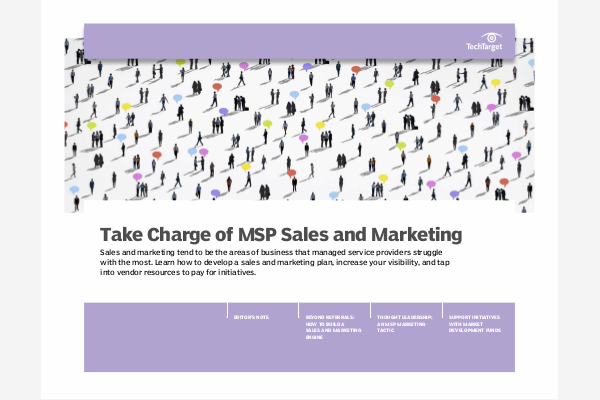 Take Charge of MSP Sales and Marketing
In this expert guide, we have compiled insights to take some of the mystery out of the sales and marketing process for MSPs. Receive an overview of how to go beyond referrals to build a sales and marketing engine and support initiatives with market development funds.
By submitting your email address, you agree to receive emails regarding relevant topic offers from TechTarget and its partners. You can withdraw your consent at any time. Contact TechTarget at 275 Grove Street, Newton, MA.
You also agree that your personal information may be transferred and processed in the United States, and that you have read and agree to the Terms of Use and the Privacy Policy.

IBM announced Thursday that OEM partner Omnitrol Networks has integrated IBM WebSphere RFID Information Center software into its business process management (BPM) appliance. The appliance, Omnitrol Work-In-Process (WIP), collects BPM data from mobile RFID devices and other sources to help businesses monitor their supply chains.
The same day, Microsoft debuted BizTalk RFID Mobile, a service-oriented architecture (SOA) platform that will let users collect and analyze data from mobile RFID readers and access it from other mobile devices. RFID technology was one of the major selling points for BizTalk Server 2006 R2 when it was released in September, and BizTalk RFID Mobile will help Microsoft and its partners grow their businesses, said Steve Sloan, lead program manager for Microsoft's connected systems division.
"We hope to make RFID technology much more relevant to a much, much broader set of customers," he said.
Without mobile RFID technology, businesses have to bring products to fixed readers in warehouses for scanning before they are shipped. With handheld mobile RFID readers, workers can scan products from anywhere, saving time and increasing productivity, said Frank Lanza, Hewlett-Packard's worldwide RFID director.
By increasing the potential size of the customer base, Microsoft is giving HP and other partners new opportunities to provide value-added services, Lanza said. For example, HP sells the HP Connector Solution, which lets customers analyze their BizTalk RFID data with their SAP enterprise resource planning (ERP) software.
"There's some interesting business analysis that can go on," Lanza said. "This isn't like installing Windows XP on your PC and off you go. You still need an integrator to bring it forward. This is a platform built for services."
Microsoft is trying to make such integration work easier for partners, through the design of the technology as well as training programs, Sloan said. The company held an RFID event earlier this year where partners and customers could train and network with each other.
"It's always our aim to try and make it simpler," Sloan said.
Simplicity is also driving Omnitrol's mobile RFID partnership with IBM. Ravi Rishy-Maharaj, Omnitrol's vice president of business development, said in a statement that integrating WebSphere RFID Information Center in the Omnitrol WIP appliance will make it easier and cheaper for customers to track products and analyze data.
The biggest advantage to integrating WebSphere RFID Information Center is that it lets Omnitrol WIP users share RFID data with their customers and partners using the EPC Information Services standard, Omnitrol said.
Microsoft BizTalk RFID Mobile is now available as a private beta to partners and customers through the BizTalk Technology Adoption Program (TAP) and will be generally available later this year.
Dig Deeper on How to Choose the Right Technologies
PRO+
Content
Find more PRO+ content and other member only offers, here.