News
Stay informed about the latest enterprise technology news and product updates.
IT Channel News Briefs, Jan. 1
News headlines for the week of Jan. 1:
WinServer 2008 gets NAP.
WinServer, virtualization show mettle for 2008.
Shell to outsource IT jobs.
This Article Covers
RELATED TOPICS
Looking for something else?
News for the week of Jan. 1-4, 2008 -- in brief, updated daily, on topics important to the information technology (IT) channel.
Windows Server 2008 integrates security with Network Access Protection
Windows Server 2008's Network Access Protection (NAP) is making a switch to the new server more appealing to potential customers. The NAP feature on Windows Server 2008 isolates a device then checks for security risks before allowing it to connect to the network. This added security will help customers lock down desktops. Service providers who plan to offer Server 2008 to customers with remote employees can use this added security feature as a selling point. By stressing integrated security, customers won't have to rely on yet another party to offer security services, strengthening a service provider's position and making the contract more appealing. 01/04

Download this free guide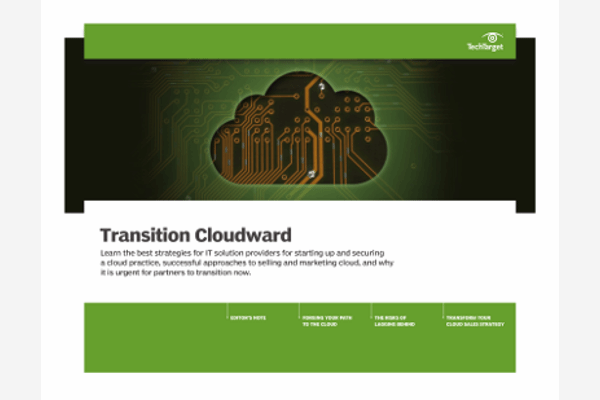 Could Securing Your Channel Business Be Easier? We Can Help.
Download our latest guide to the top strategies solution providers can leverage for starting up and securing a cloud practice, successful approaches to selling and marketing cloud, and why it is urgent for partners to transition now.
By submitting your personal information, you agree that TechTarget and its partners may contact you regarding relevant content, products and special offers.
You also agree that your personal information may be transferred and processed in the United States, and that you have read and agree to the Terms of Use and the Privacy Policy.
Windows Server 2008 and virtualization woo the enterprise
While there's been a lot of talk about virtualization as the Next Big Thing for the channel, SearchWinIT.com gives three real-life examples of how virtualization is being used in the enterprise. These companies see the benefits of virtualization, especially desktop application virtualization and gains in network redundancy, and they say they're looking forward to Network Application Protection (NAP) and other virtualization functionality baked into Windows Server 2008 hardware. Such reports should hearten Microsoft partners as they seek effective ways to sell Windows Server 2008 in the teeth of stiff competition from VMware's third-generation hypervisor as well as open source alternative Xen and the companies wrapping support services around it. 01/04
Shell to outsource IT jobs
Royal Dutch Shell plans to cut more than 3,000 information technology jobs, according to a leaked memo from a company executive. Goh Swee Chen, vice president of IT infrastructure, wrote in the Dec. 19 email that Shell has proposed outsourcing its end-user computing, hosting, storage and managed network services to EDS, T-Systems and AT&T. Shell announced in October 2005 that it was studying the possibility of outsourcing "a substantial part" of its IT operations. 01/03
VMware's SMB problem
Virtualization vendor VMware might have the lion's share of the market, but it continues to face competition from open source rival Xen, not to mention Microsoft. SearchServerVirtualization.com reports that some SMBs are opting for Xen-based Virtual Iron over VMware. According to the story, many SMBs say they can't justify the cost of VMware ESX Server, and they're attracted to the ease of installation and the support that companies such as Virtual Iron wrap around an open source Xen hypervisor core. VMware counters that its customers are willing to pay extra for their product's added features, and this is the case VMware partners will undoubtedly continue to make to their clients. 01/03
Security market begins to consolidate
The security market is beginning to consolidate and even large security vendors are starting to feel the squeeze, said Dennis Fisher, executive editor of SearchSecurity.com. In the past, mergers tended to happen amongst startups that would band together. But in 2007, with IBM purchasing Watchfire, HP acquiring SPI Dynamics and VMware snapping up Determina, Fisher prognosticates that security vendors are reeling because their market is consolidating as other vendors begin to offer security included with their product offerings. Microsoft Vista, for example, integrated antivirus, antispyware and other security features into the operating system, reducing the need for customers to turn to third-party vendors for security needs. Fisher also said that customers are starting to move security back to in-house IT departments because, with this consolidation, security becomes a day-to-day activity, instead of a specialized field. Service providers should take note. Whether or not customers stop needing third-party security support remains to be seen, but service providers should keep a close eye on this trend and take the temperature of their industry from time to time. 01/03
Coming soon: 1-terabyte laptop
As if portable computers don't hold enough sensitive data already, Hitachi Ltd. Is preparing to announce a 500 GB hard drive designed for laptops. The largest currently on the market is a 320 GB drive from Western Digital. The mondo drive will be available in February to manufacturers such as Asustek Computer in Taiwan, which announced it would put two of them in one monster laptop capable of holding a terabyte of data. Channel companies that sell to engineering or other companies that rely on huge data files may benefit from extra closet space. Security specialists whose job it is to prevent sensitive data from leaking out of a client's control won't be nearly as happy. 01/03
RealPlayer exploit code detected
RealPlayer 11 build 6.0.14.748 was discovered to have a flaw that hackers can use to exploit user machines, warned the United States Computer Emergency Readiness Team (US-CERT). Evgeny Legerov, founder of Russian-based security firm Gleg, discovered the code, and Gleg recently posted a flash demonstration of the code at work. Service providers who help secure customer networks should be aware of this flaw and take actions to close the vulnerability, or at least warn customers of the potential to be exploited. 01/03
IBM gets Web 2.0 storage religion
Facing a grid storage challenge from rival EMC, IBM is joining the so-called Web 2.0 storage business with its acquisition of Israeli storage firm XIV Ltd. According to SearchStorage.com, the acquisition adds quick-scaling, next-generation SAN capabilities for digital media and Web-based applications to IBM's existing storage portfolio. EMC will roll out its own Web 2.0 offering early this year, and the channel will be waiting for the dust to settle before deciding which products to add to their respective line cards. 01/03
Electronics vendors ready high-def wireless
A consortium of wireless vendors has released the first version of a specification designed to transmit high-definition video images wirelessly at speeds as high as 4 Gbit/sec. The Wireless HD (WiHD) protocol effort was launced in November 2006 by Intel, Samsung, Sony, Toshipa, LG, Matsushita, NEC and others. It uses the unlicensed 60 GHz frequency band to send data signals, authentication, networking contact data and functional information so each WiHD device can advertise its presence, identify its own functions, negotiate a secure connection with another device and begin transmitting or receiving data to allow, for example, a wireless connection between a laptop or media server and a series of high-definition flat-screen monitors. The next step is for adopters to begin adapting their own products to use the specification. Cutting the cord between high-def displays and media sources will make it easier to build multi-display systems for customers who need that capability, but the biggest impact is expected to be in the consumer home-entertainment market. Wireless USB already exists for business environments, but has not grown rapidly. 01/03
Some pain, some gain in 2008
The new year will be both good and bad for midmarket CIOs and the channel partners they rely on. According to SearchCIO-Midmarket.com, the bad news is that the Internet is not growing fast enough to meet demand. The good news is that network and storage hardware spending is expected to rise. As always, VARs, systems integrators and consultants will need to adjust their strategies to meet changing market demand. 01/02
Microsoft's products for 2008
Service providers and customers can expect a few new additions to Microsoft's product offerings in 2008. Hyper-V -- Microsoft's server virtualization technology -- is going to be released in 2008. Customers might be cautious about adopting this first-generation release, but service providers can assuage fears by learning the technology and offering knowledgeable support. Also slated for the new year is SQL Server 2008, likely to be delivered in the middle of the year. Microsoft is focused on ramping up business intelligence (BI) with SQL Server 2008 by integrating it with Office 2007. 01/02
Green computing focus for 2008
Green computing is being predicted by some experts as an area of the IT field that will garner more attention in 2008. Companies are creating a new CIO-type position, and part of the job description will include issues of green computing. Green computing can save customers energy and money, and IBM and HP are preaching the green message. Service providers using green technology and practices may be able to use that message as a way to open the lines of communication with potential customers. 01/02
Dig Deeper on IT Distributors-Wholesale Providers
PRO+
Content
Find more PRO+ content and other member only offers, here.