News
Stay informed about the latest enterprise technology news and product updates.
More jobs and money for CRM professionals
News headlines for the week of Nov. 26:
CRM salaries grow.
Network spending to rise.
Win2000 users are best targets for WinServer 2008.
This Article Covers
RELATED TOPICS
Looking for something else?
TECHNOLOGIES
News for the week of Nov. 26 - Nov. 30, 2007 -- in brief, updated daily, on topics important to the information technology (IT) channel.
More jobs and money for CRM professionals
Demand for IT professionals with CRM skills is increasing. According to Gartner's Scott Nelson and postings to online job sites such as odinjobs.com, CRM skills are in demand. A recent salary survey conducted by Foote Partners found that the average salary for a CRM developer was $75,030. According to industry experts, the next trend for CRM channel professionals is adding Web 2.0 skills to their repertoire. 11/30

Download this free guide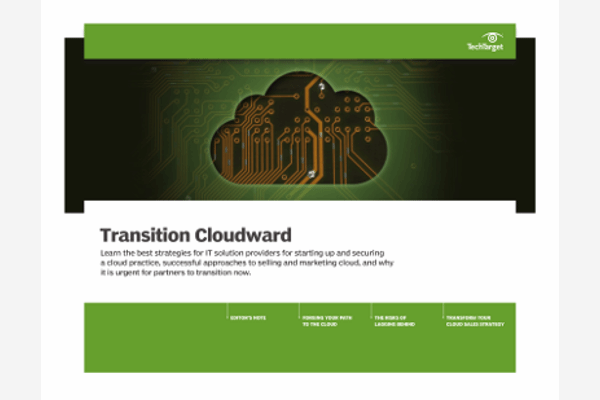 Could Securing Your Channel Business Be Easier? We Can Help.
Download our latest guide to the top strategies solution providers can leverage for starting up and securing a cloud practice, successful approaches to selling and marketing cloud, and why it is urgent for partners to transition now.
By submitting your personal information, you agree that TechTarget and its partners may contact you regarding relevant content, products and special offers.
You also agree that your personal information may be transferred and processed in the United States, and that you have read and agree to the Terms of Use and the Privacy Policy.
Networking spending will increase in 2008
The good news for the networking channel is that networking spending is expected to rise in 2008. Many of those networking professionals surveyed said they expect to ramp up network bandwidth to support additional applications, remote offices, disaster recovery and voice/data convergence. Adding increased capabilities to existing networks should provide the channel with ample sales and service opportunities in the coming year. 11/30
Windows Server 2008: Not so fast
In the wake of the tepid response to Windows Vista in the enterprise, Microsoft hopes to score big with Windows Server 2008, but Gartner analyst John Enck says data center managers running Windows Server 2003 should be in no hurry to upgrade. Enck's opinion seems borne out by the fact that less than a quarter of data center managers polled at this week's Gartner Data Center Conference announced definite plans to upgrade to Windows Server 2008. Eck argues that the true channel opportunity with Microsoft Server 2008 involves upgrades from Microsoft Server 2000, which an estimated 40% of the Windows Server market still runs in their data centers. 11/30
Soon we'll see the (Silver)light
Silverlight 2.0, Microsoft's answer to Adobe Flash for Rich Internet Application development, will go into beta in March 2008. Microsoft will also roll out free Visual Studio 2008 tools to enhance the development of applications for Silverlight 2.0. 11/30
Microsoft invests in IBM mainframe rival
Microsoft is investing in Platform Solutions Inc. (PSI), a mainframe vendor that finds itself in legal and market-share battles with IBM. PSI announced this week that Microsoft, Goldman Sachs, Intel Capital and other investors contributed $37 million in its latest round of funding, and PSI said it will use the cash infusion to bolster its engineering, sales and marketing resources. PSI and Microsoft also announced a deal to promote Windows Server 2008 on PSI appliances. 11/29
McAfee: Virtual crime leads to 'cyber cold war'?
About 120 countries are using the Internet for spying and political, military and economic attacks, according to a new report by McAfee. The Virtual Criminology Report says the rise in such crimes are costing nations, businesses and consumers billions of dollars a year and raises the question, "Are we in the midst of a cyber cold war?" McAfee consulted the FBI, NATO, the International Institute for Counter-Terrorism and other global security experts while researching the report. 11/29
Report shows data loss costs on the rise
The 2007 Cost of Data Breach report, a survey conducted by the Elk Rapids, Mich.-based Ponemon Institute, shows that the cost of a data breach has risen 43% when compared to 2005. The study found that the cost of a breach has increased 8% since 2006 to $197 per compromised record. Other findings in the Cost of Data Breach report include that lost business costs increased more than 30% to $128 per compromised report. That lost business represents 65% of data breach costs, up from 54% in 2005. Value-added resellers in the data protection market should arm themselves with these numbers and present them to customers to show the very real ramifications of lost data and lost business, while presenting a plan or set of services to ensure this doesn't happen to that company. 11/29
Router sales growth driven by provider need
A recent study by the Synergy Research Group has found that telecom providers are driving router sales growth by demanding next-generation networks (NGN), core performance capabilities and experience-based services. As high-bandwidth, media-rich content becomes more commonplace, providers are being forced to look at core performance with an emphasis on increasing core capacity. As a result, providers are clamoring for NGNs and "experienced-based services" to keep customers happy. 11/28
Novell's SLERT 10 ready for real time
Real-time operating systems are enjoying something of a renaissance, and now open source software vendor Novell Inc. has released the second generation of its SUSE Linux Enterprise Real Time 10 (SLERT 10). Novell hopes to build upon the success of its first-generation SLERT 10 offering, which has an installed base of more than 100 enterprise customers. Novell partners and others in the channel interested in offering commercial open source software will want to take note of this trend as they look to diversify their line cards. 11/29
Court hands Microsoft $140 million defeat
Microsoft has lost a patent-infringement lawsuit and must pay $140 million for violating the patent on a software-activation process, according to the Associated Press. A federal appeals court has ruled that Microsoft and software maker Autodesk improperly used software-activation technology patented by z4 Technologies. The ruling stemmed from a 2004 lawsuit by z4 owner David Colvin, who claimed that Windows XP and Office 2003 used his patented method of requiring two authentication codes to activate new software. The court also ordered Autodesk to pay $18 million to z4, a privately held company in Commerce Township, Mich. 11/27
AP: Antipiracy group targets small businesses
The Business Software Alliance (BSA) collected $13 million by settling copyright-violation claims last year, and 90% of that came from small businesses, according to a new study by the Associated Press. The BSA -- which represents major software vendors including Microsoft, Adobe and Symantec -- told the AP it focuses on small businesses because that's where most software piracy occurs. But small business owners and IT managers said the BSA targets them because they don't have the resources to manage their software licenses and ensure that no violations are taking place. 11/27
Microsoft's .NET gets an upgrade
Microsoft's new .NET framework 3.5 and Visual Studio 2008 offer a spate of improvements designed to make the .NET programmer's life that much easier. The biggest changes are improvements to Windows Communication Foundation (WCF), support for Language Integrated Query (LINQ) and improved designer support. These enhancements should lead to increased productivity for .NET programmers working on projects for VARs, systems integrators and managed services providers. 11/27
Processors brand, infrastructure driving customer purchasing habits
A recent survey by Gabriel Consulting Group Inc. (GCG) has found that customers tend to be loyal to their processor brand and that infrastructure challenges are posing real concerns for IT pros. GCG's survey found that 55% of users polled would buy the best processor available no matter which brand it was. But 45% described themselves as "die-hard" Intel users and 13% were "die-hard" AMD users. Value-added resellers who provide server and processor solutions may want to take this information into account when deciding who to partner with -- these survey results seem to indicate that sometimes picking the right brand is more important than picking the highest-quality piece of hardware. Additionally, more than 55% of the user surveyed reported that power, cooling and floor space are major considerations when an IT shop is looking to purchase a new server. The numbers continue to beat the drum of virtualization and consolidation on the data center floor. VARs who have worked on virtualization projects are in a good spot to capture this market segment and create an ongoing revenue stream. 11/27
Small biz likes Linux
A survey that netted 20,000 respondents for the Linux Foundation estimates that 68.4% of companies with less than 100 machines use Linux on desktops in home offices and small offices. One stage up, at companies with between 101 and 500 PCs, 9.7% use Linux on desktops. That figure drops 6.2% for companies with between 1,001 and 5,000 desktops. The survey also showed that among the different versions of Linux, 54.1% of respondents say they use the "Ubuntu family" followed by Red Hat with 50.2%, and Novell SUSE with 35.2% 11/26
60 Minutes exposes in-store wireless vulnerabilities
Shopping in stores may leave customers more vulnerable to identity theft than shopping online, according to 60 Minutes. The CBS news magazine program last night featured a segment on this year's TJX data breach and showed how easy it can be to hack into a store's wireless network just by using a laptop in the parking lot. Some stores' wireless networks do not connect to the systems that store customer data, but some do; that's how the TJX hackers were able to access the personal information of more than 90 million customers worldwide. 11/26
BSA collects piracy fines without lawsuits
The Business Software Alliance (BSA) gets companies to pay for software piracy without filing lawsuits, according to the Associated Press. Instead, the AP reports that the BSA sends letters to suspected violators, saying they can avoid a legal battle if they audit themselves and report whether their computers have unlicensed software from BSA member vendors. Most BSA investigations stem from employee tips or companies that buy "suspiciously" low numbers of licenses, the AP said. 11/26
Giving thanks for managed IT services
In keeping with the holiday spirit, our sister site SearchCIO.com has compiled a list of 10 reasons why CIOs should be thankful to be in IT. VARs, SIs and consultants will want to pay close attention to reason #5: outsourcing IT is still a good idea. This means that CIOs will still be all ears when you bring up the subject of managed IT services. 11/26
HP's Virtual Connect expands SAN/blade connections
Hewlett-Packard Co. (HP) has released a new version of its Virtual Connect storage virtualization product that multiplies its capacity 100-fold. The first version, released in February, could link one blade-server chassis to a storage area network (SAN). The new version can connect 100 chassis, with 16 blades per chassis. Since HP virtualization software is already included in Virtual Connect, the company could add other applications on top for provisioning, storage monitoring and other functions. HP execs have not confirmed that they will add those functions -- acquired along with AppleIQ, Opsware and other companies -- but have said they're considering it. 11/26
EMC's Innovation Day previews storage products
EMC Corp. lifted the veil on several upcoming products during press conferences at its Innovation Day announcement on Nov. 14. Code-named future products included Mamba, a departmental storage device for small to medium-sized businesses (SMBs), HomeStore, EMC's Lifeline software and Hulk and Maui -- which execs described as a more sophisticated form of clustered storage. Additionally, EMC discussed plans to address metadata and updates to content management and archiving, which they plan to address through the use of Web services. 11/26
Dig Deeper on IT Distributors-Wholesale Providers
PRO+
Content
Find more PRO+ content and other member only offers, here.