News
Stay informed about the latest enterprise technology news and product updates.
Tech Watch: Fixed-mobile convergence opportunities for resellers
Learn about the two approaches to fixed-mobile convergence in today's business market and opportunities for the IT resellers.
Looking for something else?
Two major approaches to fixed-mobile convergence (FMC) are working their way into the business market.
The first and most widely known is the approach taken by T-Mobile: Have the customer buy a phone that supports both WiFi and cellular GSM networks, then install client software on the phone to handle Unlicensed Mobile Access (UMA). (UMA was renamed Generic Access Network (GAN) in 2005, but is still usually referred to as UMA.)

Download this free guide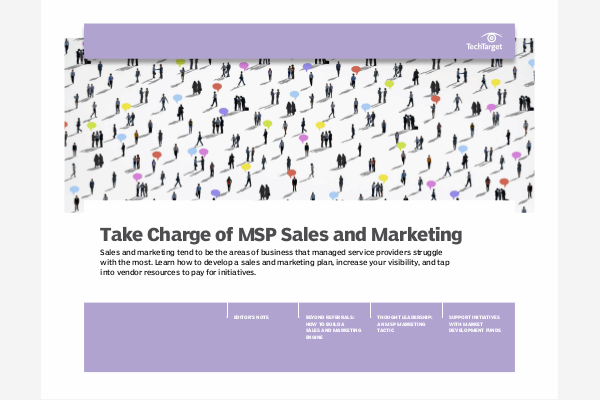 Expert Guide: Creating an MSP Sales and Marketing Plan
Sales and marketing tend to be the areas of business that managed service providers struggle with the most. Learn how to develop a sales and marketing plan, increase your visibility, and tap into vendor resources to pay for initiatives.

By submitting your personal information, you agree that TechTarget and its partners may contact you regarding relevant content, products and special offers.

You also agree that your personal information may be transferred and processed in the United States, and that you have read and agree to the Terms of Use and the Privacy Policy.

Using UMA -- a set of protocols designed specifically for GSM networks -- the client constantly scans radio signals in the handset's vicinity and manages the shift from the GSM to a WiFi network without losing the call.

That approach puts most of the cost and responsibility for making the change on the carriers, but puts control of the customers' network in the carrier's hands as well, according to an Insight Research report.

Dual-mode handsets also deaden batteries much faster than single-mode setups, are subject to interference from other devices, and may find more dead spots inside a customer's building than outside on the cell network, the report said. Between a third and half of all U.S. corporations have WiFi networks of one kind or another installed already, according to various analyst reports. Because most are designed for data, however, not voice, WiFi signals inside a customer's building may be too spotty to support fixed-mobile convergence without extensive changes, Carlaw said.

To address that problem, customers would have to set up many more WiFi access points to improve the availability of the signal, and add voice-specific enhancements to the WiFi network, potentially including Multiprotocol Label Switching (MPLS) and VoIP call controllers that can manage calls placed from inside the building.

The other major approach is to put the equivalent of a cell phone tower inside the corporate network. Femtocells broadcast and receive on cell phone frequencies and connect those calls to the corporate network. These are manufactured by specialty companies such as First Hand Technologies in Ottawa and Airvana Inc. in Chelmsford, Mass., though Cisco Systems Inc. and other networking companies are rumored to be interested as well.

While they can support both GSM and CDMA cell phone networks, femtocells have been positioned as an alternative approach to FMC that is independent of GSM/UMA networks.

Femtocells typically use Session Initiation Protocol (SIP) and IP Media Subsystems (IMS) to provide call-control functions to network managers and to convert cell phone calls to VoIP. They connect through any IP network to the core network of the carrier, and route a call as any IP-based PBX would.

Companies such as Kineto Wireless, which have built their value proposition on UMA, argue that UMA and the other standards being built by the 3rd Generation Partnership Project (3GPP) offer richer call-control than SIP or IMS.

But the femtocell itself usually provides "half a controller -- almost like having a PBX in the building at zero extra cost," Carlaw said.

"The cellular guys are stepping away from SIP, but there is a lot of interest in using SIP in the enterprise," Carlaw said. "But my thoughts are that you're not going to get it into anything above the medium enterprise level. The problem is that when you have to have a number of femtocells on different floors or whatever, they interfere with each other. The seamless handoff would be much more complicated and it might become untenable rather quickly."

Sprint is the first of the major carriers to offer femtocell-based FMC. Its Airave -- a femtocell manufactured by Samsung -- supports all Sprint phones but is currently available only in Denver and Indianapolis.

Carlaw expects femtocells will eventually become much more common as central phone switches for home users, rather than in businesses, which will rely on WiFi and dual-mode phones.

Insight's report, however, predicts that applications such as calendars, directories and location-based services will drive the acceptance of femtocells because they require the fewest changes to the rest of a customer's network and handsets.

In the end, corporations will have to accept WiFi/cellular networks to appease employees who use such devices at home and don't want to switch to a separate phone when they go to work, Insight reports.

"If you're in an enterprise environment, the best gamble would be to look for the WiFi/voice-over-wireless implementation in the enterprise," Carlaw said.

As a practical matter, though, fixed-mobile convergence is still far enough in the future that channel partners should be keeping an eye on it and preparing, but not yet trying to sell customers on it.

"We're having success in pockets, but voice over wireless is not an end-to-end solution yet," Fink said. "We're still working on single-number access -- not converging the telephone networks as much as providing transparency between the two. It's on the forefront of unified communications. But it's not here yet."

Fixed-mobile convergence: Plenty of potential for the channel
Home: Introduction
1: The business case for FMC
2: Opportunity for the IT resellers

Dig Deeper on How to Choose the Right Technologies
PRO+
Content
Find more PRO+ content and other member only offers, here.