News
Stay informed about the latest enterprise technology news and product updates.
BEA courts Oracle
News headlines for the week of Oct. 22:
BEA wants $8.2B to sell.
Sun, NetApp intensify ZFS fight.
Trend Micro acquisition to plug data leaks.
This Article Covers
RELATED TOPICS
Looking for something else?
TECHNOLOGIES
News headlines for the week of Oct. 22, 2007 -- in brief, updated daily, on topics important to the information technology (IT) channel.
NYT: BEA will sell for $8.2 billion
BEA Systems has named its price, and it's too high for Oracle, according to The New York Times. The newspaper reports that BEA, a business process management software vendor, said it would agree to an acquisition by Oracle for $8.2 billion -- higher than the $6.7 billion offer Oracle made earlier this month. Oracle has rejected that figure and said it will give up its pursuit of BEA if there is no agreement by Sunday night. 10/26

Download this free guide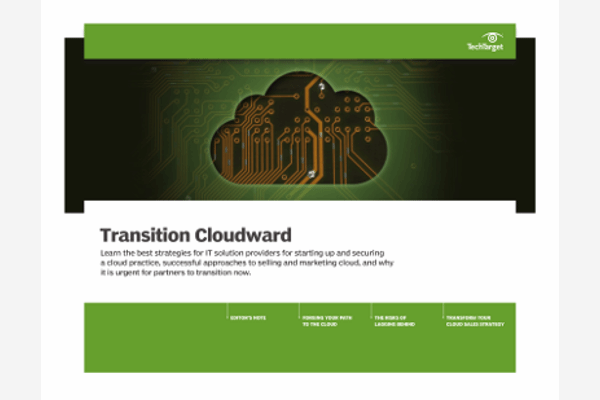 Could Securing Your Channel Business Be Easier? We Can Help.
Download our latest guide to the top strategies solution providers can leverage for starting up and securing a cloud practice, successful approaches to selling and marketing cloud, and why it is urgent for partners to transition now.
By submitting your personal information, you agree that TechTarget and its partners may contact you regarding relevant content, products and special offers.
You also agree that your personal information may be transferred and processed in the United States, and that you have read and agree to the Terms of Use and the Privacy Policy.
Trend Micro makes DLP acquisition
Trend Micro has acquired Provilla, a Silicon Valley data leak prevention vendor. Provilla's products, including its fingerprint-based LeakProof suite, will still be available for now, but Trend Micro eventually plans to integrate those technologies into its own products and services. Trend Micro did not disclose the terms of the deal. 10/26
Sun and NetApp contest ZFS
The parent litigation wars between Sun Microsystems Inc. and Network Appliance (NetApp) over the ZFS file system continues to heat up and may spell trouble for the entire storage industry. Sun is now countersuing NetApp over ZFS, even as both sides claim the moral and IP high ground. ZFS plays a crucial role in both firms' storage strategies, with Sun planning to integrate ZFS with its storage hardware, and analysts aren't making predictions about how the legal dust will settle. Whatever the merits of these lawsuits, they threaten to disrupt solid sales by both Sun's and NetApp's channel partners in an otherwise lukewarm storage market. Meanwhile, Sun's plans to merge its storage hardware and software already have attracted criticism from some of its channel partners, and the ZFS controversy may well add further fuel to that fire. 10/26
Trend Micro protects with Provilla
Data leak protection continues to be one of the hottest areas in the endpoint security market, and Trend Micro's acquisition of fingerprint-based endpoint data leak prevention provider Provilla only strengthens the company's position in the marketplace. According to Bill Brenner at our sister site SearchSecurity.com, Trend Micro's CEO reportedly said the firm was acquiring Provilla to give it "broader and deeper insight into the multiple endpoint data leak vulnerabilities and the use of intelligent solutions that can identify sensitive data and prevent its misuse through endpoint devices and channels." For security VARs, endpoint security is one of the fastest-growing markets; Gartner Inc. predicts the market will increase from $50 million in 2006 to as much as $150 million this year. While mergers in the industry offer fewer overall choices to VARs, the end result, vendors claim, will be more integrated and comprehensive product offerings around which VARs can wrap services. 10/26
Email archiving vendor launches partner program
Jatheon Technologies, a Toronto-based email archiving vendor, rolled out its worldwide reseller program this week. Jatheon, which makes the Plug n Comply email archiving appliance, said the new program will include "aggressive" margins, sales incentives, around-the-clock technical support and opportunities for recurring revenue. More than half of Jatheon's new business comes from the channel, the company said. 10/26
Hosted data center costs rise
Solution providers who host collocated data centers have been blaming the increased cost of electricity on steadily rising fees on both new and existing agreements with managed services customers. The price hikes can induce sticker shock in customers. But rather than paying up, some customers have packed their equipment and moved to a shop that offered a better deal. In other cases, customers have negotiated specific language into contracts that cap the percentage increase providers can demand. Value-added resellers need to walk a fine line. Raising the energy-based fees may be a quick way to make money, but could also chase away customers; keeping rates relatively stable, on the other hand, may become an increasingly important way to bring new customers into the fold. 10/25
Cisco buys WiMax provider
Cisco Systems Inc. has announced plans to buy WiMax wireless vendor Navini Networks for $330 million. Cisco executives said the company plans to incorporate Navini's fixed and mobile WiMax products into Cisco's existing and future outdoor broadband wireless and mesh networking products. The announcement comes just days after the International Telecommunications Union announced it had accepted WiMax as an international standard. The market for WiMax in the U.S. is currently tiny, but ABI Research Inc. predicts there will be more than 200 million mobile WiMax devices and 95 million subscribers by 2012. 10/24
Oracle issues ultimatum to BEA
Oracle Corp. has given BEA Systems until Sunday to accept its $6.7 billion buyout offer or lose the opportunity. The ultimatum followed BEA's second notification that it has had rejected Oracle's offer to buy the company for $17 a share. There have been no other offers to purchase BEA. 10/24
Managed service opportunities for mobile devices
Microsoft's Mobile Device Manager 2008 will allow IT shops and value-added resellers to manage and support smartphones and PDAs. Expected to be available in the first half of 2008, Mobile Device Manager will allow companies to treat these devices as if they were part of the corporate infrastructure. As more applications -- such as Java, Word and Flash -- are housed on these devices, VARs have the opportunity to use Mobile Device Manager 2008 to manage smartphones and PDAs by setting up services around upgrades and security. 10/24
Communication can prevent data breaches
Reports of stolen personal information from companies like TJX have hit the headlines in recent months, but a new survey sponsored by Microsoft reveals that companies with better interdepartmental communication are less likely to have data breaches. As reported by Bill Brenner at our sister site SearchSecurity.com, the survey of 3,600 executives in three countries over two years found that 78% of the security and privacy executives surveyed were "confident that their marketing colleagues consult them before collecting or using personal information." However, "only 30% of marketers said they actually do so." Just 29% of companies reporting good internal communication over the past two years said they suffered a data breach within that period. 10/24
Pillar gets new channel exec
Pillar Data Systems today announced the appointment of David Zimmer as vice president of worldwide channel sales. Zimmer will be responsible for managing Pillar's global channel sales organization as well as developing relationships with distribution and solution provider partners. Pillar has increased its indirect channel sales to more than 60% of the company's total revenue for 2007, the company said. 10/24
Apple bites into PC market share, stands at No. 3
Gartner Inc.'s latest quarterly PC shipment report shows Apple Computer Inc. is No. 3 in the PC shipment market -- a position it will hold until at least the next quarterly survey -- when Acer's numbers will surge following the acquisition of Gateway it finalized last week. Apple's third-quarter 2007 PC shipments increased year over year to 37.2% or 1,338.000 units -- more than eight times the industry growth rate, Gartner said. Apple, which has 8.1% of the PC market share, is behind Hewlett-Packard Co. at 25% and Dell Inc. with 29.1%. 10/23
VMware to hold its first conference call
Tomorrow afternoon, after the markets close, VMware Inc. will hold its first earnings announcement since it began trading on the New York Stock Exchange in August under the symbol VMW. The VMware conference call and live webcast will be held Oct. 24 at 5 p.m. Eastern time. 10/23
Microsoft lowers subscription licensing fees for Microsoft Dynamics CRM
At its Convergence 2007 conference held in Copenhagen, Denmark, Microsoft Corp. announced that it plans to lower the subscription licensing fees paid by its global hosting partners for Microsoft Dynamics CRM software by approximately 40%. (See our story predicting the news.) Partners building new on-demand solutions based on Dynamics CRM 4.0 -- formerly code-named "Titan" and due out later this year -- include Mondo A/S, a Danish IT services company; JayThom Pty Ltd., a hosted and on-premise Microsoft Dynamics CRM provider in Australia; EveryWare AG, a hosted business applications provider in Switzerland; and Increase Ltd., a U.K.-based hosted Microsoft Dynamics CRM solution provider. 10/23
NYT: Russian hacking a growing problem
Russia continues to be among the biggest global havens for hackers, spammers and the like -- along with the United States and China -- according to The New York Times. Russia's emergence is forcing security vendors to devote more resources to stopping malware from that country, and the vendors are not getting much help from the Russian government, the Times said. Furthermore, many government officials and citizens don't view hacking and spamming as a major problem. 10/22
FTC halts Intel investigation
Deborah Majoras, chairwoman of the Federal Trade Commission (FTC), has dismissed requests to open a formal investigation of Intel for anticompetitive behavior. The decision follows an informal review that the trade commission had been conducting which included collecting thousands of documents from Intel and its customers as the commission looked into complaints lodged by Intel's archrival AMD. The decision means the FTC won't issue subpoenas or force company executives involved to give testimony, though AMD's lawsuit against Intel, which was filed in federal court in Delaware, will continue. 10/22
HP dips into business services management arena
Hewlett-Packard Co. has introduced an integrated suite of products based on the OpenView technologies it acquired from Mercury Interactive. The company revamped its HP Network Management Center, formerly known as OpenView Network Node Manager, and made enhancements to its HP Operations Center 8.0, HP Network Management Center 8.0, HP Business Availability Center 7.0 and the HP Universal CMDB (Configuration Management Database) 7.0. Company executives said they are moving into the business service management arena to give customers greater network visibility and to help them better manage and integrate network tools. 10/22
Jailed Cisco do Brasil employees released
Three of the four Cisco Brazil employees arrested as part of a sweep of 40 people Brazilian police charged with avoiding taxes and import duties on more than $800 million worth of Cisco equipment over five years were released. At least one of the four -- Pedro Ripper, president of Cisco do Brasil -- will return to his post, according to a statement Cisco released yesterday. Cisco's main response to the arrests was to promise cooperation with Brazilian authorities, refrain from making any conclusions until internal and external reviews are finished, and note that all imports to Brazil are handled by its channel partners rather than Cisco itself. 10/22
WiMax approved as international standard
The United Nation's International Telecommunication Union (ITU) has approved WiMax as a standard to be included in its documentation this year. WiMax (Worldwide Interoperability for Microwave Access) is a long-range wireless networking protocol with connection speeds -- under the right conditions -- of up to 70Mbit/sec across distances as great as 40 miles. The ITU approved a version of the protocol proposed by the industry group The WiMax Forum; the U.S.-based Institute of Electrical and Electronic Engineers (IEEE) has already approved WiMax as 802.16 -- one of its family of wireless protocols. Sprint Corp., Intel Corp., Motorola Inc. and Nokia Corp. are all early promoters of the standard, which is not yet widely used within the U.S. Intel, which has spent more than $1 billion on WiMax networks and other investments, plans to ship next year chipsets that support both WiFi and WiMax networking on the same unit. 10/22
Dig Deeper on Technology Vendors-OEMs
PRO+
Content
Find more PRO+ content and other member only offers, here.