News
Stay informed about the latest enterprise technology news and product updates.
Dell/EMC midmarket storage strategy may cause channel conflict
Dell's business strategy is to lock up the midmarket with high-end products from EMC, further roiling EMC partners and the anti-Dell crowd in the process.
Looking for something else?
TECHNOLOGIES
Dell Inc.'s business strategy has crossed that of the channel more than once over the years, but its latest storage plans put it in the position of a reseller for more enterprise-focused vendors reaching down-market.

Download this free guide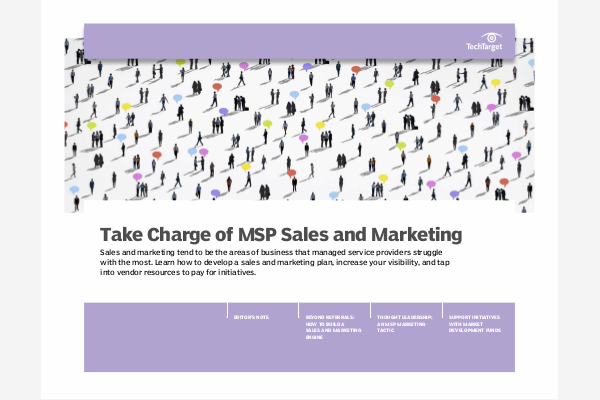 Expert Guide: Creating an MSP Sales and Marketing Plan
Sales and marketing tend to be the areas of business that managed service providers struggle with the most. Learn how to develop a sales and marketing plan, increase your visibility, and tap into vendor resources to pay for initiatives.

By submitting your personal information, you agree that TechTarget and its partners may contact you regarding relevant content, products and special offers.

You also agree that your personal information may be transferred and processed in the United States, and that you have read and agree to the Terms of Use and the Privacy Policy.

Under a recent agreement with EMC Corp., Dell will sell Celerra NS20 and NS40 products – both of which are aimed at mid-market customers of network-attached storage (NAS) and storage-area network (SAN) products.

Executives at both companies have said that Dell's formidable presence in the midmarket -- especially among commercial, education and government customers – will help them fight off fierce competition with Network Appliance Inc., Hewlett Packard Corp. and other vendors.

Yet by selling EMC's NS20 and NS40, which will be available this month, Dell will inevitably exacerbate the conflict with EMC's channel partners.

Mike Arterbury, Dell's director of storage operations and alliances, acknowledged that as Dell's business strategy for storage drives EMC products further into the midmarket there will be times when Dell's direct sales representatives will compete with EMC's channel partners, but also said the main focus is to tap virgin territory where both companies don't have a presence.

"Competition exists, make no mistake, and there are a finite number of customers

out there, but from a Dell and EMC perspective there is enough greenfield opportunity for all of us to grow this business successfully," Arterbury said. "Frankly we are not set up to compete with other people carrying the same products, we are set up to compete with our other tier-one competition, with portfolios that don't match up against ours, and that's really the heart of what we are trying to do with the business is win the hearts and souls of customers that don't buy EMC or Dell today," Arterbury added.

IDC channel analyst, Janet Waxman, said the competition between EMC's channel partners and the Dell business strategy to sells storage direct are two channels EMC should monitor closely.

"I think that EMC is going to have to really pay very close attention to what goes on in managing those two channels. They have to carefully manage the conflicts," Waxman said.

Peter Koliopoulos, EMC's vice president, global channels marketing, reiterated that there will be no changes to the EMC/Dell channel relationship.

"As of yet we have not changed anything we are doing, we continue to use the same go-to-market vehicles that we had been and our go-to-market with Dell continues the way it has been. I have not gotten that feeling that we are going to have to change anything," said Koliopoulos.

Up to now the Dell business strategy for storage has pleased EMC executives and the relationship has boosted sales of EMC's external disk storage systems. In fact, the relationship helped Dell post the strongest year-over-year revenue growth of 12% during the first quarter of 2007, according to IDC estimates.

By selling EMC's NS20 and NS40 arrays, which EMC CEO Joe Tucci described as "game-changing multi protocol arrays," Dell executives and analysts say the products will fit perfectly into their simple capable and affordable model for storage.

Among its features the technology can support fibre channel SAN, iSCSI SANs and network attached storage, separately or concurrently. They also support iSCSI remote replication allowing for connection to low cost ports, support up to 1,000 snaps and has thin provisioning and important safety features, Tucci said at EMC's July 24th conference call.

These are important features for the Dell business strategy for storage, particularly because many of Dell storage systems like the PowerVault products lack these features, according to Stephanie Balaouras, storage analyst at Forrester Research.

"The PowerVault products are based on Windows storage server and actually are not bad; it can do iSCSI and NAS simultaneously, so I do think for very small businesses it's probably a very good product offering," Balaouras said. "Where it's undifferentiated against and NS20 and NS40 or versus a NetApp model is probably in the advanced data protection functionality; when it comes to the snapshots, cloning and replication functionality, PowerVault is not going to compete on those levels."

Certainly, with the help of EMC, the Dell business strategy for storage has a sharper focus on midmarket storage. The company has focused on iSCSI which will be a key area of focus for Dell. Through EMC the company uses VMware for virtualization and said another factor that's attractive to Dell is that the NS20 and NS40, which fits the price bands of $50,000 and under. In addition, Dell's sales staff is trained on EMC's products -- a move that will boost Dell's service capabilities on EMC systems.

Mike Willard, principal partner at EMC storage partner and Dallas, Texas-based Soccour Solutions, said he does not expect the EMC/Dell relationship to change, channel conflict notwithstanding. The key is for EMC VARs to formulate their own effective strategy to convince customers to buy from them instead of Dell.

"Our strategy is to continually provide a significantly better support organization than Dell. The biggest complaint from Dell/EMC customers is that the support provided by Dell is severely lacking," Willard said. "We continually strive to strengthen our relationships with our customers so that they see value in doing business with our company, versus being customer number 300,000 with Dell," Willard added.

In the meantime, Dell's Arterbury said the Dell business strategy for storage will meet the needs of the midmarket in price and performance.

"We offer the computer layer via our server business, we offer the solution stacks, we offer the storage products, and we wrap our professional services and our expertise in the enterprise around that entire solution versus just offering pieces of the solution," Arterbury said.

Let us know what you think about this story; email: Nicole Lewis, Senior News Writer
Dig Deeper on Channel Conflict
PRO+
Content
Find more PRO+ content and other member only offers, here.