News
Stay informed about the latest enterprise technology news and product updates.
Microsoft chiefs tout software plus services, consumer gear in financial announcement
Ballmer, Ozzie tell financial analysts to expect big changes from Microsoft software plus services plan, consumer push.
This Article Covers
RELATED TOPICS
Looking for something else?
As Microsoft continues to push into "software plus services" and consumer electronics, the role of its solutions partners and the partnership model itself will evolve, company executives said yesterday.

Download this free guide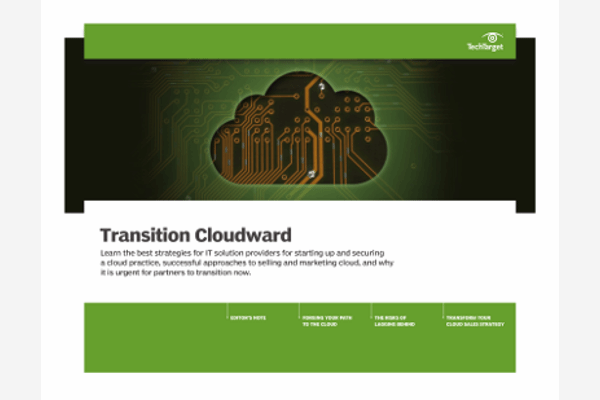 Could Securing Your Channel Business Be Easier? We Can Help.
Download our latest guide to the top strategies solution providers can leverage for starting up and securing a cloud practice, successful approaches to selling and marketing cloud, and why it is urgent for partners to transition now.

By submitting your personal information, you agree that TechTarget and its partners may contact you regarding relevant content, products and special offers.

You also agree that your personal information may be transferred and processed in the United States, and that you have read and agree to the Terms of Use and the Privacy Policy.

Speaking at the company's annual Financial Analysts Meeting in Redmond, Wash. on Thursday, Microsoft's top managers told Wall Streeters they had better get used to the company's push beyond its historical products and constituencies. Execs also warned analysts to "embrace disruption" during Microsoft's evolution toward a software plus services business model and into consumer electronics.

Taking on Apple and Sony in consumer electronics, for example, "we will probably partner differently than we did on Windows," said CEO Steve Ballmer "Windows is the most open ecosystem in the world. I'm not sure that [model] will deliver the best consumer [electronics experience]," he said.

"You'll see different techniques for partnerships in our consumer electronics initiatives. We have to learn from our mistakes. It was painful to announce the write down [on Xbox warranties]. We will be world-class when we do hardware," Ballmer said.

In short, Microsoft's approach will be to mandate hardware design in these areas — in some cases making the hardware itself, as it already does in computer mice and keyboards.

The message was essentially the same as that delivered to thousands of Microsoft VARs, integrators, OEM and ISV partners gathered in Denver for the worldwide partner conference two weeks ago. The focus was more specifically on the "software plus services" business model.

There, COO Kevin Turner and Ballmer told partners that they face the same challenge Microsoft does in the competition for Web-connected customers, and that both Microsoft and its partners would have to get into the applications hosting business everywhere customers demand it do so.

Ballmer said the company expanded beyond the desktop and into enterprise software long ago, but that now it must go further – building or designing devices and consumer electronics as it did keyboards, mice and game consoles, if it is going to be successful in those markets.

Microsoft has learned from Apple's success with iPods that success in consumer electronics especially, depends on better control of hardware manufacturing and quality than it has typically had, Ballmer said.

Chief software architect Ray Ozzie also expanded on the approach Microsoft would take on the software-services front.

The evolving platform, Ozzie said, would begin with "Global Foundation Services" -- operating systems, servers, storage and networking units designed for reliability, redundant failover capacity and all the other high-availability functions common to corporate data centers and manages services operations centers.

Above that will be "Cloud Infrastructure Services" -- a virtualized computation layer that includes application frameworks, horizontally scalable servers, storage and operating systems, infrastructure to manage automatic

deployment of virtual machines and applications, load balancing and performance optimization, and low-latency networking and searchable storage.

And above that will be applications and services, hosted and managed by Microsoft. They will include things like collaboration and document sharing.

Ozzie stressed that Microsoft, more than most tech companies, is used to dealing simultaneously with many partner and sales models – from computer games to enterprise servers -- and that there will be partner opportunity along with challenges here as it moves ahead.

"Each audience is undergoing some transformation from software to software plus services or service alone," Ozzie said.

"We're in a unique position in that we can offer three choices — on-premise servers to give the enterprise the ultimate in control and compliance; partner-hosted services where customer can take advantage of partner vertical expertise; and Microsoft hosted services," Ozzie said.

Ozzie described Microsoft-hosted services as the ultimate in low-cost services that could help even large companies add capacity as needed for spikes in sales, for example.

Asked later in the day about channel conflict arising out of this service push, Microsoft Business Division president Jeff Raikes said the key is transparency and communication.

"One benefit of being part of Microsoft's history is we've had a lot of experience handling multiple business models and channels simultaneously unlike a lot of our competition. We get out in front with our partners and give them a sense of where we're headed," he noted.

"A year ago at WPC we talked to them about where we were going with Dynamics CRM and how we're having a 'Live' service offering. Partners are good at handling new business opportunities. By getting out in front of it we make it easier for them to do that." Raikes said.

Even though Microsoft had been touting its services for months going into this year's partner conference, several attendees were still struck by the call to action issued there by Ballmer and COO Kevin Turner. "They basically told us to get going [on services] or beware," said one mid-Atlantic VAR at the event.

As for product news nuggets, Microsoft said Office Communications Server, which combines VoIP with instant messaging and collaboration, will release to manufacturing Friday and be broadly available within months. It also said sales of its Sharepoint Server hit the $800 million mark last fiscal year, ending June 30.

The analyst meeting was not without its comic relief. Early in the day, Gates tried to demonstrate "Surfaces," a tabletop computing surface that allows users to directly manipulate "on screen" objects to do their bidding.

Gates, however, was unable to start the demo. "It's more exciting when it actually does something," he quipped.

The demo came alive later, and Gates was able to demonstrate a video-based jigsaw puzzle.

While Surfaces has thus far been shown in gaming and consumer-electronic contexts, Microsoft said Thursday it could have broad business application as a "vertical white board" as well.

Barbara Darrow is a Boston-based freelancer journalist with more than 20 years experience covering technology and business.
Dig Deeper on Technology Vendors-OEMs
PRO+
Content
Find more PRO+ content and other member only offers, here.