News
Stay informed about the latest enterprise technology news and product updates.
MS SaaS plan leaves partners unclear on their role
Microsoft's software + services plan leaves partners wondering at their role in revenue stream.
This Article Covers
RELATED TOPICS
Looking for something else?
The question of who, exactly, will provide the "services" in Microsoft's long-discussed "software plus services" plan remained a point of acute interest at last week's Microsoft Worldwide Partner Conference.

Download this free guide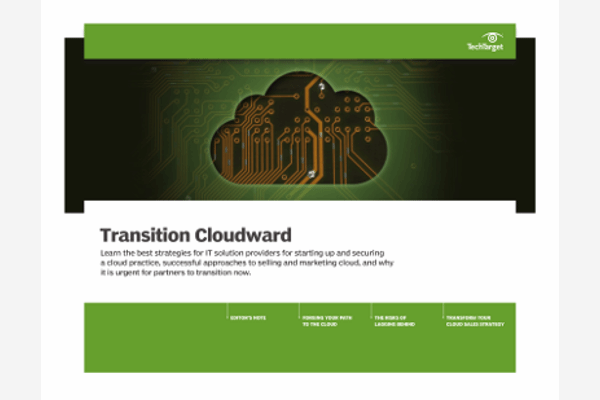 Could Securing Your Channel Business Be Easier? We Can Help.
Download our latest guide to the top strategies solution providers can leverage for starting up and securing a cloud practice, successful approaches to selling and marketing cloud, and why it is urgent for partners to transition now.

By submitting your personal information, you agree that TechTarget and its partners may contact you regarding relevant content, products and special offers.

You also agree that your personal information may be transferred and processed in the United States, and that you have read and agree to the Terms of Use and the Privacy Policy.

Most of the show's news — pricing and packaging of CRM Live, for example — was geared to usher the army of Microsoft solution providers — VARs, ISVs or integrators – into a brave new world where deliverables may not be in the form of software that runs on customer premises.

Reiterating what Microsoft Chief Software Architect Ray Ozzie has said, COO Kevin Turner told thousands of partners gathered in Denver that this new world is here and Microsoft, like its partners, must participate or lose out.

Turner acknowledged that many partners wonder about the software-plus-services game plan. They ask: "'Why are you getting into software plus services? I don't want any part of that. That's a different model than I've used in the past,'" Turner recounted in his opening day keynote.

"My call to action for you today is, look, this is going to happen. The opportunity is here. We need to build the door and go through that door and reach that opportunity. But software plus services is imminent, it's going to happen. It doesn't mean the traditional client-based software or locally based software is going to go away, but the customer is going to want the choice," Turner said in his opening day keynote.

Traditional services and reseller partners are watching this anxiously, especially as Microsoft starts offering more software capabilities from its own server farms.

"I think folks shouldn't discount that message," said George Brown, CEO of Database Solutions, a Cherry Hill, N.J. partner. Brown and others at the show said the interesting thing is that Microsoft is trying to claim leadership in the SaaS battlefield, despite the fact that it is late to the front. Of course, Microsoft is often late to new venues, but ends up in a leadership position — a feat it clearly hopes to repeat here.

This is software as a service and Microsoft has watched while Salesforce.com, NetSuite and other companies have blazed the SaaS trail.

The difference, however, is that the SaaS pioneers don't have tens of thousands of partners to lug along. Salesforce.com pays reseller-type partners a one-time 10% referral fee on new customers. In the last few years it has also tried to persuade ISVs and services partners of opportunities in customization and specialization, and integration to legacy data. But Salesforce.com is a few years old and its principals

come from Oracle, not exactly known for its big happy family of partners. Microsoft, on the other hand, built its business on thousands of partners — resellers, OEMs, ISVs and integrators – and it needs to figure a way for those constituencies to stay in the mix, several observers said.

Maria Fernandez, the Microsoft corporate vice president in charge of services, said the company must continue its own services engagements where customers demand it and where it can help build reference accounts for new technologies. But she reiterated that the goal remains to garner data from both types of engagements and feed it back to partners who can use that knowledge to help their own customers.

A little history here: Microsoft has always said its services group does not purposely compete with services partners. But that message of peaceful coexistence does not always make it out into the field where local services partners say they continue to battle Microsoft services people for account work.

Exacerbating that contention is a growing array of Microsoft IT support engagements like its work with Energizer Holdings and XL Capital. In those cases Microsoft personnel implement and run an enterprise customer's IT organization. The goal, in theory, is to gain knowledge that will help speed similar deployments in the future.

A slew of other managed services offerings are also under development by the company.

Some integrators privately view such direct IT engagement as a competitive threat to their own business. Others shrug it off as a natural byproduct of Microsoft's attempt to better penetrate large corporations who might otherwise rely on IBM Global Services to do the work.

Martinez did her best to reassure conference attendees that Microsoft Services is here to help, not hinder their efforts.

For its new fiscal year, starting July 1, Microsoft will for the first time, add a "partner satisfaction" criterion to its services scorecard. "So, my personal success and the success of my entire management team is going to be tied to partner satisfaction," she said, to some applause. It was not stated how big a factor "partner sat" will be in overall scores.

In addition, the company this quarter will inaugurate a new partner survey to gauge this satisfaction.

And it will redeploy a "significant" but unnamed number of its best architects from around the world to drive platform sales; they will be compensated whether or not that technology sale leads to Microsoft service revenue.

In short, the teams will get paid the same whether any services flow from Microsoft itself or from a service partner.

Local services and VAR partners have long complained that despite Microsoft's best intentions they see Microsoft services personnel trying to take services revenue direct, rather than driving it through partners, even partners who may have initiated the sale.

It was clear at the conference that the "Titan" release of CRM, to be available by year's end or soon thereafter, is the poster child for this software plus services effort. Titan, likely to be called Microsoft CRM 4.0, will come in both traditional on-premises SKUs or in bits served up by hosting partners — and now Microsoft's own servers.

And, it remains a work in progress. Prior to the show, company execs said customers "on boarding" to the Microsoft-hosted service had to do so via partners who would get a continuing yearly 10% margin on the sale of that service. Last week, Tami Reller, a vice president in the Microsoft Business Solutions group, tweaked that, saying the margin will be 15% in the first full year, calendar year 2008, of availability.

Reller and Kirill Tatarinov, the newly named corporate vice president of Microsoft Business Solutions, say partners remain the "go-to-market" for the company's ERP lines.

Beside the 15% margin for any early adopter CRM Live customers who convert to the paid service, partners will get additional margin when customers move from live to on-premises or partner-hosted CRM, Reller said.

Ryan Toenies, CEO of Inetium a Bloomington, Minn.-based Microsoft partner, sees that margin as a way to cover his cost of sales. He, like most business solutions partners, say the bulk of their revenue and profit come from services, not license sales.

Spinnaker Network Solutions is enthusiastic enough about the new CRM Live services opportunity to launch a separate division to sell that product, said Mitchell Cannady, president of the Irvine, Calif.-based CRM partner.

"We'll do an incubator for both prospects and staff so we don't confuse the issue," Cannady said. The company will have to pay the CRM Live sales people differently than the other staff so separating out the staffs makes sense.

Indeed, the move from traditional big-upfront-sales-fees to smaller, but steadier, incremental fees, is one huge adjustment for both vendors and partners making the move to SaaS.

The bulk of Spinnaker's CRM customers are companies with 25 to 150 employees. "We had to walk away from smaller accounts, those with five seats. Now we have something to offer them and when they grow, we can get their transition business," he said.
Dig Deeper on Technology Vendors-OEMs
PRO+
Content
Find more PRO+ content and other member only offers, here.