News
Stay informed about the latest enterprise technology news and product updates.
IBM offers quick-turnaround credit program for VARs
VARs' cash crunch gives finance-savvy vendors a business opportunity; credit eases cash flow, but is no silver bullet, VARs said.
This Article Covers
RELATED TOPICS
Looking for something else?
Holding the purse strings at a small reseller is a complicated juggling act; just ask Tim Kuhlman, chief financial officer of Richards Computer Inc. in Merrifield, Va.

Download this free guide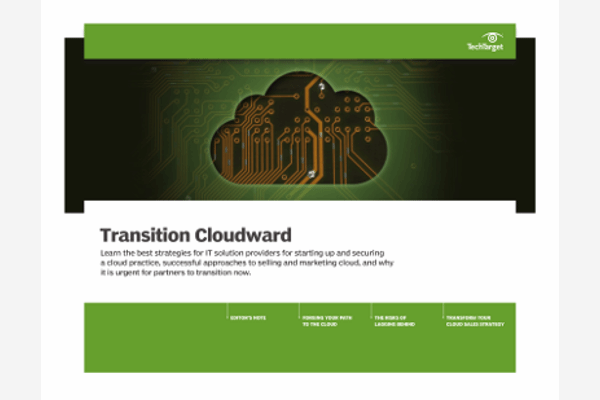 Could Securing Your Channel Business Be Easier? We Can Help.
Download our latest guide to the top strategies solution providers can leverage for starting up and securing a cloud practice, successful approaches to selling and marketing cloud, and why it is urgent for partners to transition now.

By submitting your personal information, you agree that TechTarget and its partners may contact you regarding relevant content, products and special offers.

You also agree that your personal information may be transferred and processed in the United States, and that you have read and agree to the Terms of Use and the Privacy Policy.

Vendors lower product prices while the margin and discounts remain the same; competition with other resellers stays fierce while the technical and training demands increase; customers demand more advice and technical skills for the same price. Margins remain very slim, and customers often delay payments to the value-added reseller (VAR) far beyond the 30-days-past-invoice limit on agreements.

The net effect has been lower profit margins, which have caused VARs to often delay their payments to vendors far beyond the 30-days-past-due invoice limit on agreements.

"Everyone throughout the channel is continually stressed by cash flow problems and almost across the board net-30 does not mean anything to customers anymore," said Kuhlman.

Finance programs from vendor partners cover most gaps, but there are times when a VAR is unable to tap into those programs, Kuhlman said. The only other option has been to delay their own payments beyond 30 days.

Delayed payments incur additional interest or, worse, put a hold on the account, preventing VARs from taking advantage of new business opportunities and losing lucrative contracts along the way.

"We've had to stretch our payment cycles out much further than both I as CFO would like to and more than our major partners would like us to," Kuhlman added.

Vendors are noticing these trends too.

"Everybody operates on everybody else's money. A resellers' cash conversion cycle is predicated on selling the equipment and collecting the receivables, and then turning that over to cash so they can regenerate that cash back to their business to continue the process," said Ron Bachner, business development executive at IBM Global Financing.

David Rose, president of Sunstar Company Inc., a storage VAR in Inglewood, Calif., said increasing competition and a slew of product offerings have encouraged customers to bargain for lower prices, which eats away at profits in a situation where resellers have no other option but to concede.

"Sometimes we come down to a 5% profit. We try not to, but when considering we've spent six or eight months on a deal what it comes down to is we don't want to lose the deal and not make anything," Rose said.

These cash constraints are particularly painful to small and medium size resellers, many of whom need cash fast to complete a sale, even if the inevitable interest charges eat further into their thin profit margins.

That has made credit programs themselves a major feature that draws VARs to resell products from companies like Hewlett-Packard Co. and IBM, which use attractive credit programs specifically as a way to broaden or strengthen their channels.

Last month, for example, Cisco announced improvements to two credit and leasing programs to streamline the credit process for VARs selling to small- and medium-sized businesses (SMBs) and in some vertical markets.

IBM Global Financing has also made changes, adding a flexible credit program earlier this month to make it easier for resellers to arrange loans of between $100,000 and $500,000. Indeed, these programs show that cash strapped resellers provide vendors with lending opportunities that help them make money in the channel.

Joseph Pucciarelli, a technology financing strategies analyst at IDC, is excited about IGF's program saying it brings a new type of financial service to the channel. He also said the financing markets recognize an unfulfilled need and are improving the tools available that will help a certain type of reseller.

"What is unique about the IGF program is they have taken a business process, a credit approval and funding process, that is most akin to a consumer credit card and they've modified that and created a new type of offering for commercial entities," Pucciarelli said. "They have created a process whereby a commercial entity can get access to credit relatively easier than they could before this product was in the marketplace."

One of the main attractions to the offer is how fast the approval rate for access to cash can be, Pucciarelli said. Resellers will probably use IGF's facility most often to supplement existing financial arrangements for inventory financing, receivables financing and revolving lines of credit – all of which require quick financing decisions.

"Right now what most small commercial entities have to do in order to get the kind of credit that this program offers previously, they needed to schedule an appointment with a commercial banker, apply and it could easily take two weeks from start to finish before they could get access to a line of credit," Pucciarelli said..

Pucciarelli predicted that other inventory financing companies – HP Financial Services, GE Capital and others, will match the offering.

IBM's objective is to build the program up to a financing volume of $1 billion during the next three years for loans to U.S. resellers of both IBM and non-IBM equipment, software and services, according to Ron Bachner, business development executive at IBM Global Financing.

Resellers can apply online, avoiding most of the documentation required in phone or in-person applications. IBM uses two well known credit providers to come up with a credit score that dictates the type and size of the credit available to VARs, and shortens the approval time from an average of one or two days to around 30 minutes, Bachner said.

Loan payments typically come due in thirds – payable in installments 30 days, 60 days and 90 days after the loan is granted.

"After that we do charge [interest]; it becomes a loan at that point," Bachner said. The program will work financially for IBM with only 500 VAR customers, but the company's goal is to have several thousand VARs sign up to help their efforts in the SMB market, he said.

To help the project along, IBM Global Financing teamed with Tech Data Corporation, who provided research from their own reseller channel as part of a fact finding mission to find out how they could tailor a lending program to suit SMB reseller needs.

"The important thing about this is that there is always so much room for additional financing in our channel," said Mike Zava, Tech Data's senior vice president, credit and customer services for the Americas. "There always has been and there always will be. It's an evolving growing channel and it needs money."

Like IDC's Pucciarelli, officials at Tech Data also believe the program differs from traditonal banking loans in other respects.

"Resellers have to go to a bank, fill out paperwork, and make presentations and forecasts. Resellers don't have a lot of time, interest and talent to accomplish this," said Scott Tillesen, director of SMB credit at Tech Data.

While most traditional banks take two or three days to approve a loan "along comes IBM Global Financing's program with a very simple online approach to applying for essentially a bank loan and they get the process completed in 30 minutes," Tillesen said.

Still Rose reiterates that resellers should avoid borrowing money when they can, and both vendors and resellers should focus on selling maintenance contracts as a better way to improve cash flow cycles.

"There's some benefit to providing financing because small resellers don't have the funds to make those large sales, but that financing can take money away from you in interest, resellers have got to try to make more money by selling service contracts which is an answer to the problem," Rose said.
Dig Deeper on Technology Vendors-OEMs
PRO+
Content
Find more PRO+ content and other member only offers, here.