Get started
Bring yourself up to speed with our introductory content.
What's new with vSphere editions, features for VARs?
Take a look at the major differences and new changes in vSphere editions and get information on the advanced vSphere features in this FAQ.
Looking for something else?
You learned the vSphere license options for solution providers in part one of this FAQ, but it's also important to learn the differences between editions. Check out the type of support that Enterprise and Enterprise Plus editions offer compared to Essentials edition.

Download this free guide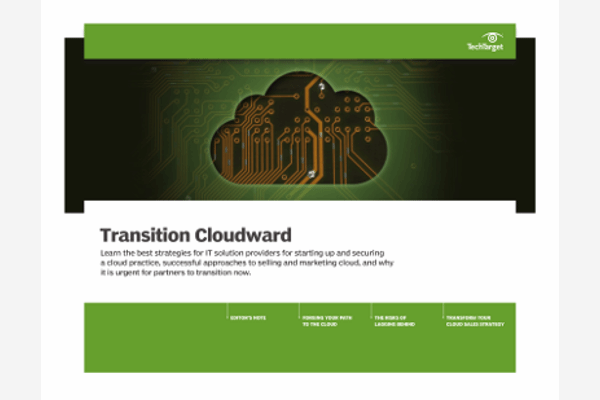 Could Securing Your Channel Business Be Easier? We Can Help.
Download our latest guide to the top strategies solution providers can leverage for starting up and securing a cloud practice, successful approaches to selling and marketing cloud, and why it is urgent for partners to transition now.
By submitting your personal information, you agree that TechTarget and its partners may contact you regarding relevant content, products and special offers.
You also agree that your personal information may be transferred and processed in the United States, and that you have read and agree to the Terms of Use and the Privacy Policy.
This FAQ with Eric Siebert offers information on why your customer can't have a multi-edition environment and the changes that were made to vSphere licensing changes.

•What are the differences between the vSphere editions?
•Can I mix vSphere editions in the same environment?
•What were the license server changes that were made in vSphere?
•VSphere seems expensive and geared towards larger enterprises, what kind of deals do they offer to smaller customers?
•About the expert

1. What are the differences between the vSphere editions?
The differences lie mainly with the advanced features, but there are some differences with scalability as well. All editions of vSphere support up to 256 GB of host physical memory and support for six cores per CPU socket. The exception to this is the Advanced edition, which still supports up to 256 GB of memory but up to 12 cores per CPU socket and the Enterprise Plus edition that has no memory limits and supports up to 12 cores per CPU socket.
The hierarchy of the editions from the least amount of features to most is: vSphere Hypervsior (free), Essentials, Essentials Plus, Standard, Advanced, Enterprise and Enterprise Plus; the Thin Provisioning feature is included with all editions including the free vSphere Hypervisor edition
The Essentials edition supports Update Manager and the vStorage APIs for Data Protection.
Essentials Plus adds the Data Recovery, VMotion and High Availability features.
Standard has vCenter Server management in addition to the same features as Essentials Plus.
Advanced adds the device hot add, vShield Zones and Fault Tolerance features.
Enterprise adds the vStorage APIs for Array Integration/Multi-pathing, Storage VMotion, Distributed Resource Scheduler (DRS) and Distributed Power Management (DPM) features.
Enterprise Plus adds the Storage and Network I/O Control (new to vSphere 4.1), Distributed vSwitches and Host Profiles features.
The main difference between Enterprise and Enterprise Plus version is the ease of management because of the added features of Enterprise Plus being geared towards larger environments.

2. Can I mix vSphere editions in the same environment?
It is not possible to mix Essentials editions because they are limited to working only with the hosts and vCenter Server that are included in the bundle. Therefore, if you have two Essential edition bundles they must be managed independently with no crossover between them.
But it's possible for a Foundation or Standard vCenter server to manage hosts with any combination of Standard, Advanced, Enterprise or Enterprise Plus licenses. A limiting factor with this capability is the type of features that each edition supports. If you have hosts with both Enterprise and Advanced licenses in a cluster, for example, you would not be able to enable the DRS feature because the Advanced license does not support it. Solution providers should plan on creating separate clusters for hosts with different license types with different feature functionalities.

3. What were the license server changes that were made in vSphere?
The changes that VMware made to vSphere were focused on simplicity. VMware scrapped its Macrovision Flex License Manager (FlexLM) model that required you to run a separate license server in the environment. FlexLM also relied on complicated license files that had to be built on VMware's website and installed on the license server.
The new model in vSphere brought licensing right into vCenter Server so a separate component was no longer required. In addition, simple license keys replaced license files and can be easily generated on VMware's website and input into vCenter Server where they can be assigned to hosts. Having the licensing integrated with vCenter Server with license keys made vSphere licensing a simpler process.

4. VSphere seems expensive and geared towards larger enterprises, what kind of deals do they offer to smaller customers?
The Essentials and Essentials Plus bundles are very affordable entry level packages that deliver many enterprise-type features at reduced cost. In particular, it makes vCenter Server affordable so you can use its big features in smaller environments. VMware offers several Acceleration kits that are geared towards getting enterprises started with virtualization at an affordable cost. These kits are based on the Advanced, Enterprise and Enterprise Plus licenses and are limited to the number of hosts/CPUs that they support. The Advanced Kit comes with vCenter Foundation and is limited to three hosts and a total of six CPU sockets. The Midsize kit (Enterprise) comes with vCenter Standard and six CPU sockets that can be split amongst up to six hosts. The Enterprise Plus kit comes with vCenter Standard and eight CPU sockets that can be split among up to eight hosts. Customers are limited to only purchasing one Acceleration kit because of the heavy discount, but can purchase additional licenses at regular cost to use in their environment. In addition to the kits and bundles that VMware offers they also periodically offer deals with bundled products such as Alive VM, SUSE Linux Enterprise Server and CapacityIQ. VMware also occasionally offers discounts on license upgrades, (e.g., from Enterprise to Enterprise Plus).

About the expert
Eric Siebert is a 25-year IT veteran whose primary focus is VMware virtualization and Windows server administration. He is one of the 300 vExperts named by VMware Inc. for 2009. He is the author of the book VI3 Implementation and Administration and a frequent TechTarget contributor. In addition, he maintains vSphere-land.com, a VMware information site.
Dig Deeper on Virtualization Technology and Services
PRO+
Content
Find more PRO+ content and other member only offers, here.