Virtual machine software: Working with the VMware Virtual Machine Console
Must-have virtual machine software is the VMware Virtual Machine Console, which allows local or remote VM creation and management.
Looking for something else?
TECHNOLOGIES

PRODUCTS
IT reseller takeaway: VMware Virtual Machine Console is virtual machine software that allows you to create and configure virtual machines either locally or remotely. This book excerpt from Virtualization: From the Desktop to the Enterprise explains how to start using it.

Download this free guide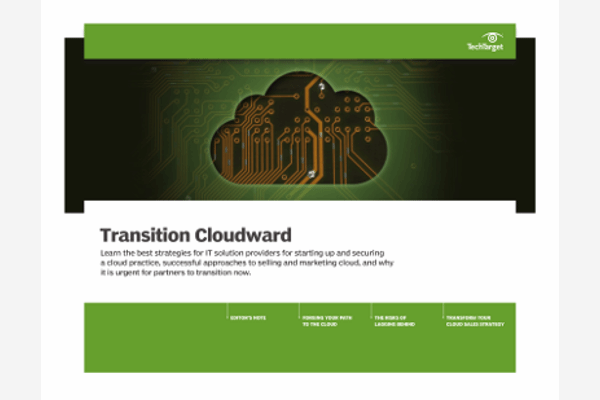 Could Securing Your Channel Business Be Easier? We Can Help.
Download our latest guide to the top strategies solution providers can leverage for starting up and securing a cloud practice, successful approaches to selling and marketing cloud, and why it is urgent for partners to transition now.
By submitting your personal information, you agree that TechTarget and its partners may contact you regarding relevant content, products and special offers.
You also agree that your personal information may be transferred and processed in the United States, and that you have read and agree to the Terms of Use and the Privacy Policy.
You can download the VMware Virtual Machine Console from VMware's Web site, from the Status Monitor tab of the Management Interface, or from the GSX Server CD-ROM. After gaining access to the VMware-console-<version number>.exe program, you're ready to begin the installation of the Virtual Machine Console. The following steps are designed for installation from a CD-ROM:
1. The install requires you to use the CLI or a terminal window. If your user account doesn't have superuser permissions, you'll need to issue the su - command.
2. If necessary, mount the CD-ROM: mount /dev/cdrom /mnt/cdrom
3. Next, find the Virtual Machine Console file: find / –name VMware-gsx-server-linux-client-<versionnumber>.zip
4. Browse to the directory with the file: cd /mnt/cdrom/<directory_name>
5. Create a temporary location to copy the file to for extraction purposes: mkdir/tmp/vmconsole cp /mnt/cdrom/<directory_name> /VMware-gsx-server-linux-client-<xxxx>.zip –d /tmp
6. Decompress the archive in the /tmp/vmconsole directory: unzip VMware-gsx-server-linux-client-<version_number>.zip –d /tmp
7. Navigate to the /tmp directory: cd /tmp/vmconsole
8. Based on your needs, install the RPM or TAR file as needed: rpm –Uhv VMware-console-<version_number>.i386.rpm tar zxf VMware-console-<version_number>.tar.gz
9. Finally, locate the installer directory: find / –name vmware-console-distrib
10. From the console-distrib directory, execute the installation script. If at any time during the installation the script appears to hang, press Q to advance the script: ./vmware-install.pl
11. You'll first be asked to read and accept the license agreement.
12. If you used the RPM version of the install, you'll need to run the configuration program for the Virtual Machine Console by running this: vmware-config-console.pl
Note: If you used a TAR file to install GSX Server for Linux, the script will automatically launch the vmware-config-console.pl script.
13. You'll be prompted as to what port you want to use for the remote console. Port 902 is the default. If the server you're going to manage uses a different port, change the port to match. If you used the defaults, press Enter to continue.
14. After the installation completes, be sure to log off the system with the exit command. With the installation of all three packages completed, test your host's ability to set up and manage guest VMs locally. Execute /user/bin/vmware at the CLI. Take a moment to explore every menu, including the built-in help. VMware has excellent documentation for its virtualization software, and its Web site support is even better.
TABLE OF CONTENTS
Working with the VMware virtual machine console
About the author
Chris Wolf is an instructor at ECPI Technical College, as well as a leading industry consultant in enterprise storage, virtualization solutions, and network infrastructure management. He has a master's degree in information technology from Rochester Institute of Technology, and his IT certification list includes MCSE, MCT, and CCNA. Wolf authored MCSE Supporting and Maintaining NT Server 4.0 Exam Cram, Windows 2000 Enterprise Storage Solutions and Troubleshooting Microsoft Technologies, and he contributes frequently to Redmond Magazine and Windows IT Pro Magazine. Wolf also speaks at computer conferences across the nation.
Dig Deeper on Virtualization Technology and Services
PRO+
Content
Find more PRO+ content and other member only offers, here.