Evaluate
Weigh the pros and cons of technologies, products and projects you are considering.
Using Microsoft System Center Virtual Machine Manager and Hyper-V R2
Find out how jumbo frame support and Microsoft System Center Virtual Machine Manager can help you with Hyper-V R2 management and help your customers save on costs.
Looking for something else?
TECHNOLOGIES

PRODUCTS
Many of your customers will be asking you how you can manage Microsoft Hyper-V R2. Microsoft System Center Virtual Machine Manager (SCVMM) could be the answer, according to our expert. In this interview with SearchITChannel, Hyper-V R2 pro Greg Shields of Concentrated Technology also takes a look at jumbo frame support and explains why it could play a vital role in cutting your customers' expenses.

Download this free guide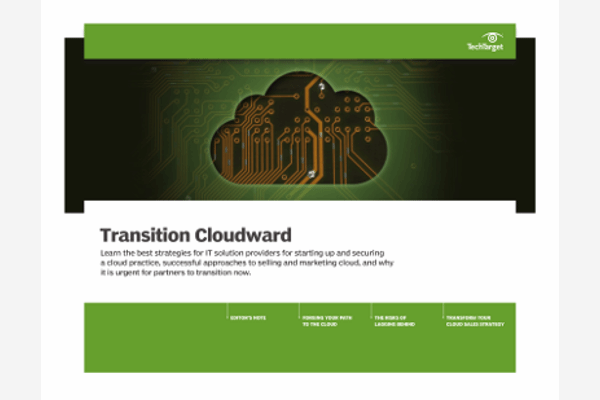 Could Securing Your Channel Business Be Easier? We Can Help.
Download our latest guide to the top strategies solution providers can leverage for starting up and securing a cloud practice, successful approaches to selling and marketing cloud, and why it is urgent for partners to transition now.
By submitting your personal information, you agree that TechTarget and its partners may contact you regarding relevant content, products and special offers.
You also agree that your personal information may be transferred and processed in the United States, and that you have read and agree to the Terms of Use and the Privacy Policy.
How will Microsoft Hyper-V R2 jumbo frame support help customers save on costs?
Greg Shields: Back in the old days -- in the physical environment -- the average computer, or the Windows Server, consumed maybe 3%, 5% or 7% of its GBs and Internet connection, which isn't a lot. If you're running a basic Windows workload, you're not going to consume much more than a single-digit percentage of the available network bandwidth. Now, when you start consolidating multiple VMs on top of a host, you take those single-digit percentages and start adding them together to equal more bandwidth. So, the total amount of bandwidth consumed is going to be more.
Jumbo frame support enables you to get better performance out of the bandwidth that you have available. Its technology increases overall network throughput, while at the same time reducing your servers' CPU utilization as they process file transfers.
What role does Microsoft System Center Virtual Machine Manager (SCVMM) play for solutions providers that are trying to take full advantage of Microsoft Hyper-V R2 features?
Shields: What I tell people today is that if you have an environment that grows much beyond one or two Microsoft Hyper-V R2 computers, you really need another tool that sits above the Hyper-V role and manages those multiple Hyper-V computers as a group. Think of this like policy-based management. After you have more than just a couple of desktops in a domain, you want to implement Group Policies, because it makes it easier to cohesively manage those systems.
Microsoft System Center Virtual Machine Manager allows you to manage those multiple Hyper-V computers more or less as a unit; you can apply policies to those Hyper-V computers. You can essentially monitor all those Hyper-V R2 computers from one pane of glass. Being able to work with those computers as a single unit as opposed to individual units really improves your management. The biggest difference between Microsoft System Center Virtual Machine Manager 2008 and Microsoft System Center Virtual Machine Manager 2008 R2 is simply that [the latest version] now works with those new Hyper-V R2 features -- CSVs, SLAT translations and Live Migration. They are all now fully functional and fully manageable from within Microsoft System Center Virtual Machine Manager.
About the expert:
Greg Shields is an independent author, instructor, Microsoft MVP and IT consultant based in Denver. He is a co-founder of Concentrated Technology and has nearly 15 years of experience in IT architecture and enterprise administration. Shields specializes in Microsoft administration, systems management and monitoring, and virtualization. He is the author of several books, including Windows Server 2008: What's New/What's Changed, available from Sapien Press.
Dig Deeper on Virtualization Technology and Services
PRO+
Content
Find more PRO+ content and other member only offers, here.