Tuning into multi-node antennas
A wireless antenna vendor discusses the functionality of multi-node antennas, smart antenna technology and VoIP over Wi-Fi.
Looking for something else?
With Chris Morton, CEO of SkyCross Inc., Melbourne, Fla., a manufacturer of advanced wireless radiofrequency and antenna products.
Question: Is the multi-mode capability of these handsets really a function of the antenna or some frequency-agile silicon embedded in the handset itself?

Download this free guide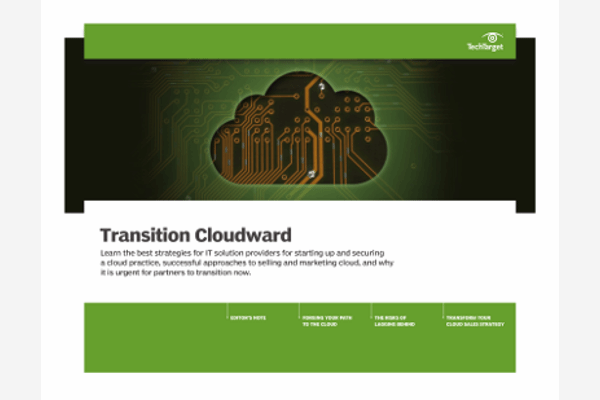 Could Securing Your Channel Business Be Easier? We Can Help.
Download our latest guide to the top strategies solution providers can leverage for starting up and securing a cloud practice, successful approaches to selling and marketing cloud, and why it is urgent for partners to transition now.
By submitting your personal information, you agree that TechTarget and its partners may contact you regarding relevant content, products and special offers.
You also agree that your personal information may be transferred and processed in the United States, and that you have read and agree to the Terms of Use and the Privacy Policy.
Morton: It's part of the physical design of the antenna. Sometimes antenna may start to resonate, meaning they transmit energy rather than just reflect it in multiple bands simultaneously. So with no moving parts, our antennas have three or even five bands that can be read with high efficiency. It has to do with the shape and thickness and layout of the conducting material.
Question: How difficult would it be to create smart antenna technology that could handle the mobile needs of a cellular user, but also permit that customer to use the same handset for receiving fixed calls in the office or at home?
Morton: We have existing products that go from 800 MHz, the typical low band of cellular, to nearly 3 GHz in a single broadband antenna. The idea of getting voice and Wi-Fi in the same device is not hard for us and we can do it today. It's in use already and isn't expensive to engineer or deliver. They're small pieces of stamped metal, so they're very cost-effective -- what we sell is typically in the 70 cents to $3 range, depending on whether they're voice-only or voice and data, and whether they include more than one antenna.
Question: Does the advent of VoIP over Wi-Fi create any antenna issues with the use of packetized voice or the relatively short range of most Wi-Fi access points?
Morton: In the case of Wi-Fi, the issue that comes up is the nature of the device that may have Wi-Fi. If it's a data card in the laptop, the main antenna is in a very small space at the end of a PCMCIA card or a USB dongle. The trick there is fitting all the RF and baseband electronics in a physically small area. Whether it's a card or embedded inside the laptop, performance is an issue. We also build antennas for Symbol Technology access points. On the access side and the remote device side, you want to make sure that base data rate remains high. The 802.11 protocols are set up so that if the performance will back off to a lower data rate if the signal falls below a certain rate. So you have to sustain antenna performance, or the customer will see a reduced data rate.
If the antenna is embedded in the laptop, as many of them are, additional performance issues are presented by the loss in the link between the antenna and the chipset, which is typically below the keypad, while antennas are typically in the top lid of the laptop. There's a cable that runs between them and loss in the cable can affect performance. The material used to build the laptop case can also shift the frequency if it's not well designed.
This 3 Questions originally appeared in a weekly report from IT Business Edge.
Dig Deeper on Wireless Networks
PRO+
Content
Find more PRO+ content and other member only offers, here.