Smart grid opportunities for solution providers
President Obama's stimulus package includes $54 billion to update the existing electric grid. This presents multiple business opportunities for solution providers to help provide networking, security and storage to the utility companies who will be flush with cash. Learn how to cash in on the smart grid opportunities for solution providers.
Looking for something else?
With President Obama setting aside $54 billion to modernize and update the national energy grid infrastructure, there are opportunities for solution providers of all specialities and sizes. On the networking side, large, small and midsized VARs will work with the nation's 3,000 utilities to build communications networks that will enable intelligent meters and other new technology. And as utilities amass information from their new networks, integrators will be called on to build data centers and implement storage technology. On the security side, the widespread modernization of the smart grid will require protection against foreign attackers and other domestic threats.

Download this free guide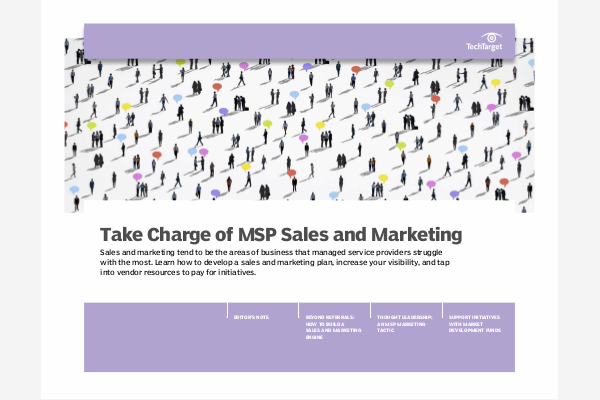 Take Charge of MSP Sales and Marketing
In this expert guide, we have compiled insights to take some of the mystery out of the sales and marketing process for MSPs. Receive an overview of how to go beyond referrals to build a sales and marketing engine and support initiatives with market development funds.
By submitting your email address, you agree to receive emails regarding relevant topic offers from TechTarget and its partners. You can withdraw your consent at any time. Contact TechTarget at 275 Grove Street, Newton, MA.
You also agree that your personal information may be transferred and processed in the United States, and that you have read and agree to the Terms of Use and the Privacy Policy.

•Networking VARs could grab smart grid stimulus bill funding -- Learn about networking service opportunities within the smart grid stimulus bill, including building wireless IP networks.
•Networked elevators and lights? VARs network building systems -- Read about networking opportunities with energy efficient buildings, brought on by the smart grid.
•Securing smart grid: How solution providers can help -- This column explains the opportunities for security solution providers in securing the smart grid, including protecting the grid from a domino effect disaster and preventing attacks, with broad, non-traditional security concepts.
•Energy IT sees smart-grid boon for data storage -- Find out how projects to modernize U.S. energy delivery will be a boon for the data storage industry, as the digitized grid is projected to generate massive amounts of data.
Dig Deeper on Other vertical markets
PRO+
Content
Find more PRO+ content and other member only offers, here.