End-to-end VoIP
This section explains the components involved in a simple VoIP architecture. Designing and implementing a VoIP network is complex business, so the intent of this section is to provide a casual introduction to how the signaling and media flow both within and beyond the network. Figure 2.11 shows a VoIP server network located on the left at one of the provider's PoPs. The server network consists of an SDH interconnect with a local voice provider. A VoIP VPN also is used as a private interconnect with another VoIP provider, either domestic or international.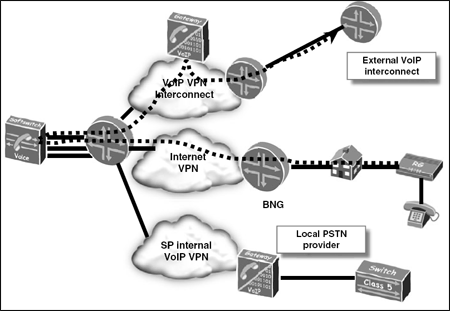 Figure 2.11 An end-to-end simple VoIP network architecture.
In Figure 2.11, a SIP CPE has a POTS phone connected. The SIP CPE presents a POTS interface to the phone and, at the same time, registers with the soft switch. After the CPE has registered itself with the soft switch, usually using a special username and password as an identifier, the soft switch then knows at which IP address a number can be reached.
As soon as the SIP user agent (UA)—the SIP CPE in this case—has registered with the voice switch, it can place calls with and receive calls from the network. In Figure 2.11, the CPE makes an international call via the external VoIP interconnect. The UA signals its call intentions to the soft switch, which establishes a signaling session with the international provider's voice switch. If the call can proceed, the UA is directed to send its media session (the voice part of the call) to the soft switch or Session Border Controller (SBC) (described in more detail in Chapter 12, "Security in Broadband Networks"). This media session is represented by the dashed line, which flows to the switch/SBC, and then via the VoIP gateway, shown at the top of the diagram. To add some complexity, for the purposes of illustration, the international provider requires that calls be received in a lower bit rate than the G.711 encoding that the provider uses internally. In this case, the encoding is G.729, so the media gateway needs to trans-code the call before sending it on to the international VoIP provider's voice switch. This is just one example of a VoIP architecture. There are many variations, such as more integrated units performing media transcoding and media signaling.

Designing and deploying triple-play services

  How to provide business VoIP services
  Providing business VoIP services through a digital subscriber line access multiplexer
  How to design and implement a business VoIP network

Reproduced from Chapter two of the book Broadband Network Architectures: Designing and Deploying Triple-Play Services by Chris Hellberg, Dylan Greene and Truman Boyes. Copyright 2007, Cisco Systems, Inc. Reproduced by permission of Pearson Education, Inc., 800 East 96th Street, Indianapolis, IN 46240. Written permission from Pearson Education, Inc. is required for all other uses.
This was first published in August 2007