Evaluating the profitability of an IT project
For many resellers, maintaining a profitable business relies more on art than science. But if you're looking to take your ROI up a notch, there are well-defined steps that you can follow to increase profitability and expand your business.
Looking for something else?
Executive summary
For many small and medium-sized reseller businesses, expanding your line of business takes time and money, and it's important to know both your up-front capital expenses and ongoing costs so that you can calculate your return on investment (ROI). Here's advice for becoming and staying profitable as a reseller. You'll learn the techniques to expand your business, including gauging market demand, understanding fixed and ongoing costs, maximizing staff allocation, and how partnerships can help you.

Download this free guide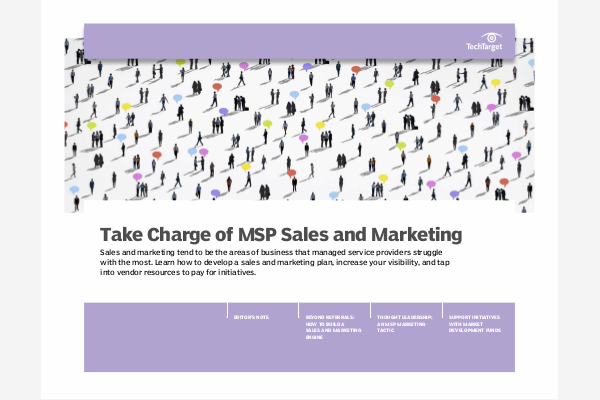 Take Charge of MSP Sales and Marketing
In this expert guide, we have compiled insights to take some of the mystery out of the sales and marketing process for MSPs. Receive an overview of how to go beyond referrals to build a sales and marketing engine and support initiatives with market development funds.
By submitting your email address, you agree to receive emails regarding relevant topic offers from TechTarget and its partners. You can withdraw your consent at any time. Contact TechTarget at 275 Grove Street, Newton, MA.
You also agree that your personal information may be transferred and processed in the United States, and that you have read and agree to the Terms of Use and the Privacy Policy.

Click here for the article.
Read more about evaluating the profitability of an IT project:

Convince customers to buy from you and not direct from the vendor
Are your customers unsure of how to purchase? Get the techniques you need to be a successful value-added reseller (VAR) or systems integrator in today's competitive climate.

Selling disaster recovery services to customers with reduced budgets
Disaster recovery planning should be required by all companies, no matter what their budgets. The following Q&A is excerpted from Greg Schulz's podcast on disaster recovery services.

Selling wireless LAN security to your customer's CFO
Wireless LAN security is paramount to a successful network. Get suggestions for a successful CFO presentation.

Big channel deals require creative financing solutions
The solution financing business is key to success for solution providers. The key to financing? Creative and flexible terms.
Dig Deeper on How to Sell Technology in the IT Channel
PRO+
Content
Find more PRO+ content and other member only offers, here.