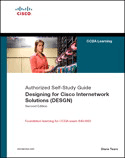 This chapter from
Designing for Cisco Internetwork Solutions (DESGN) (Authorized CCDA Self-Study Guide) (Exam 640-863), 2nd Edition
introduces general campus switching and data center design considerations. It includes the following sections:
Campus design considerations
Enterprise campus design
Enterprise data center design considerations
Summary
References
Case study: ACMC Hospital network campus design
Review questions
The availability of multigigabit campus switches gives customers the opportunity to build extremely high-performance, high-reliability networks -- if they follow correct network design approaches. Unfortunately, some alternative network design approaches can result in a network that has lower performance, reliability, and manageability.
This chapter describes a hierarchical modular design approach called multilayer design. This chapter examines the designs of the Enterprise Campus and the Enterprise Data Center network infrastructures. First, it addresses general campus design considerations, followed by a discussion of the design of each of the modules and layers within the Enterprise Campus. The chapter concludes with an introduction to design considerations for the Enterprise Data Center.
Read the rest of the excerpt in this PDF: Designing basic campus and data center networks
Excerpted from Designing for Cisco Internetwork Solutions (DESGN) (Authorized CCDA Self-Study Guide) (Exam 640-863), 2nd Edition by Diane Teare (ISBN: 1-58705-272-5).
About the book:
Designing for Cisco Internetwork Solutions (DESGN), Second Edition, is a Cisco-authorized, self-paced learning tool for CCDA foundation learning. This book provides you with the knowledge needed to design enterprise networks. By reading this book, you will gain a thorough understanding of designing routed and switched network infrastructures and services within a modular architecture.
In Designing for Cisco Internetwork Solutions (DESGN), Second Edition, you will study a broad range of network design principles and guidelines. You will learn about network design in the context of the Cisco Service-Oriented Network Architecture (SONA) framework and the Cisco Enterprise Architecture. Specific topics include campus and data center infrastructure, remote connectivity, IP addressing design, routing protocol selection, voice network design, wireless network design, and including security in your designs. An ongoing case study plus chapter-ending review questions illustrate and help solidify the concepts presented in the book.
Copyright © 2008, Cisco Press. All rights reserved.
About the author:
Diane Teare is a professional in the networking, training, and e-learning fields. She has more than 20 years of experience in designing, implementing, and troubleshooting network hardware and software and has also been involved in teaching, course design, and project management. She has extensive knowledge of network design and routing technologies and is an instructor with one of the largest authorized Cisco Learning Partners.
This was first published in July 2009