Essential Guide
Colocated data centers uncut: Avoid these costly errors
A comprehensive collection of articles, videos and more, hand-picked by our editors
What is service-level agreement (SLA)?
A contract between a service provider and a customer, a service-level agreement (SLA) specifies what services the service provider will furnish.
FROM THE ESSENTIAL GUIDE:
A service-level agreement (SLA) is a contract between a service provider and its internal or external customers that describes the service, usually in measurable terms, to be furnished.
IT Acronyms - A Quick Reference Guide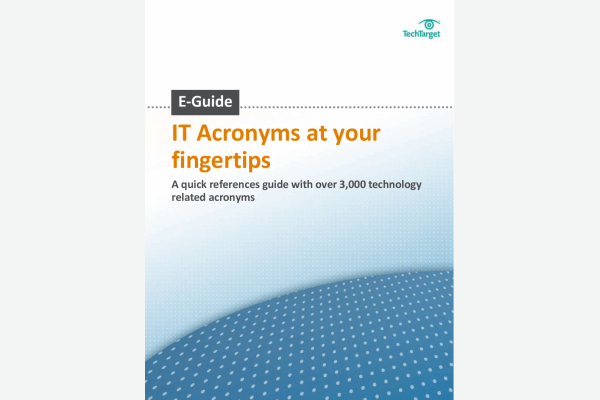 Download this free quick reference guide with over 3,000 IT acronyms; including a special section of the top 15 acronyms you need to know today.
By submitting your personal information, you agree to receive emails regarding relevant products and special offers from TechTarget and its partners. You also agree that your personal information may be transferred and processed in the United States, and that you have read and agree to the Terms of Use and the Privacy Policy.

SLAs originated with network service providers, but are now widely used across the telecommunications and IT industries. Companies that offer network-based services -- Internet service providers (ISPs), telcos and managed services providers (MSPs), for example -- typically provide SLAs to their customers. SLAs may also target a business' internal users. Corporate IT organizations, particularly those that have embraced IT service management (ITSM), enter SLAs with their in-house customers (users in other departments within the enterprise). An IT department creates an SLA so that its services can be measured, justified and perhaps compared with those of outsourcing vendors.
The proliferation of cloud-based services in recent years has established yet another field in which service providers create SLAs. Infrastructure as a Service (IaaS) providers such as Amazon Web Services and Microsoft Azure offer SLAs to their customers, as do smaller cloud service providers and Software as a Service (SaaS) companies.
SLAs measure the service provider's performance and quality in a number of ways. Some metricsthat SLAs may specify include:
Availability and uptime -- the percentage of the time services will be available
The number of concurrent users that can be served
Specific performance benchmarks to which actual performance will be periodically compared
Application response time
The schedule for notification in advance of network changes that may affect users
Help desk response time for various classes of problems
Usage statistics that will be provided.
In addition to performance metrics, other SLA components may include a plan for addressing downtime and a policy for dealing with SLA breaches on the part of the service provider (customer credits, for instance).
SLAs, once established, should be periodically reviewed and updated to reflect changes in technology and the impact of any new regulatory directives (changes to the PCI DSS standard, for instance).
Continue Reading About What is service-level agreement (SLA)?
Margaret Rouse asks:

What do you think should be included in every service level agreement?

Margaret Rouse asks:

Does your internal IS department provide service level agreements or templates? Why or why not?

Margaret Rouse asks:

Are your service providers' SLAs easy to understand?