Definition
IBM (International Business Machines)
IBM (International Business Machines) is by far the world's largest information technology company in terms of revenue ($88 billion in 2000) and by most other measures, a position it has held for about the past 50 years. IBM products include hardware and software for a line of business servers, storage products, custom-designed microchips, and application software. Increasingly, IBM derives revenue from a range of consulting and outsourcing services. With the advent of the low-cost microchip, the personal computer, distributed computing, open rather than proprietary standards, and the Internet, IBM has seen its position of dominance challenged as the world of information technology no longer revolves around a single company. Yet investors and competitors continue to be impressed by IBM's long-established base of customers among middle-sized and Fortune 100 businesses and its ability to adapt its products and services to a changing marketplace.

Download this free guide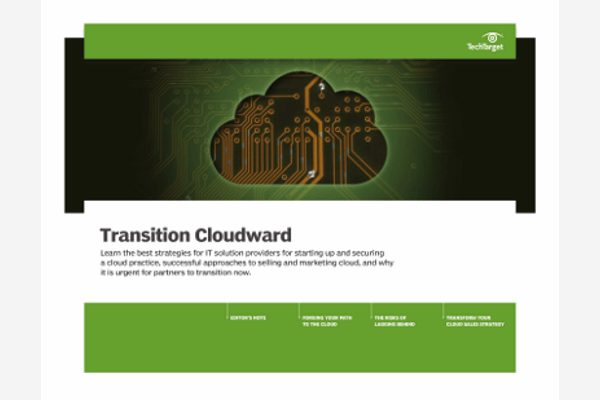 New Guide: Are You Making the Cloud Lucrative for your Channel Business?
Learn the best strategies IT solution providers can leverage for starting up and securing a cloud practice, successful approaches to selling and marketing cloud, and why it is urgent partners to transition now.
By submitting your personal information, you agree that TechTarget and its partners may contact you regarding relevant content, products and special offers.
You also agree that your personal information may be transferred and processed in the United States, and that you have read and agree to the Terms of Use and the Privacy Policy.

In its early years, IBM was widely associated with the punched card, the invention of Herman Hollerith. Hollerith was part of the Computing-Tabulating-Recording Company, when, in 1914, Thomas J. Watson joined the company as general manager. The CTR Company itself had been formed from three companies that sold grocery store scales, time recording devices, and tabulators. Over the next decades, Watson built the business machine company of the future, now known as International Business Machines. By the middle of the century, IBM led such companies as National Cash Register and later Digital Equipment into the computer era. Famous for its vaunted force of salesmen with white shirts and ties, IBM, led by Watson (and later his son, Thomas Jr.), also invested heavily in research.
In the early 1960s, IBM introduced what was to become the de facto standard for large company business computers with its System/360. Designed to be continually upwards compatible, a program written for the System/360's operating system, OS/360, is said to be able to run today, 40 years later, in z/OS, the main operating system for IBM's larger eSeries servers (the latest incarnations of IBM mainframes). By the early 1970s, the punched card was gradually being replaced by the interactive display terminal and especially by the IBM 3270. The company also began to compete with DEC and HP in computers for small business with its System/3 (the forerunner of today's AS/400). In the early 1980s, IBM's realized that the newly-arrived Apple personal computer would revolutionize the industry. It quickly overtook the competition with a series of PCs that became the standard for business use. In doing so, it inadvertently created a future competitor by the name of Microsoft that would come to dominate the market for PC software.
With the arrival of the Internet, IBM has recast its computers as servers, largely endorsed open standard technologies, and developed new revenue lines offering hosting, Web site management software and servers, and its own version of Web services. At the end of 2000, IBM had over 316,000 employees. Its stock (IBM) is listed on the New York Stock Exchange.
Continue Reading About IBM (International Business Machines)
Dig Deeper on Systems Integration and Management
PRO+
Content
Find more PRO+ content and other member only offers, here.